Hanover's Perspective
Complimentary Cybersecurity Concepts Seminar to Be Held at Dominion Energy Innovation Center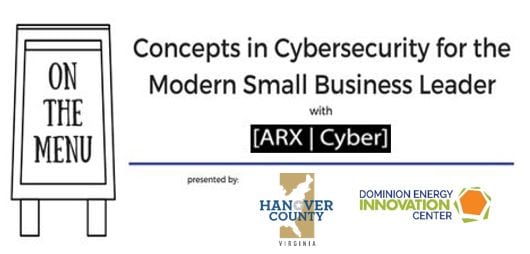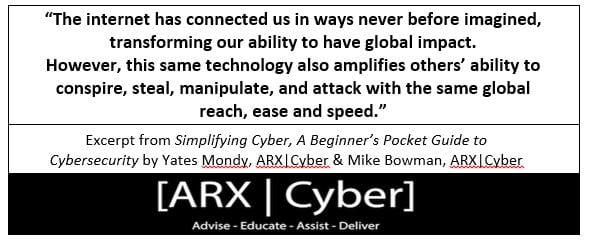 ARX|Cyber, a cybersecurity consulting company at the Dominion Energy Innovation Center, will be presenting at a free Lunch & Learn seminar to discuss Concepts in Cybersecurity for the Modern Small Business Leader. This seminar is co-sponsored by Hanover County Economic Development and the Dominion Energy Innovation Center (DEIC).
The statistics are alarming:
75% of all reported cyberattacks target small businesses.
$1 million is the average impact to small & medium sized businesses for a cybersecurity incident.
60% of small businesses are out of business within 6 months of a cyber-attack.
This free event will be held on Thursday, June 14th from 12:00 – 1:00 pm at the Dominion Energy Innovation Center, 201 Duncan Street, Ashland, VA. Lunch will be provided. Space is limited.
About The Dominion Energy Innovation Center
The Dominion Energy Innovation Center (DEIC) is an affiliate of Activation Capital and VA Bio+Tech Park,  and is jointly sponsored by Dominion Energy, Hanover County, Town of Ashland and Activation Capital.
DEIC offers a unique space for startups, early stage businesses, and creatives alike. From nine available private offices for resident companies, to the large, open common area for co-working, the Center is designed to foster collaboration and productivity. 

The Center was established to provide start-ups and early-stage companies with mentoring, engaged guidance, and business support services to better enable these ventures to become financially successful, high-growth companies in Central Virginia.
Membership for companies at DEIC includes access to high speed internet, copy/fax/scanner, conference room, phone line, access to mentors, free classes and events, website and press exposure, free parking, 24/7 facility access, interaction with Facility Director and Board. Additionally, DEIC tenants also receive the benefits offered at the Bio+Tech Park facility in Richmond.
Space is also available to rent at the Dominion Energy Innovation Center for event use by non-tenants. Contact DEIC for more information.