Hanover's Perspective
New OrthoVirginia facility is the picture of perfect health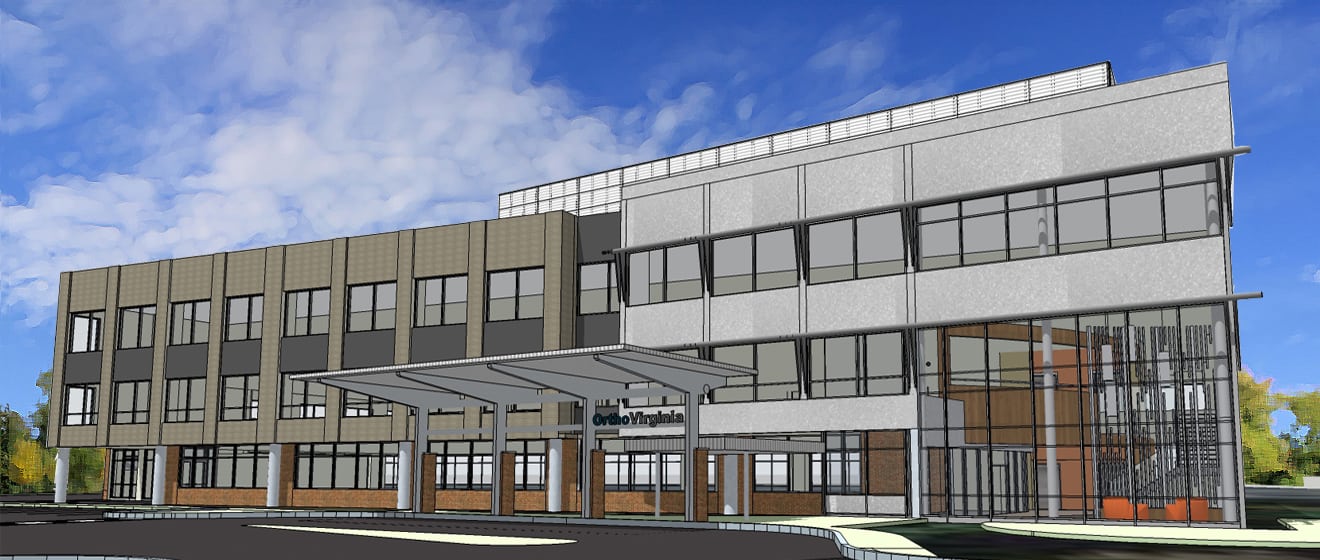 OrthoVirginia and Bon Secours Richmond Health System announced plans to break ground in Hanover County on a $20 million, three-story, 63,490-square-foot medical facility specializing in orthopedics and sports medicine treatment and rehabilitation. The state-of-the-art facility is adjacent to the Memorial Regional Medical Center Campus in Hanover County. Construction is scheduled to begin in early February 2014 with plans to open in early 2015. The project will provide an estimated 150 construction jobs. OrthoVirginia expects to shift employees from other sites to staff the new facility.
This initiative brings together highly-skilled talents of leading orthopedic specialists in sports, hand, knee and hip, spine, pediatrics and sports medicine into one technologically-innovative building. The team of physicians and administrators at OrthoVirginia recognized the opportunity in Hanover County to provide a regional resource for focused orthopedic diagnostics, repair, and rehab that complements central Virginia's highest standards for specialty healthcare, with greater cost efficiency and a more convenient central location for the community and patients.
"We are thrilled that OrthoVirginia has selected Hanover County as the site for this new clinical facility that will bring together an expanded team of world-class physicans and medical professionals at this nationally-recognized hospital facility, Bon Secours Memorial Regional Medical Center," comments Edwin Gaskin, Hanover County's Director of Economic Development.  Gaskin also notes, "With its convenient location and easy access from I-295 and I-95, this regional, state-of-the-art facility will meet the growing needs for  Hanover County and the Richmond region.
The Lingerfelt Companies will develop this state-of-the-art, technologically advanced medical facility. The company will seek LEED® certification for this project's green building design and operation.  According to the Richmond Times Dispatch, OrthoVirginia will occupy 25,000 square feet in the new building, making it the medical practice's largest office among its 11 locations across the region and in Virginia.
"We're very excited about this new state-of-the-art facility that offers the community and the region an extraordinary resource for orthopedic specialties and rehabilitation services, allowing patients to be conveniently treated in one location," stated OrthoVirginia administrator James Perkins. "Adding to our network of orthopedic specialists, this comprehensive, fully digital facility will offer electronic patient files, physician records, and x-rays."