Hanover's Perspective
Old Church Creamery Establishes New Production Facility in Hanover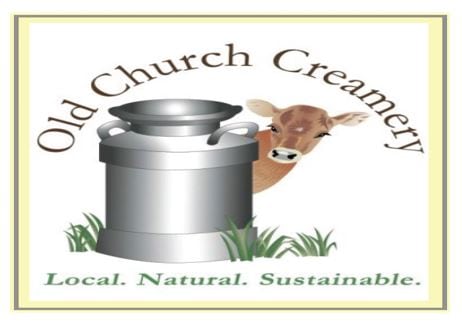 Old Church Creamery, a family-owned business located in Mechanicsville, Virginia, has opened a new production facility in Hanover at 8098 Shady Grove Road.
The company is a family owned business that was started in 2008 by Keith and Catherine Long in the Old Church area of Hanover County. The family then moved to King William County in order to rent a larger farm and expand their herd of Jersey cows, and nearly 10 years later, Old Church Creamery has moved its business back to Hanover County.
"With our long and proud tradition of supporting agri-business, we are very pleased to welcome Old Church Creamery to Hanover County", said Angela Kelly-Wiecek, Chair of the Hanover County Board of Supervisors. "Old Church Creamery's commitment to quality as well as sustainability gives Hanover families more options to enjoy outstanding natural and locally-sourced products."
The Longs believe in environmentally sustainable farming and stay up-to-date with best practices in bio-dynamic farming, which emphasizes the uses of manures and composts without artificial chemicals.
"We are inspired by others who paved the way for us," said Catherine Long. "This new production facility in Hanover County will allow us to grow our customer base and provide more of our dairy products to the citizens in the Greater Richmond area."
The family's cows are located on a farm in the Shenandoah Valley.  Fresh milk is transported directly from the farm to the Hanover creamery where it is processed in small batches into a full range of dairy products, including chocolate milk, yogurt and the probiotic drink, kefir, which is growing in popularity.
Old Church Creamery is the only dairy in Virginia processing 100% grass-fed milk from its own cows.  No grain or other feeds are fed to the cows other than high quality minerals required for optimum health.
The business is also the only creamery in Virginia producing "creamline" yogurt, which is the traditional method of fermenting milk in the cup.  This process yields a smooth, full-bodied yogurt, with a beautiful layer of cream on top.  The company's products are sold to specialty grocery stores and online in Charlottesville, Richmond, Virginia Beach and the Williamsburg area.
Old Church's probiotic products are made daily at the Grade A creamery in Mechanicsville. The base for the yogurts and kefir is 100% low-temperature pasteurized Jersey breed whole milk from pasture-raised cows. The high butterfat and protein make for exceptionally delicious and noticeably different yogurts and kefir. They preserve and represent the quality of the milk by limiting or avoiding sugar or flavored products.
The company began renovations on the current location in late 2016.  Working closely with the Virginia Department of Health, the Hanover Office of Economic Development and Virginia House of Delegates representative Chris Peace, the company is permitted to produce dairy products for sale throughout the State of Virginia.
For more information on Old Church Creamery, visit www.oldchurchcreamery.com.  For more information on operating a business in Hanover County, visit www.HanoverVirginia.com.