Hanover's Perspective
Covenant Woods Offers Venue & Catering to Hanover's 2019 Business Appreciation Event
Located in southeastern Hanover County and within a 20-minute drive of downtown Richmond, Covenant Woods is a diverse, active, and accredited independent living community surrounded by 90 acres of greenspace including landscaped trails, ponds and gardens. The community also boasts a beautifully appointed gathering space ideal for corporate events, performances, speakers and other social events.
Covenant Woods welcomed this year's Hanover County Business Appreciation event by providing an expansive area of The Lodge that utilized the foyer, a large common space affectionately called The Family Room, The Commons, and The Terrace. The on-site catering and beverage staff provided a beautifully displayed and varied buffet from their extensive offerings.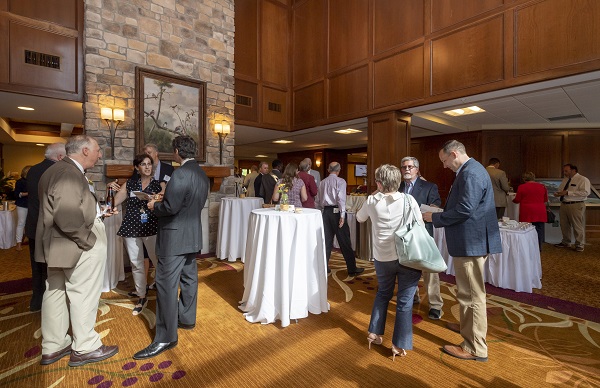 The Lodge, centrally located on the Covenant Woods campus, is reminiscent of an upscale ski chalet with its contemporary mountain architecture. Opened in 2014, The Lodge features a host of amenities, beautifully appointed apartments, and various dining options including Vistas with a made-to-order menu, Fireside pub with a full bar and television, and outdoor dining on The Terrace.
Located within The Lodge's main entrance, The Commons is a large banquet room that can be configured to specific event needs complete with a stage including audio/visual equipment, a projection screen at the front, and two monitors near the back of the room. This space is ideal to host the community's many performances, speakers, and social events. The experienced, on-site catering staff provides a wide variety of menu and beverage options that can be tailored for any event.
Within steps of The Commons, residents and guests can enjoy the massive stone balcony called The Terrace, which overlooks the beautiful Tree Tops greenspace, so named as it overlooks the canopy of the surrounding woods.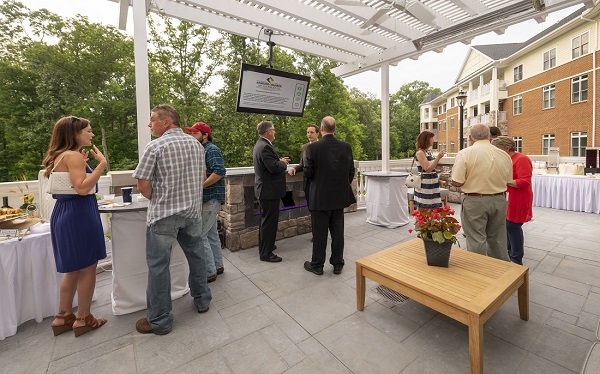 Covenant Woods recently added a pergola to the terrace with comfortable outdoor seating and a television.
For more information about the Covenant Woods event space and on-site catering, contact Sara Schassberger at (804) 417-5120 or sara.schassber@covenantwoods.com.
For more information about Hanover's Annual Business Appreciation event, click here.