Hanover's Perspective
Fun-Filled Fall in Hanover County – 2021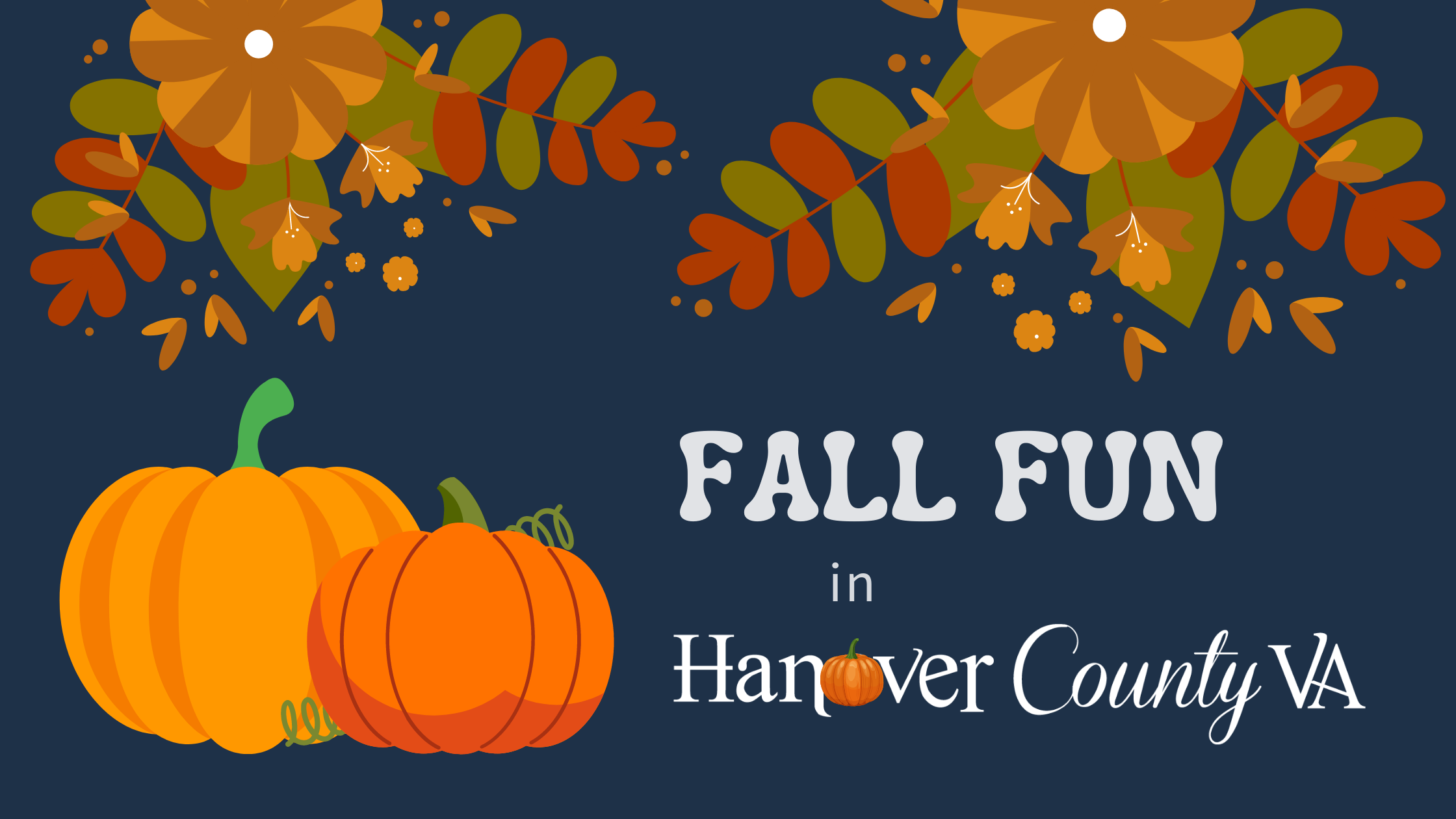 Between pumpkin picking, hayrides and visiting corn mazes, there are plenty of ways for you and your family to stay busy this autumn in Hanover County.  These activities for adults and kids alike make the most of autumn and all that comes with it—the crisp air, cozy atmosphere, fall foods and beverages and much more!
For the chill and thrill seekers, Ashland Berry Farm, Hanover Vegetable Farm, Creepy Hollow Scream Park, and of course, Kings Dominion are all serving up spine-tingling haunted attractions. For ghost walks steeped in historical lore, visit Hanover Tavern, Patrick Henry's Scotchtown and the Ashland Haunted History Tour.
To help you get started, we've rounded up a fall bucket list of items that you'll want to prioritize this time of year.  Be sure to plan your fall fun in advance by visiting each venue's website.
Monsters and terror are ready for you at our scariest Halloween Haunt yet at the annual Halloween Haunt at Kings Dominion. From the thrilling rides to the frightful attractions, you're in for some extreme screams. Over 400 monsters will descend upon the park each night of Haunt this fall.  Select dates/times throughout the month of October 2021.
Guests of all ages can join the PEANUTS gang for AMAZING fall fun at The Great Pumpkin Fest!  From pumpkin painting, hay mazes, ghostly games, not-so-scary live entertainment and more, this scare-free festival makes for the perfect fall and Halloween activity for kids and everyone in the family. Saturdays and Sundays through October 31, 2021.
The Ashland Berry Farm pumpkin patch is where memories are made. Parking is free, and all-you-can-carry pumpkins and hayride to the 30-acre pumpkin patch is $25! The $25 fee applies only once to your group, however, one person must be able to hold the pumpkins that the group picks and walk three steps without dropping them. Enjoy fall fun at the 3D Boo House, Fort Pumpkin Adventure (weekends only), country store and gift shop, and homemade donut shop (weekends only). Fees apply.
When: Pumpkin picking started Saturday, September 26, 2020.  Tuesday-Friday 12-6 p.m.; Saturday and Sunday 10 a.m. to 6 p.m. Note: Last hayride at 4:30 p.m.)
Cost: Pumpkins are all you can carry for $25, or if you don't want to pick, pumpkins can be individually purchased.
Haunts: Terror on the Farm  Select dates/times throughout the month of October 2021.  Terror on the Farm is back and better than ever!  Hopefully you can survive the unknown forces that haunt this farm.  This experience is only for strong-hearted souls.  VISIT IF YOU DARE!
Creepy Hollow Scream Park – Scream Forest
Creepy Hollow Scream Park has live actors, monsters, incredible animatronics, amazing illusions and acres of screams.  Richmond's legendary Scream Forest is located just 10 minutes from Short Pump.
When: Every Friday and Saturday night in October, additional dates added to the week before Halloween.
Cost:  Varies. Visit website to purchase tickets.
This is scary entertainment and may not be appropriate for small children or those faint of heart.
You can find the perfect pumpkin at Hanover Vegetable Farm any day of the week. On the weekends, additional activities include pumpkin picking, corn maze, corn cannons, corn bin, pony rides, giant sand box, Charlotte's Web Hide-and-Seek, face painting, food trucks, adult beverages, live music and more. See their calendar of events for specific attractions on any given date and associated fees.
When: Pumpkin picking available weekends from October 2 – October 31; Additional activities available.  See calendar for more details.
Cost: On weekends, admission is $5-$12 per person based on activity level.  Some activities are available at an additional cost.
Special Event: Gourds, Goblets and Ghouls Festival – October 16 and 17. Boney is back for another fun time down on the farm this fall!  With live music, wineries, cider, beer garden, 20+ vendors, hay rides, pumpkin picking, corn maze and lots of fun activities for the whole family!  To purchase tickets, click here.
Special Event: Fall Concert with Home Grown – October 24, 1:30 – 4:00 p.m.
Haunts: Red Vein Haunt – The Witch's Plague, will you be chosen for the metamorphosis?
A year round, multi themed escape room currently featuring three exciting games:  Phobia, Hunt for the Richmond Vampire and Escape from 20,000 Leagues. Visit website for more information.
Lloyd Family Farms has a 50+ acre pumpkin patch with a great selection of a variety of pumpkins and gourds. Additional activities include hayrides, animal viewing, a corn maze and much more. Food vendors will be on-site.
When: Every Friday, Saturday and Sunday 9:00 a.m. – 5:00 p.m. through October 31, 2020.
Cost: Admission is $10 per person, 2 years old and under are free. Pumpkins are priced individually by the pound. Additional fees may apply for other activities.  Please see website for important information before visiting.
Focusing on the town's rich and storied history, tour groups will follow the train line as guides spin fascinating tales of the dark and macabre that will both thrill and delight. Learn all about the surprisingly rowdy history of this antebellum town by stories passed down from business owners and residents. Two one-hour tours are available:  Spirits of Railroad Avenue and Stranger Than Fiction
When: Fridays & Saturdays
Cost:  Visit website
The days grow short, the nights grow long, and darkness hides in every corner. Tour the haunted Tavern, Old Stone Jail, and Historic Courthouse as you hear ghostly tales of actual events, and recorded paranormal activity at each location. You never know what might be lurking around! Proceeds benefit the Hanover Tavern Foundation.
When: October 24, 25 & 26, 2021; Tours start at 7:00 p.m.
Cost: $15 per person.
Enjoy live music, food trucks, a petting zoo, a selection of beverage options and continuous Scotchtown tours.  Enjoy special guest appearances and guest exhibitors.  Enjoy living history interpreters portraying Patrick Henry, Sarah Henry and Charles Chiswell, infantry and mounted dragoons of the Continental Army, and traditional artisans demonstrating their trades and selling their wares.
When:  October 2, 2021; 10:00 a.m. – 5:00 p.m.
Cost: Ranging from $8 – $15; Children 6 and under are free.  Tickets may be purchased online.
Does the ghost of John Chiswell, infamous son of the original builder of Scotchtown, still roam these grounds?  Enjoy an evening of warm cider and cookies while tales of spirits and ghosts are shared by Scotchtown staff and Transcend Paranormal.  Tours will start every 20 minutes from 6 p.m. to 9 p.m.
When:  October 16, 2021
Cost: $10.00 (Register online for timeslot preference)
As the seasons change, get ready for the fall tradition you won't want to miss — The Hollowed Harvest is coming to Camp Hanover! Experience an amazing Jack-O'-Lantern spectacle designed for audiences of all ages!  Enjoy a nighttime stroll through the woods in the crisp autumn air, harvest-themed refreshments, and a dazzling display of lights at this family-friendly event. The Hollowed Harvest brings to life more than 7,000 incredible Jack-O'-Lanterns creating stunning landscapes and larger-than-life displays designed to amaze audiences of all ages!
Tickets are limited and sold in time slots so be sure to pick your day/time before tickets sell out – click below to reserve your tickets today!
*Please note that this location has uneven ground in places that may not be suitable for those with difficulty walking distances.
When: Select dates October 1 – 31, 2021; Various times
Cost: $20 adult 17+; $16 kid 4-16; Free infant/toddler 0-3
Hanover County Parks and Recreation – Taylors Spooky Fun (Click on "Events" from this webpage.)
Taylor, Park & Recreation's lovable mascot, is hosting a Spooky Fun drive-in movie and reverse trick or treating.  The featured movie is Scoob! – the story of Scooby-Doo, how he met Shaggy, and how Mystery, Inc. was formed.  Decorate your vehicle for a chance to win a prize, and be sure to wear your favorite costume.  Place you treat bucket outside your car, and Taylor and his friends will deliver your treat while safely social distancing.  Feel free to bring your own movie snacks.  Before the movie starts, enjoy the dance party hosted by Richmond Urban Dance Group.
When:  October 22 and October 23, Poor Farm Park; 6:00 – 8:30 p.m.
Note: One reservation per vehicle is required.  You must have/create an account on Parks and Recreation's website in order to register for this event.
Cost:  Free
The Montpelier Center for Arts and Education – Halloween Bash
Join the Center for a spooky, family-friendly trunk-or-treat event, complete with a magic show and food trucks! Grab dinner and watch a movie on our Village Green while your kids join in a costume parade, crafts, and scary story time!  Please register to participate in the Trunk-or-Treat decoration contest, or to participate as a sponsor, volunteer or as a donor.
When:  October 31, 2021; 5:00 – 8:00 p.m.
Cost:  Free.
Come enjoy beer and music too! One of Ashland's favorite events is back in 2021! Enjoy the area's best craft brews from six breweries, music by Buckville Hootenanny, lawn games, and delicious food on the Center's spacious lawn.
When:  October 23, 2021; 3:00 – 7:00 p.m.
Cost: $10; Fees for beer pours are extra
Join the Heart of Virginia wineries for a day of wine, Fall fun, and Halloween! Costumes encouraged! Listen to live music, enjoy wine, shop local vendors, and browse the food truck court! Check the venue's event calendar for more fall fun including a Friday on the Patio – Halloween Edition on October 29th!
When:  October 30, 2021; 12:00 – 5:00 p.m.
Cost: $20.00 (includes a souvenir wine glass)
Come visit for a weekend of fun on Oct 29th and 30th at Castle Glen Winery. Reserve one of 12 spots now and enjoy live music on Saturday. The big fire pit is ready for evening relaxation with plenty of firewood stocked up. Each reservation will include your spot for 2 nights, 2 tastings, and a gift basket with Boars Head meat, cheese, crackers, and a bottle of wine. Please note that RV hookups are not available, but you are welcome to use the Winery's water and you may run a generator.
When:  October 29-30, 2021; 12:00 – 5:00 p.m.
Cost:  $149
Other places to purchase pumpkins and other Fall favorites in Hanover County:
For these events and more, be sure to use the Here In Hanover, VA app!