Hanover's Perspective
Fun-Filled Fall in Hanover County, VA: 2022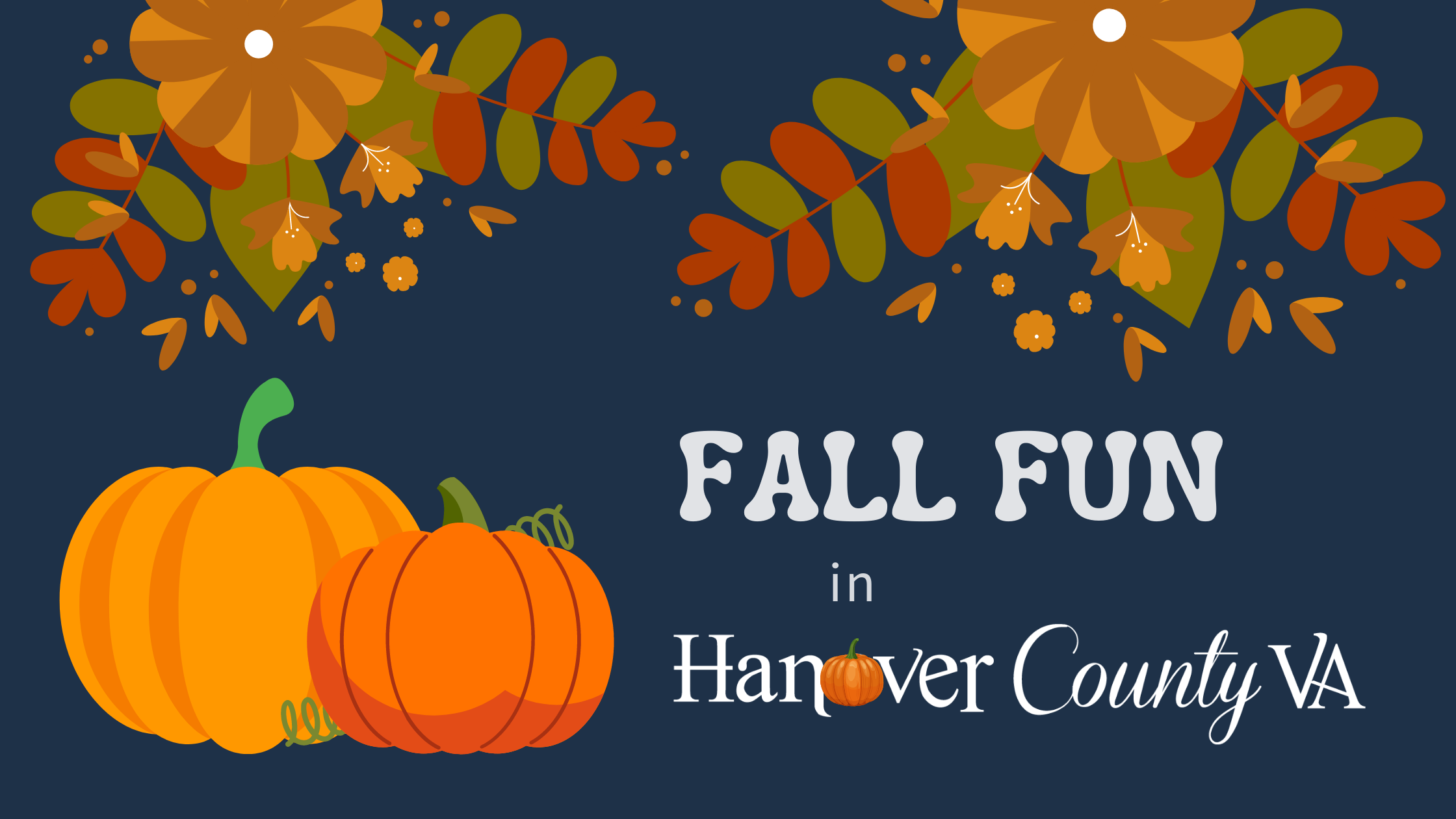 Between pumpkin picking, hayrides and visiting corn mazes, there are plenty of ways for you and your family to stay busy this autumn in Hanover County. These activities for adults and kids alike make the most of autumn and all that comes with it—the crisp air, autumn atmosphere, and fall foods, for starters.
For the chill and thrill seekers, Ashland Berry Farm, Hanover Vegetable Farm, Creepy Hollow Scream Park, and of course, Kings Dominion are all serving up spine-tingling haunted attractions. For ghost walks steeped in historical lore, visit Patrick Henry's Scotchtown and the Ashland Haunted History Tour.
To help you get started, we've rounded up a fall bucket list of items that you'll want to prioritize this time of year.  Be sure to plan your fall fun in advance by visiting each venue's website.
Hundreds of monsters will be unleashed, making the most terrifying nightmares come alive.  Featuring a terrifying lineup of thrilling rides, haunted mazes, terrifying scare zones, and the spookiest live shows, fear is waiting for you around every corner at Kings Dominion's Halloween Haunt.  Not intended for small children.  Parental discretion is advised
When:  Select nights September 24 – October 30, 2022
Admission:  Ticket purchase required
Kings Dominion – The Great Pumpkin Fest
Guests of all ages can join the PEANUTS gang for AMAZING fall fun at The Great Pumpkin Fest!  From pumpkin painting, hay mazes, ghostly games, not-so-scary live entertainment and more, this scare-free festival makes for the perfect fall and Halloween activity for kids and everyone in the family.
When: Saturdays and Sundays starting September 24 through October 30 from 12:00 to 5:00 p.m.
Admission: Ticket purchase required
The Ashland Berry Farm pumpkin patch is where memories are made.  Parking is free, and all-you-can-carry pumpkins and hayride to the 30-acre pumpkin patch is $25!  The $25 fee applies only once to your group, however, one person must be able to hold the pumpkins that the group picks and walk three steps without dropping them.    Enjoy fall fun at the 3D Boo House, Fort Pumpkin Adventure (weekends only), country store and gift shop, and homemade donut shop (weekends only). Fees apply.
When: Pumpkin picking start Saturday, September 24, 2022. Visit website for dates/times.
Cost: Pumpkins are all you can carry for $25, or if you don't want to pick, pumpkins can be individually purchased.
Haunts: Terror on the Farm at Ashland Berry Farm
TERROR ON THE FARM is back and the Haunts are better than ever!  Hopefully you can survive the unknown forces that haunt this farm.  This is only for the strong hearted souls.  COME SEE US IF YOU DARE!
When:  September 30– October 31, 2022
Admission:  Visit website for schedule and to purchase tickets.
Focusing on the town's rich and storied history, tour groups will follow the train line as guides spin fascinating tales of the dark and macabre that will both thrill and delight.  Learn all about the surprisingly rowdy history of this antebellum town by stories passed down from business owners and residents.  Two one-hour tours are available:  Spirits of Railroad Avenue and Stranger than Fiction.
When: Fridays & Saturdays
Admission: Visit website for schedule and to purchase tickets.
You can find the perfect pumpkin at Hanover Vegetable Farm! On the weekends, additional activities include pumpkin picking, corn maze, corn cannons, corn bin, pony rides, giant sand box, Charlotte's Web Hide-and-Seek, face painting, food trucks, adult beverages, live music and more.  See the farm's calendar of events for specific attractions on any given date and associated fees.
When: Pumpkin Picking available weekends from October 1 – October 31
Weekdays in October: Hayrides 2-6 pm. All other activities are closed. Pumpkins are $0.69 a pound.
Each Weekend in October: 10 am to 6 pm (except Gourds, Goblets and Ghouls Festival on October 15 & 16, 2022.)
Additional activities available include Corn maze, Giant Pumpkin Jump Pad (New in 2022!), Petting Barn (feed is $1), Corn Cannons (additional fee for corn to shoot), Corn Bin, Giant Sand Box, Charlotte's Web Hide and Seek, Face Painting (additional fee), food trucks, Pony Rides (additional fee) starts October 9th and will be 12-3 pm Saturdays and Sundays, and adult beverages!
Admission: On weekends, cost is $7-$15 per person based on activity level.  Other activities are available at an additional cost.
Special Event: Apple Cider and Bluegrass Festival – September 24, 11:00 a.m. – 6:00 p.m.  Pick your own Virginia apples, enjoy great Virginia Cider and listen to amazing Bluegrass! Vendors, Car Show, food trucks and activities for the whole family!  Everyone 21 and over gets a bag to pick (up to) 3 lbs. of Apples!  Plus shot glasses for the first 500 visitors aged 21 and over through the gate! Tickets required.
Special Event: Gourds, Goblets and Ghouls Festival – October 15 and 16, 11:00 a.m. – 6:00 p.m.  More information and link to purchase tickets is coming soon.
Saturday October 30th Only: FREE ENTRY to Hanover Vegetable Farm for anyone 17 and under that is in costume!  Come trick or treat! Candy at all stations at the farm.
Haunts at Hanover Vegetable Farm:  Red Vein: 1987 
Summer of '87 has finally given way to autumn in Virginia! As the leaves change and nights grow cooler, counselors and campers at Camp Ashland prepare for their annual Halloween Bash on the farm. But as they ready the apples for bobbing and the pumpkins for carving, the dark and mysterious history of the land begins to resurface!
Note: Children under the age of 8 will not be permitted to enter (unless it's a special "No Slaughter Night" without actors.) Parental discretion is strongly advised.
When: Fridays, Saturdays – 7:30-11:00 p.m.;  Sundays & Halloween – 7:30-10:00 p.m.
Admission:  Visit website for schedule and to purchase tickets.
A year round, multi themed escape room currently featuring three exciting games:  Phobia, Hunt for the Richmond Vampire and Escape from 20,000 Leagues.
Admission: Visit website for more schedule and to purchase tickets.
Lloyd Family Farms has a 50+ acre pumpkin patch with a great selection of a variety of pumpkins and gourds and many activities including hayrides, corn pit, animals, a corn maze, the straw castle, a sand pile, the giant ball field, and various yard games.  Food trucks will be on-site and a schedule is posted on the website linked above
When: Every Friday, Saturday and Sunday 9:00 a.m. – 5:00 p.m. from September 30 through October 30, 2022.
Admission: $12 per person, 2 years old and under are free.  Pumpkins are priced individually by the pound. Additional fees may apply for other activities.
Hanover Autumn Fest at Hanover Tavern
Ignite your senses at Hanover AutumnFest – your destination for great food, craft beer, local wine, live music, fall foliage, and family fun!  This is a free event.  For the little ones (and those young at heart!), there will be pumpkin picking, face painting, arts and crafts, a petting zoo, hay slide, and more.
When: September 24, 2022; 10:00 a.m. – 3:00 p.m.
Admission:  Free
Over the first weekend in October, Green Top is hosting its 5th Annual Outdoor Expo.  This FREE, family-friendly event features 225 sporting life vendors, product demos, and exhibits.  Keeping with a Fall Festival feel, there are tons of great food options, live music, and a fun-filled Kid Zone but what makes our show different is the rare one-to-one opportunity to meet and talk with industry experts and celebrities.
When:  October 1 (8:00 a.m. – 6:00 p.m.) and October 2 (8:00 a.m. – 5:00 p.m.)
Admission:  Free
Patrick Henry's Scotchtown Fall Festival
Bring your folding chair or picnic blanket and enjoy live music by the Hanover Concert Band, visit the many traditional artisans and vendors demonstrating their trades and selling their wares, food trucks, Buskey Cider, children's activities, and 18th-century games area, alpaca petting area, and continuous open house tours.
When:  October 1, 2022; 10:00 a.m. – 4:00 p.m.
Admission: Visit website to purchase tickets.
James River Cellars Winery – Harvest Party!
The harvest party will feature local suppliers and local farmers honoring the true tastes of what Virginia has to offer! Live music by JMU's a cappella group – The Madison Project. Three Sisters Taqueria food truck will be serving up delicious food. And Pop of Confetti! and Agriberry pop-up mini farmer's market will also have goods for sale.
When:  October 15, 2022; 1:00 – 4:00 p.m.
Admission:  Free
Spirits of Scotchtown Lantern Tour at Patrick Henry's Scotchtown
Does the ghost of John Chiswell, infamous son of the original builder of Scotchtown, still roam the grounds?  Join Scotchtown staff and Transcend Paranormal as they guide you around the property and into the manor house where costumed interpreters will share tales of spirits and ghosts.  Then relax by the bonfire with warm cider and cookies as local storytellers share traditional spooky tales and even a few reports of spine-tingling local encounters!  Make it a complete experience and evening by visiting Babbs Food on the Move food truck who will be onsite from 5 p.m. to 8 p.m. for your dining pleasure.
When:  October 15, 2022; Tours will start every 30 minutes from 5:00 –  9:00 p.m.
Admission: Visit website for schedule and to purchase tickets.
The Nefarious Haunt Experience
Experience the most intense scavenger hunt of your life!!! You will come face to face with the spirits that still haunt this house today!
When:  Fridays, Saturdays and Sundays from September 30 – November 6, 2022; various 30 minutes timeslots from 5:30 – 9:45 p.m.
Admission: Visit website for schedule and to purchase tickets.
Camp Hanover – The Hallowed Harvest
As the seasons change, get ready for the fall tradition you won't want to miss — The Hollowed Harvest is coming to Camp Hanover! Experience an amazing Jack-O'-Lantern spectacle designed for audiences of all ages!  Enjoy a nighttime stroll through the woods in the crisp autumn air, harvest-themed refreshments, and a dazzling display of lights at this family-friendly event. The Hollowed Harvest brings to life more than 7,000 incredible Jack-O'-Lanterns creating stunning landscapes and larger-than-life displays designed to amaze audiences of all ages!
When: Select dates September 23 – October 30, 2022; Various times
Admission: Visit website for schedule and to purchase tickets.
Creepy Hollow Scream Park – Scream Forest
Creepy Hollow Scream Park has live actors, monsters, incredible animatronics, amazing illusions and acres of screams. Join us for Richmond's legendary Scream Forest, located just 10 minutes from Short Pump and are open select nights in October.  This is scary entertainment and may not be appropriate for small children or those faint of heart.
Ticket sales starting soon on the website linked above.
Hanover County Parks and Recreation – Taylors Spooky Fun
Come in your costume and don't forget to bring your trick-or-treat bag!  Games, inflatables, flashlight candy hunts, DJ music and more!
When:   October 21, 2022 – Pole Green Park; 5:00 – 8:30 p.m.
October 22, 2022 – Poor Farm Park; 5:00 – 8:30 p.m.
Admission:  Free
Downtown Ashland Association – Ashland Halloween Events
Ashland is hosting a series of spooky events! Check the website for the entire calendar of events.
When:  October 28 – 31, 2022
Admission:  Some events are free; some require a purchased ticket
The Montpelier Center for Arts and Education – Halloween Bash
Join the Center for a spooky, family-friendly trunk-or-treat event, complete with a magic show and food trucks! Grab dinner and watch a movie on our Village Green while your kids join in a costume parade, crafts, and scary story time!  Please register to participate in the Trunk-or-Treat decoration contest, or to participate as a sponsor, volunteer or as a donor.
When:  October 31, 2022; 5:00 – 7:00 p.m.
Admission:  Free.
Other places to purchase pumpkins in Hanover County: