Hanover's Perspective
Hanover Shopping Week – Support Local Businesses!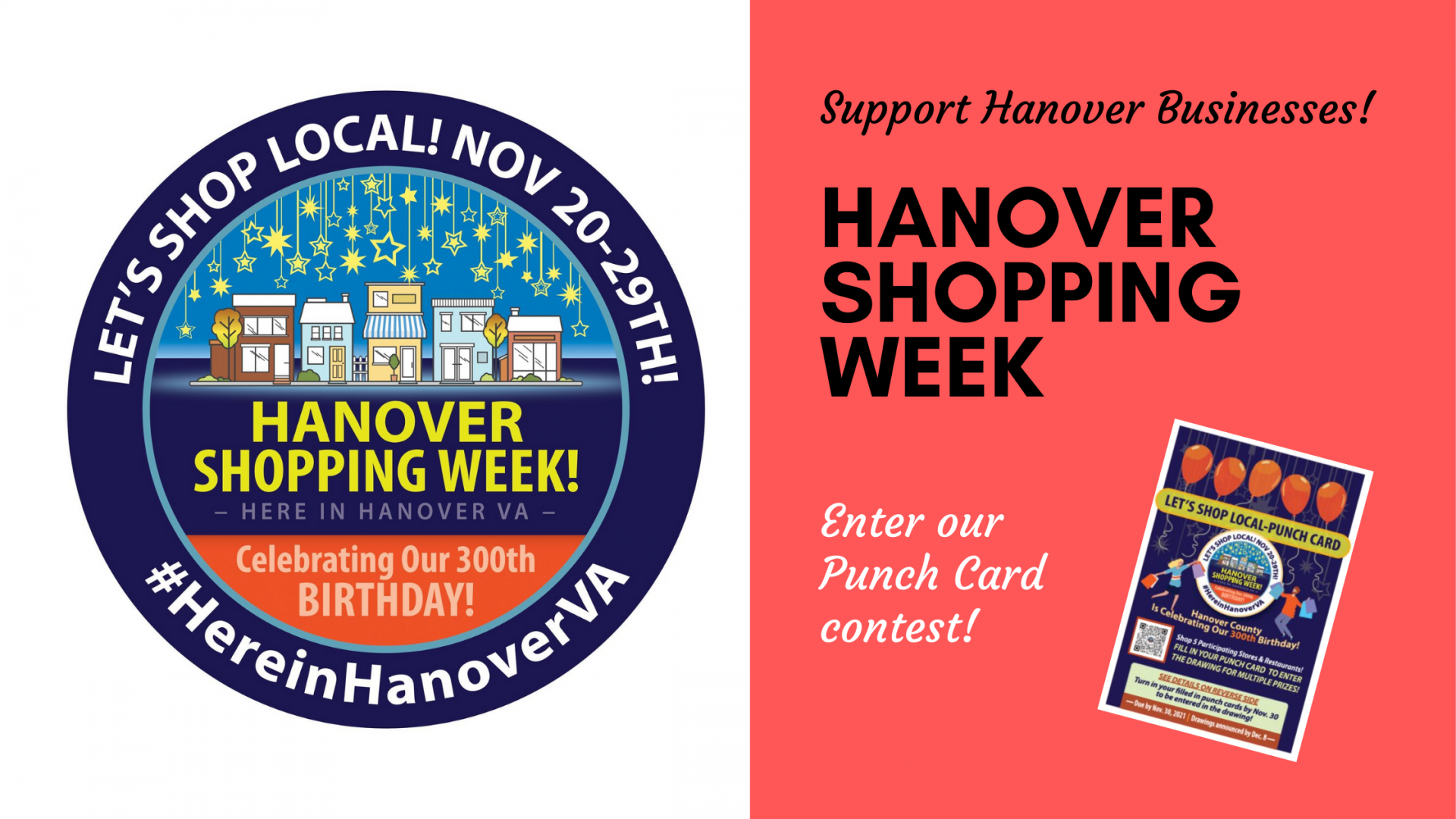 The Hanover Chamber of Commerce and Hanover County Department of Economic Development have joined forces to create and promote the inaugural Hanover Shopping Week taking place November 20-29, 2021. This campaign occurs during the busiest shopping time of the year and encompasses Black Friday, Shop Small Saturday, and Cyber Monday. This week also includes Hanover's birthday on November 26th, and is part of the County's ongoing 300th celebration.  The County's 300th birthday occurred in 2020, however, celebratory events were postponed to 2021.
The purpose of Hanover Shopping Week is to leverage the Shop Local – #HereInHanoverVA campaign launched in May 2021 by featuring local participating merchants during the traditional start of holiday shopping.  This campaign gives merchants an opportunity to advertise on a larger platform, and bring awareness to businesses that residents may not be aware of.  To maintain continuity between the two campaigns, the marketing materials and logos use the same townscape image.
The Shop Local campaign also utilizes the Here In Hanover, VA App which features restaurants, specialty shops, breweries, wineries and fun things to do in Hanover County.  The app currently provides a link to the Hanover Shopping Week website.  In the future, the Department of Economic Development plans to include a link to the app which will provide a comprehensive database of all types of Hanover businesses.
During this inaugural year, Hanover Shopping Week has more than 45 local businesses participating with many offering discounts, giveaways or any other offerings. Packets containing posters and other promotional materials have been made available to the participating merchants that include flyers and contest punch cards.  The promotion of this initiative also includes banners placed at strategic locations around the county to raise awareness of the campaign, social media posts and newspaper advertisements.  It is anticipated that this campaign will be a continual offering to merchants and residents in future years.
Shoppers interested in entering the contest for a prize can obtain a punch card at participating merchants beginning November 20, 2021.  Upon making a purchase at a participating merchant, a "punch" or validation of purchase will be recorded on the back of the card.  Once the punch card is completed with five punches, it can be mailed back to the Hanover Chamber of Commerce or Hanover Economic Development Office, and winners will be randomly drawn to receive a prize when the program concludes.  Alternately, completed punch cards can also be scanned or photographed and emailed to info@HanoverShoppingWeekVA.org.  If a participating merchant does not have any more punch cards available, shoppers can print a copy from the Hanover Shopping Week website.
Happy shopping and thank you for supporting our local businesses!
Click on one the following links for more information:
Shop Local – Here In Hanover, VA
For more information about the Hanover County Chamber of Commerce, click here.