Hanover's Perspective
Hanover's Highlights — Looking Back on 2021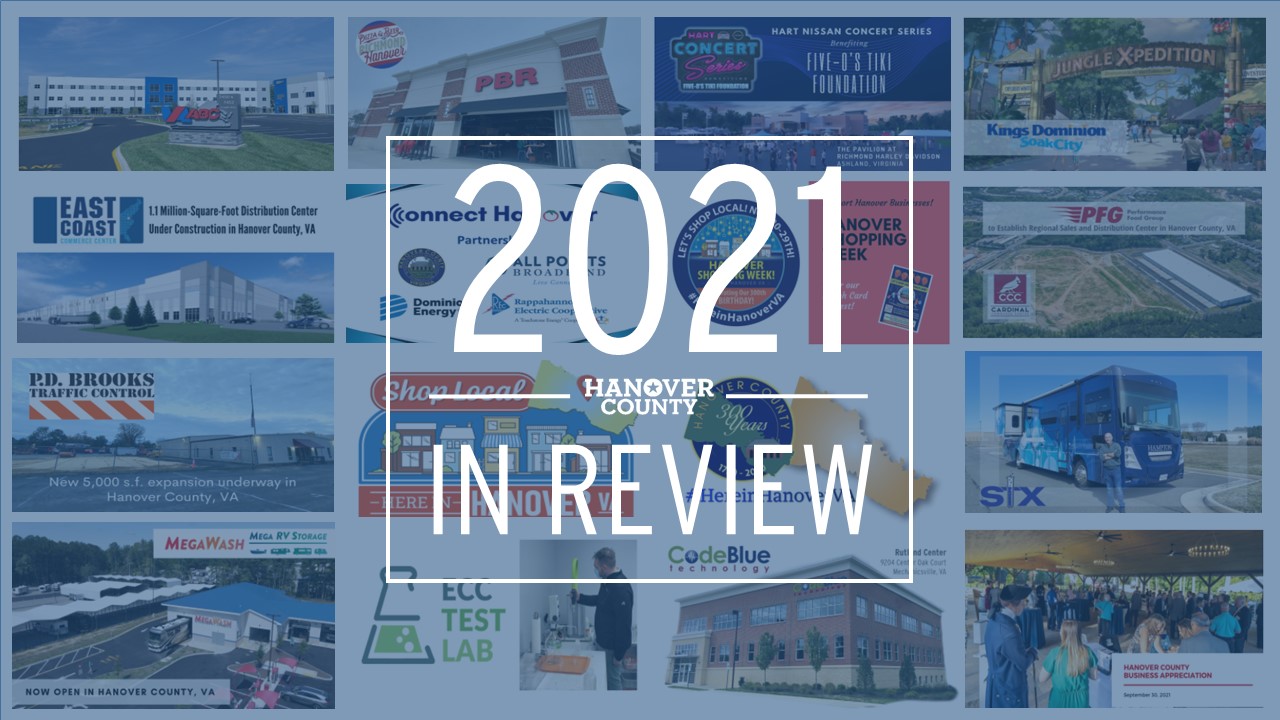 As this year draws to a close, it is a good time to reflect on our top stories of 2021.  Not surprisingly, the most-read stories are those that highlighted the moments that helped us innovate, prosper and grow over the past year.
We look forward to what's to come in 2022, and we thank you, Hanover County, for generating some great stories in 2021! Here are the top stories of the past year:
East Coast Commerce Center Breaks Ground on 1.1 Million Square Foot Distribution Center
East Coast Commerce Center (ECCC), a $100 million development owned by Raith Capital Partners and Equity Industrial Partners, hosted a ground-breaking ceremony on December 9, 2021 to showcase progress of site work and renderings of the 1.1+ million-square-foot distribution center.
Performance Food Group to Establish Regional Sales and Distribution Center in Hanover County
Performance Food Group Company, a leader in food service distribution, will invest $80.2 million to establish a regional sales and distribution center operation in Hanover County. The company will construct a new 325,000-square-foot facility in the Cardinal Commerce Center located in Ashland. Virginia successfully competed with Pennsylvania and North Carolina for the project, which will create 125 new jobs.
Virginia ABC Celebrates Completion of New HQ & Distribution Center in Hanover County
Governor Ralph Northam, Secretary of Public Safety and Homeland Security Brian Moran and other distinguished guests joined the Virginia Alcoholic Beverage Control Authority (ABC) and Virginia Department of General Services (DGS) for a ribbon cutting ceremony on June 21, 2021 to celebrate the completion of ABC's new administrative headquarters and distribution center in Hanover County. This relocation provides Virginia ABC continued growth as a modern retailer offering enhanced service and selection for customers and increased revenues to support various programs across the commonwealth.
"Connect Hanover" Partnership Announced to Address Unserved Broadband Areas In Hanover County
Hanover County has announced the "Connect Hanover" initiative to make broadband services available to residents living in unserved areas of the county.  County Administrator John A. Budesky announced that after a competitive process, Hanover has selected All Points Broadband to identify those areas of the county that lack access to a broadband connection of at least 25 Mbps/3 Mbps. All Points Broadband will assist the County in developing and implementing a strategy to deliver broadband access with minimum speeds of 100 Mbps/100 Mbps to all remaining unserved areas.
Hanover County Welcomes ECC Test Lab
As of January 1, 2021, ECC Test Lab has established operations in space leased from Analytics Corporation, located near Lakeridge Parkway south of Ashland.  ECC Test Lab is an ISO 17025 accredited cannabis testing lab founded in 2018 at the Virginia Tech Corporate Research Center in Blacksburg, Virginia.  Its mission is to help ensure consumer safety in the cannabis industry by providing validated testing results on the quality of hemp and cannabis products.  This relocation to Hanover County will allow for better access to customers, and it will position ECC for strong growth and leadership in the anticipated development of Virginia's pharmaceutical and recreational cannabis industry.
CodeBlue Technology to Relocate Headquarters to Hanover County
CodeBlue Technology, a provider of comprehensive computing technology solutions to small and mid-sized businesses, announced the upcoming relocation of its Richmond-area headquarters to the Rutland Center Office Building located in Mechanicsville, Virginia.  "We are delighted to welcome CodeBlue Technology's headquarters to Hanover County," said Angela Kelly-Wiecek, Chickahominy District Representative on the Hanover Board of Supervisors. "It is particularly exciting because tech-based jobs are a great-fit for our workforce and, of course, Mr. Hayden is a homegrown entrepreneur.  As they serve their expanding client base, we look forward to supporting their continued growth and involvement in our community."
Megawash and Mega RV Storage Open in Ashland, VA
MegaWash and Mega RV Storage have opened a new facility just south of the Town of Ashland.  Located at 10500 Vermeer Place on Rt. 1, this new business concept brings much sought-after RV and boat storage and express wash services for vehicles large and small to the Hanover community.  The six-acre development brought investment of $6.5 million to the County.
2021 Concert Series Benefitting the Five-O's Tiki Foundation Kicking Off at Richmond Harley Davidson
The Foundation's Concert Series is just one of many event platforms used to raise funds and awareness to further its mission.  After hosting a successful soft opening in the summer and fall of 2019, the pandemic shelved the performance line-up during the 2020 season.  With restrictions loosening as mass vaccinations are rolling out, the Hart Nissan Concert Series benefitting the Five O's Tiki Foundation is geared up to begin the 2021 season while still maintaining health and safety protocols issued by the State.
Hanover Recognizes Legacy Businesses & 2021 Marc Weiss Award Recipient At Business Appreciation Event
The 2021 Hanover County Business Appreciation event, hosted by the Hanover County Department of Economic Development in partnership with Hanover Chamber of Commerce, was held on September 30, 2021 under James River Cellars Winery's recently enhanced outdoor pavilion.  This year's event, sponsored by Owens & Minor with additional sponsorship of the County's 300th birthday events by Dominion Energy, continued to include recognition of Hanover County Legacy Businesses and conferment of the Marc S. Weiss Award.  In celebration of the County's tourism and hospitality-related businesses and assets, the event was attended by representatives from Richmond Region Tourism, the Town of Ashland, Patrick Henry's Scotchtown, Hanover Tavern and others and included a special appearance by Patrick Henry.
Pizza & Beer of Richmond (PBR) in Hanover Is Set to Open
Pizza & Beer of Richmond (PBR) Hanover, located in the new Shoppes of Rutland Place at 9325 Chamberlayne Road in Mechanicsville, Virginia, is celebrating its grand opening and ribbon cutting ceremony on Tuesday, March 30 at 3:30 p.m.  The 3,800 square foot restaurant features a retractable wall of windows allowing for al fresco dining inside as well as outside on the patio area.
Hanover County Launches Shop Local Campaign
Hanover County is launching the Shop Local – Here In Hanover, VA campaign to commemorate Business Appreciation month, and to emphasize the impact that buying from neighborhood businesses has on the greater community.  Throughout the coming weeks, Hanover County's Department of Economic Development will showcase a variety of local establishments, as well as promote a weekly giveaway contest aimed at engaging residents to promote their favorite spots in Hanover County.