Hanover's Perspective
Holiday Happenings in Hanover – 2019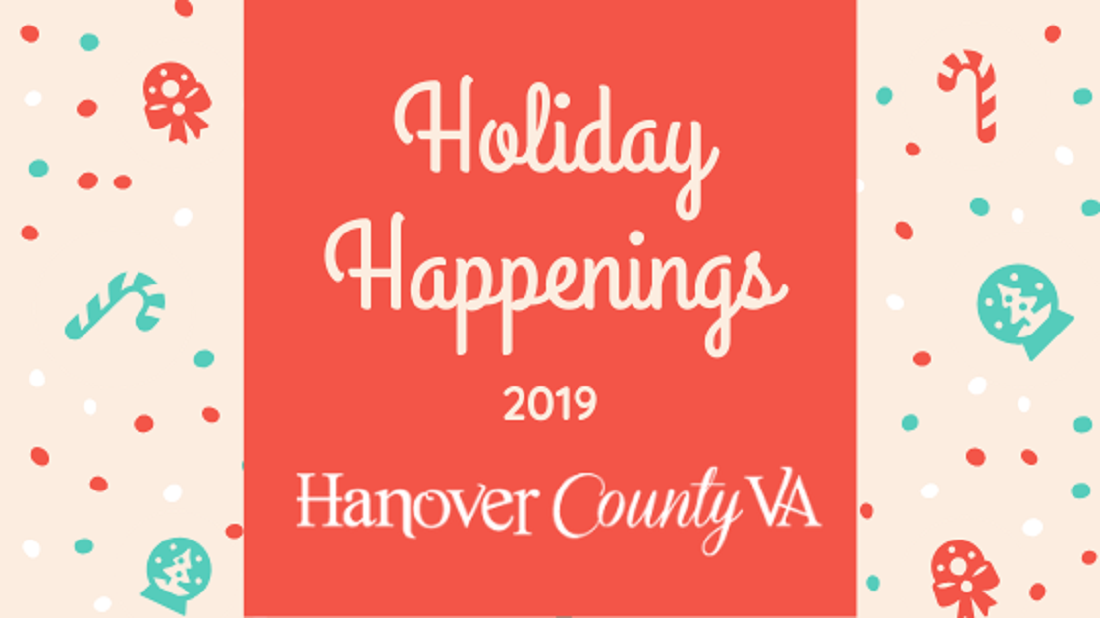 From small community events to historic holiday traditions, there are plenty of ways to celebrate the holiday season in Hanover. Here is a list of holiday events not to be missed:
Winterfest – Kings Dominion
See Winterfest Calendar for dates/times.
Admission fees apply.
Holiday traditions come to life at Kings Dominion's WinterFest. Friends and families are treated to an ultimate holiday event as the park is magically transformed into a winter wonderland – full of enchantment, cheer and classic family fun. This annual Christmas event is packed with all the sights, sounds, food and experiences of the holiday season. The park shines bright with millions of shimmering lights, a 300-foot tree and lavish displays. Live shows and strolling performers delight guests and spread Christmas cheer for all to hear. Festive fun and hands-on holiday activities are located throughout the park, and sweet aromas from special holiday dishes and desserts fill the midways. Plus, a selection of your favorite rides will be open to complete your night of memory making. These holiday attractions make WinterFest one of the best things to do for Christmas in all of Virginia!
Santa's Wonderland – Bass Pro Shops, Ashland, VA
November 16 – December 24
See online schedule for more information.
Santa arrives for the season at Bass Pro Shops with a magical tree lighting in Santa's Wonderland on November 16, 2019 at 5:00pm with giveaways, hot chocolate and more! Throughout the season, there are plenty of free crafts, games and activities, and of course, opportunities to get a picture with Santa! For upcoming holiday events specific to the Ashland location, visit: Bass Pro Shops, Ashland.
Santa Visits Hanover County – Hanover County Fire-EMS Department
Various times, routes, locations and activities. Click on the Schedule or Santa Breakfast links under each fire station for routes, dates and times.
Santa at Green Top – Green Top Hunt & Fish
December 15 – December 23
Check for times.
Santa will be at Green Top!
Walk-Ins are welcomed, or get a same date reservation by getting a Santa Pass! See front desk associate for more info.
Light Up the Tracks – Town of Ashland
December 1 – January 1
Downtown Ashland transforms into a vintage Christmas village with "Light Up the Tracks" — a mile-long light display combined with three weeks of special events designed to welcome visitors for a unique small town holiday experience.
Early American Family Christmas Decorating – Patrick Henry's Scotchtown
November 29 & 30; 10:00am – 5:00pm
December 1; 12:00pm – 5:00 pm
Fees apply.
Ready to decorate your home for the holidays? Looking for a family-friendly activity for your loved ones and out-of-town guests? Bring them to Patrick Henry's Scotchtown where we will help you make a variety of swags, wreaths and ornaments using historical styles and natural materials, many from the grounds of Scotchtown!
Annual Christmas Tree Lighting – Doswell Community Center
December 1, 6:00 p.m.
Doswell Community Center (16433 N. Washington Hwy.)
The Doswell Ruritan Club is sponsoring the Annual Christmas Tree Lighting at the Doswell Community Center. Enjoy an evening of Christmas carols and family fun. Bring the little ones, the man in the red suit just might show up!
A Grand Illumination at The Montpelier Center for Arts and Education
December 3, 6:00 – 7:30 pm
Free. Please RVSP on website.
A Grand Illumination of The Center's lovely grounds will include special performances, caroling, tasty treats and a hot chocolate bar!
Annual Open House with Santa – Beaverdam Depot
December 7, 4:00 – 6:00 pm
Free. Photographs with Santa available for purchase.
Come to the Beaverdam Depot to enjoy cookies and hot chocolate while enjoying carols of the season sung by local children. Santa Claus will be visiting too!
Breakfast with Saint Nick – Hanover Tavern
December 7 & 8, Two seatings available each day at 9:00 a.m. or 11:00 a.m.
Reservation/fees apply.
Enjoy a delicious breakfast and visit with Santa! Reservations required.
Santa's North Pole & Holiday Market – The Montpelier Center for Arts and Education
December 7, 9:00 am – 2:00 pm; Santa is visiting from 10:00 am – 1:00 pm
Free. Photos with Santa are available for purchase.
The Montpelier Center will be transformed in to Santa's North Pole. Visit with Santa and enjoy snacks, crafts and activities. Shop the market filled with handcrafted, locally made gifts to enrich your holiday shopping needs. Exhibitors will include crafters, artisans, and farmers.
A Patrick Henry Christmas – Patrick Henry's Scotchtown
December 7, 6:00 – 9:00 pm
Purchase tickets online. Adults over 18 only.
The second annual "Patrick Henry Christmas" is back by popular demand! Mr. Henry will be home for the holidays and looks forward to welcoming you as your host. He is planning a variety of games and both sweet and savory hors d'oeuvres for your enjoyment. He has also engaged dance-masters to teach you all the latest dance steps! Perhaps Sarah will be feeling well enough to join us.
Mechanicsville Christmas Parade – Windsor Subdivision & Mechanicsville Turnpike
December 8, 2:00 p.m.
Free.
Sponsored by the Mechanicsville Rotary Club and the Mechanicsville Ruritan Club, the village parade showcases community talents in the spirit of the season. This year's theme is "It's a Wonderful Life." The 1.8-mile route begins on Hanover Green Drive and travels through nearby neighborhoods and ends on Mechanicsville Turnpike at Elm Drive.
Deck the Halls – Pine Grove Farms, Ashland
December 8, 11:30 am – 4:40 pm
See website for fees. *Proceeds benefit the Hanover Safe Place.
Spend the day on a historic Hanover Farm and craft as many fresh decorations as you wish. There are table coaches to guide you along the way. Free sweets and beverages will be  served in the farms' toasty warm barn!
Santa Claus at the Ashland Theatre
December 14, 4:00 – 6:00 pm
Free and open to the public.
Santa Claus is coming to Ashland! Kiddos from ages 1 to 99 are invited to join us Saturday, December 14th from 4pm to 6pm to sit with Santa Claus on the Ashland Theatre stage.
3rd Annual COTU Christmas Market – Center of the Universe Brewing
December 14, 1:00 – 6:00 pm
Free. Merchandise available for purchase.
Attend this one-day market where 13-15 handcrafted vendors will be on-hand at the brewery for your unique gift shopping needs. Proceeds will benefit a local charity! There will be holiday music, a phenomenal food truck, and delicious beers flowing all day long.
Cookie and Craft Sale – Beaverdam Depot
December 15, 1:00am – 4:00 pm
Come shop local! Enjoy locally made crafts from your neighbors, and satisfy your sweet tooth with cookies to buy by the pound!
Winter Wonderland Paint Party – Hanover County Parks & Recreation – Montpelier Park Community Center
December 22, 3:00 – 5:00pm
Ages: 5 and up
Register online. Fees apply.
Come paint two ornaments or one Santa cookie plate. Listen to some holiday stories and music. Enjoy some milk and cookies while designing your own unique ornaments or cookie plate while eating cookies. (Wear your winter PJs!) All supplies are included, just come ready to be creative!
Various Holiday Events – James River Cellars Winery
Use this link to the access their calendar of events for more information and to purchase tickets.
Throughout December, events include Holiday Canvas Paint Nite, Cookie Decorating, A Monogram Paint Party and A Tacky Sweater Happy Hour.
Various Holiday Events – The Depot at Cross Brothers, Town of Ashland
Use this link to the access their FaceBook calendar of events for more information and to purchase tickets. At the end of November and early December, events include Holiday Print Making, Wreath Making Workshop and a Holiday Market! The Light Up The Tracks Street Party is on December 7, 2019 starting at 6:00p.m.