Hanover's Perspective
Holiday Happenings in Hanover – 2020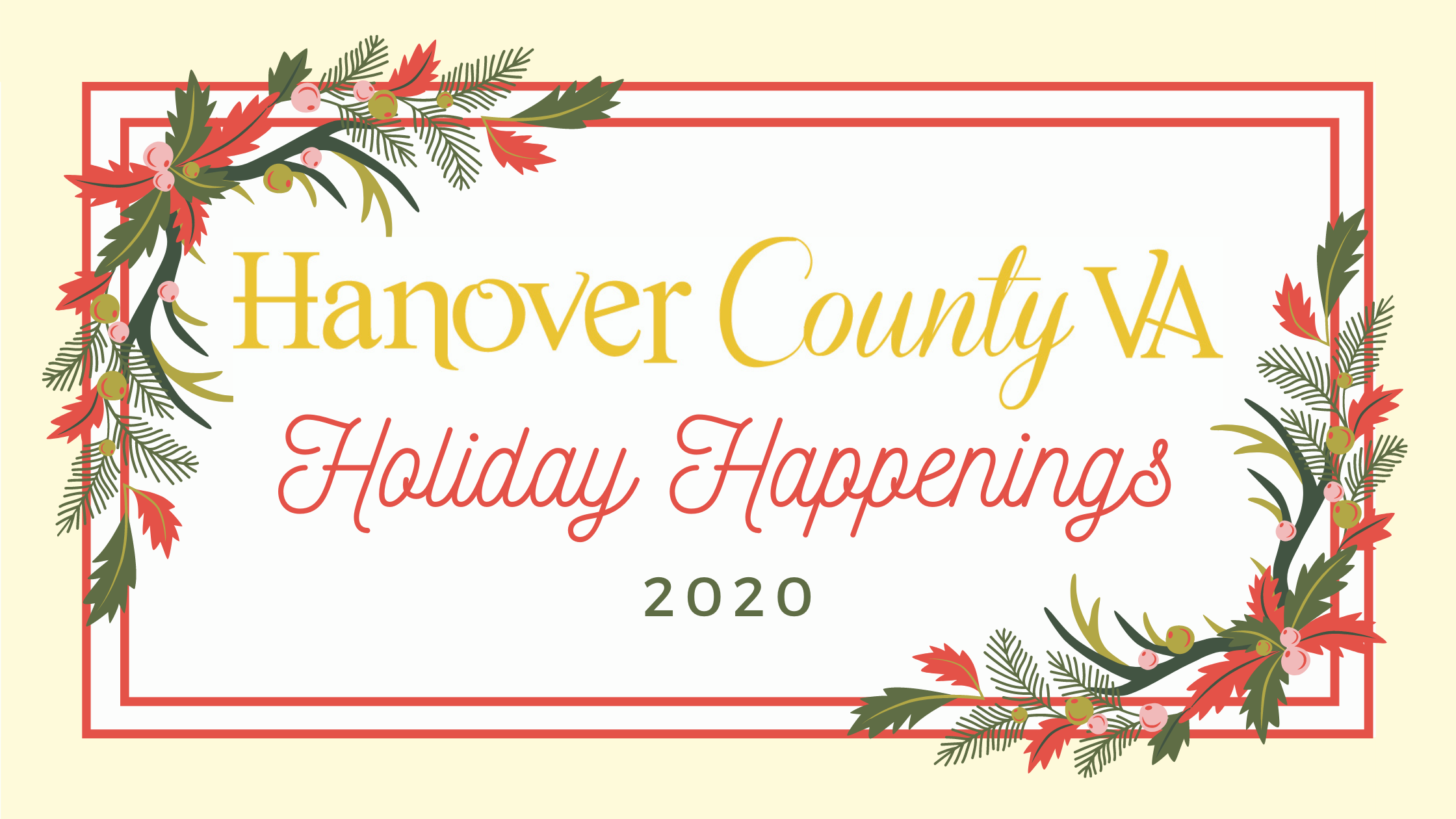 While this holiday season is different in many ways, there are still plenty of safety-conscious ways to enjoy the yuletide sights, sounds and cheer in Hanover County. Here is a list of holiday events not to be missed:
Taste of the Season (An Outdoor Holiday Experience) – Kings Dominion
Select dates, December 5 – 27.
Admission fees apply.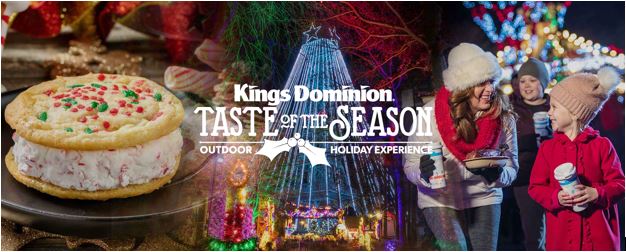 Happy holidays! Savor the flavors of the holidays at Kings Dominion' Taste of the Season, an ALL-NEW limited-capacity outdoor holiday experience. Sample tempting treats with your Tasting Card and make magical family memories— safely. Only at Kings Dominion can you find a food-tasting extravaganza with a sleigh-full of fun family activities. Purchase a Tasting Card to choose among 25 samples of delicious holiday sweets and savories. Sip the season with specialty drinks from Santa's mixologists. Feast your eyes on dazzling holiday décor, enjoy seasonal shows, and wrap up your Christmas shopping. What's more, select family rides are open to deliver the ear-to-ear smiles and belly laughs you can always count on from Kings Dominion.  We want you to enjoy Kings Dominion's Taste of the Season and feel safe when visiting, so we've developed an extensive reopening plan—new processes and enhanced procedures throughout the park to help reduce the spread of germs. We're all in this together and by working together you can safely and confidently have an AMAZING time this holiday season. Capacity is limited and reservations are required, so secure your spots now.
Santa's Wonderland – Bass Pro Shops, Ashland, VA
November 7 – December 24
See online reservations to schedule a visit.
Santa continues the tradition at Bass Pro Shops in a safe and responsible way.  Make your free advance reservations at your preferred time and show your confirmation at check-in.  Guidelines and procedures for attending the event are posted on the website to enable Bass Pro to safely share the "Wonder of Christmas." During your visit, families can mail their letter Santa, bring home free holiday craft kits, and receive a free & safe photo with Santa. For information specific to the Ashland location, visit: Bass Pro Shops, Ashland.
Santa Visits Hanover County – Hanover County Fire-EMS Department
Various times, routes, locations and activities. To view Santa's Hanover County schedule, visit Hanover County's Facebook Page.
Light Up the Tracks – Town of Ashland
December 1 – January 1
Free. See website for schedule of all events.
Downtown Ashland transforms into a vintage Christmas village with "Light Up the Tracks" — a mile-long light display combined with special events designed to welcome visitors for a unique small town holiday experience including:
Ashland Christmas Market
December 5; 1:00 – 5:00 pm
Inspired by open-air holiday markets around the world, downtown shops and businesses are taking their wares to the streets with sidewalk sales, displays, and specials. Plus, find extra gifts and goodies from vendors just behind the Ashland Library (201 S. Railroad Ave) and outside of Thrill of the Hunt (315 England St). Peruse stalls of unique artisan products made by makers and craftsmen local to Ashland, Hanover and the Richmond area.  See website for requirements to attend.
Holiday Family Photos 
December 12; 3:00 – 6:00 pm
Celebrate the holidays in Ashland style! Ashland Theatre's enchanted stage serves as the perfect backdrop for your family's holiday photos. Put on your holiday best, bring your favorite people, and pose for a professional photo! FREE digital downloads will be available within just a few days. In celebration of the Ashland community, downloadable photo frames include "Center of the Universe" and "Winter Wonderland" themes.
Escaping Krampus – RED VEIN Escape
November 27, 2020 – January 16, 2021
Fees Apply.
Have you been Naughty? You better watch out because he knows. Help the elves save Santa and regain control of the North Pole in our new escape room game, Escaping Krampus! Follow on FaceBook.
A Grand Illumination – The Montpelier Center for Arts and Education
December 1; 6:00 – 7:30 pm
Free. Please RVSP on website.
A Grand Illumination of The Center's lovely grounds will include special performances, caroling, tasty treats and a hot chocolate bar!
Holiday Cheer – Patrick Henry's Scotchtown
December 5; 10:00 am – 5:00 pm
Fees apply.
Join us for holiday themed crafts, tours, hot cider and much more! Story time with Father Christmas at the top of every hour.  Warm clothes and comfortable shoes are encouraged as this event is hosted almost entirely outdoors. All COVID-19 protocols will be followed including wearing face masks and social distancing.
A Visit with Santa – Hanover Tavern
December 5 & 6; 10:00 am – 12:30 pm
Reservation required/fees apply.
Visit Santa, bring your wish-list letter and take a socially distance picture with Jolly 'Ole Saint Nick. There will be goodie bags for every child.
Santa's North Pole & Holiday Market – The Montpelier Center for Arts and Education
December 5; 10:00 am – 3:00 pm
Free. Photos with Santa are available for purchase.
The Montpelier Center will be transformed in to Santa's North Pole. Take a picture with Santa and enjoy snacks, crafts and activities. Shop the market filled with handcrafted, locally made gifts to enrich your holiday shopping needs
Holiday Spectacular at the Ashland Theatre (Virtual Event)
December 5; 5:00 – 9:00 pm
Fees apply.
Join us for a virtual holiday event from the Ashland Theatre. Enjoy musical performances, Ashland Theatre memories, a telethon, Silent Auction, "Live" Auction, story time with Santa, and a "live" performance of the "Don't Ask Ned" band! All from the comfort of your own sofa! Do you want to be one of the 10 lucky folks who will get to see the "Don't Ask Ned" band LIVE at the Ashland Theatre on December 5? Only 10 tickets will be available to see the show. If you want to enjoy the holiday shenanigans LIVE on December 5 from 7:00-9:00pm, visit the Ashland Theatre Holiday Spectacular EVENT and place a bid in the Ticket Auction! The TOP 5 bidders will each receive a pair of tickets to the show at the Ashland Theatre. And there's more! Each ticket comes with complimentary concessions during the show and FREE theatre swag! The Ticket Auction is open NOW and will end promptly on Sunday, November 29 at 10:00pm. Thanks for supporting the Ashland Theatre!
Santa at Green Top – Green Top Hunt & Fish
December 13 – December 23
Free. See website for times.
Santa will be at Green Top!  Spaced is limited, so arrive early on the day you want to visit Santa to reserve your family's timeslot (5 persons per pass).  See website for safety guidelines and requirements for visits.
Various Holiday Events – James River Cellars Winery
Use this link to the access their calendar of events for more information and to purchase tickets.
Throughout December, events include Holiday Canvas Paint Nite, Cookie Decorating, A Monogram Paint Party, and more.
For these events and more, also view our Here in Hanover, VA app!  Follow the three easy steps to load it to your desktop or mobile device.