Hanover's Perspective
Holiday Happenings in Hanover County – 2022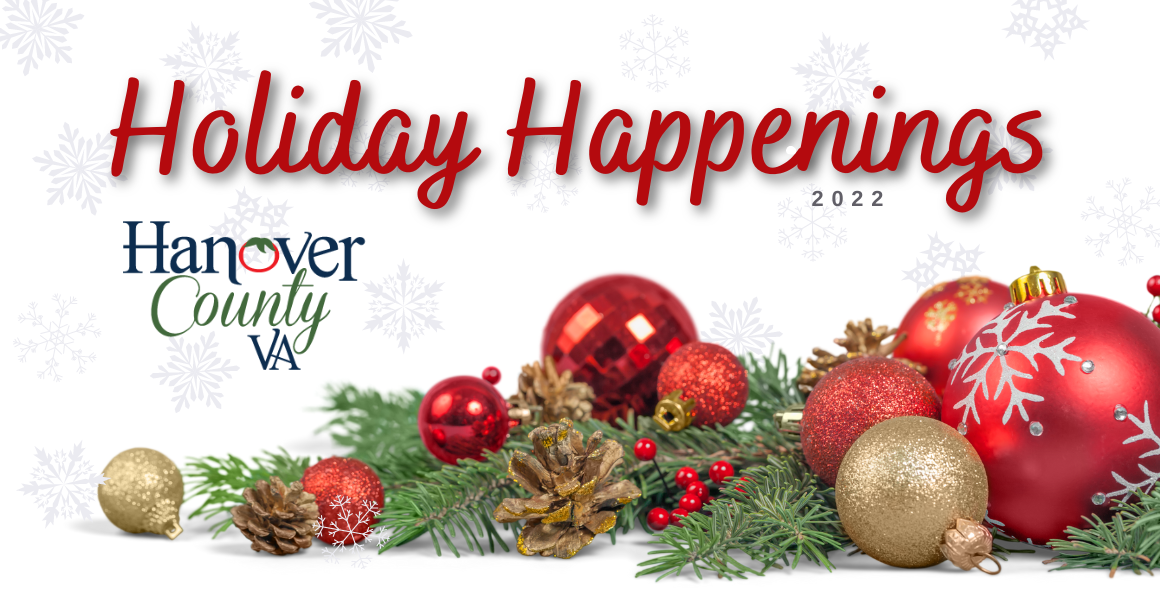 From small community events to historic holiday traditions, there are plenty of ways to celebrate the holiday season in Hanover.  Refer to this blog frequently as new listings will be added as they are announced.  Here is a list of holiday events not to be missed:
Hanover Santa Run – Hanover Volunteer Fire/EMS Stations
Every year, the Hanover volunteer Fire-EMS companies participate in Santa Runs throughout Hanover County.  For details on routes and dates, follow the social media page of the company which serves your neighborhood. (Check back to this post in late November/early December for links to Facebook pages of the participating stations for dates and times.)
Hanover Shop Local Season – Hanover County Economic Development
November – December, 2022
Follow Hanover County Economic Development on Facebook, LinkedIn and Twitter as we share  shopping resources, ideas and tips to help support our local Hanover businesses.  The holiday season is a perfect time to visit our great locally owned retailers, restaurants and more!
Fill the Truck Toy Drive – Green Top
November 11, 2022 – 11:00 a.m. – 1:00 p.m.
Stop by Green Top on Veterans Day, November 11th, and bring a new unwrapped toy and help put smiles on children's faces this Christmas!
Home for the Holidays at Scotchtown – Patrick Henry's Scotchtown
November 12, 2022; 10:00 a.m. – 4:00 p.m.
Scotchtown and Preservation Virginia are thrilled to partner with Heart of Virginia Artisans Group for the "Home for the Holidays Market".  The market will feature artisan crafters, local farmer's markets, food trucks and desserts vendors thanks to the generous donations from our sponsors.  As part of this event, Scotchtown will host a gathering of Cultural Organizations, provide open house tours of manor house including talented interpreters portraying the Cary Family, staff a kids games and crafts area, present hearth cooking demonstrations by guest historian and author Kimberly Walters, and open up our well stocked gift shop.  Members of the Siren City Pipe Band will be performing at 1:00 p.m. and 1:45 p.m.
Holiday Illumination – Historic Polegreen Church Foundation
November 18, 2022; 5:00 p.m.
Come watch the Church light up for the holiday season! There will be holiday activities and merriment for all including the Pole Green Elementary School chorus, Local Cup Food Truck, handbells, and Revolutionary encampment! The gift shop will be open, and a book signing will be available for Linda Gilliam's devotional book "As the Seasons Change".
Light Up the Tracks – Town of Ashland
November 19, 2022 – January 1, 2023
Downtown Ashland transforms into a vintage Christmas village with "Light Up the Tracks" — a mile-long light display combined with various special events designed to welcome visitors for a unique small town holiday. Numerous events throughout the season including caroling, shopping and more!  See calendar for full listing.
Ashland/Hanover Holiday Parade – Town of Ashland
November 20, 2022; 2:00-4:30 p.m.
Event is free, accessible, and open to the public.
Organized by the Ashland Kiwanis, this extensive holiday parade includes participants from civic groups, local businesses, town government, Fire & EMS, and many more Ashland/Hanover personalities! Bring your lawn chair…it's a long one!  Parade Route: Beginning on Thompson Street at Snead Street, crossing the railroad tracks onto England Street, turning onto Henry Street and ending at Gandy Elementary School.
Photos with Santa & Holiday Market – Hanover Vegetable Farm
Professional photo sessions:  fees apply & reservations required
Exciting things are coming this Christmas season down on the FARM!  VA-grown Christmas trees, wreaths, roping, photos with Santa, seasonal pies, fudge, local crafts, gifts, and so much more!  And… Santa will be back again this year for photos! Sign up for your professional photo session before they fill up!
Escaping Krampus – Red Vein Escape
(this escape is available late November – early January; other themed escapes are also available year-round)
Reservations required.
The horned beast known as Krampus has captured Santa Claus and taken over his workshop! Santa's most trusted Elves from the North Pole have called for a rescue team in hopes of saving their jolly ol' boss from this devious Yuletide Monster. Do you have what it takes to free St Nick before his dark counterpart gains control forever? Gather your team and join up with the loyal elves, before it's too late. The countdown is on to save Christmas by escaping Krampus!
Santa's Wonderland – Bass Pro Shops, Ashland, VA
November 5 – December 24, 2022
Make online reservations to schedule a visit with Santa.
Families who visit Santa receive a free 4×6 studio-quality photo with Mr. Claus. Additional photo packages are also available for purchase and print instantly in the store.  Make your free Santa Photo reservations at your preferred time and show your confirmation at check-in. During your visit, families can mail their letter to Santa and receive free giveaways while supplies last. For information specific to the Ashland location, visit: Bass Pro Shops, Ashland.
WinterFest – Kings Dominion
Select dates, November 25, 2022 – January 1, 2023
Admission fees apply.
Celebrate the most wonderful time of the year at Kings Dominion's ultimate holiday event, WinterFest! The park will transform into a winter wonderland with millions of shimmering lights, breathtaking décor, and lavish displays. The Eiffel Tower will become a 300-foot-tall Christmas tree and the iconic fountain on International Street will transform into the most beautiful and largest ice-skating rink around.  WinterFest will be the perfect place to create lasting memories with your family with so many exclusive holiday attractions. Sit back and enjoy one of our live shows while indulging in delicious holiday treats and drinks. Take part in a selection of fun Christmas activities to get you in the holiday spirit and be sure to check out our selection of festive shops and artisan locations to find the perfect holiday gift.  You won't want to miss out on the WinterFest Wonderland Parade featuring extravagant floats, talented performers, and dazzling displays to celebrate the season!
A Grand Illumination – The Montpelier Center for Arts and Education
November 29, 2022; 6:00 – 7:30 p.m.
Free.
A grand illumination of the Center's lovely grounds will include a special performance of The Nutcracker by the The Concert Ballet of Virginia, hot chocolate bar, music played by Mt. Olivet Baptist Church's hand bell choir, and the illumination of The Center.
Various Holiday Events – James River Cellars Winery
Throughout November and December, 2022
Use the link above to the access their calendar of free and paid events for more information and to purchase tickets (if needed for certain events). Events include Wreath Making Workshops, Holiday Canvas Paint Nite, Cookie Decorating, A Monogram Paint Party, and more!
Various Holiday Movies and Events – Ashland Theatre
Throughout December, 2022
Fees apply.
Come to Ashland Theatre to watch holiday movie favorites on select dates/times including The Polar Express, The Nightmare Before Christmas, Elf, It's A Wonderful Life, and The Grinch.  A Holly Jolly Holiday Party will occur on December 3rd and The Jolly Jaunt Bar Crawl and Concert is December 10th. Frosty the Musical! – From the Barter Theatre is December 7th.
Holiday Cheer – Patrick Henry's Scotchtown
December 3, 2022; 10:00 a.m. – 4:00 p.m.
Fees apply.  Purchase tickets online and select time slot for visit.
Time to get into the holiday spirit at Scotchtown! This event offers holiday themed crafts, house tours, hot cider and cookies and story time at the top of every hour.  Costumed interpreters are on-hand and the house is open for tours. Warm clothes and comfortable shoes are encouraged as this event is hosted almost entirely outdoors.
Beaverdam Depot Annual Open House with special guest, Santa Claus – Beaverdam Depot
December 3, 2022; 4:00 – 6:00 p.m.
Come enjoy cookies and hot chocolate while listening to carols sung by local children! Santa Claus will be visiting and available for pictures! Photos available for purchase/pick up by Dirt Road Photography. Bring a contribution of can goods, and we will make the donation to WHEAT(wheathelp.org).
Mechanicsville Christmas Parade – Rotary Club of Mechanicsville
December 4, 2022; Parade starts at 2:00 p.m. Rain or shine.
The parade is back this year incorporating the theme "Christmas Through a Child's Eyes." This nearly 2 mile route parade route starts on Signal Hill Road at Hanover Green Drive, marches through the Windsor subdivision via Strain Avenue and Hillis Way, down Atlee Road and turns onto Mechanicsville Turnpike to end at Elm Drive.
Cookie and Craft Sale – Beaverdam Depot
December 4, 2022; 1:00 – 4:00 p.m.
Come shop local! Enjoy locally made crafts from your neighbors, and satisfy your sweet tooth with cookies to buy by the pound!
Santa's North Pole & Holiday Market – The Montpelier Center for Arts and Education
December 10, 2022; 10:00 a.m. – 3:00 p.m.
Free. Photos with Santa are available for purchase.
Don't miss the fun at the Center's winter wonderland! Shop local vendors and get one-of-a-kind gifts for family and friends, get priceless photos with Santa, grab some hot chocolate and a bite to eat while you make crafts and write a letter to Santa. The Center's ballroom and dance studio will be utilized for this special event.
Frosty Fest! – CodeBlue Cares
December 11, 2022; 10:00 a.m. – 2:00 p.m.
Come shop with us at the First Annual Frosty Fest! 20+ local artisans and businesses will be set up in The RutlandCenter with the best gifts for this Holiday Season! (Address:  9204 Center Oak Ct., Mechanicsville)  Come out to finish your holiday shopping or pick out a few gifts for yourself!  There will be local food vendors set up as well so bring the family and grab a bite to eat while you shop! No need to fret about last minute wrapping, stop by the CodeBlue Cares gazebo and get your presents wrapped with a donation towards our mission!
RVA Santa – Green Top Hunt & Fish
December 14-22, 2022; various times.
Free. On-line reservations required.
Visit RVA Santa at Green Top!  Reservations are required, and the link to reserve is coming soon.