Hanover's Perspective
Produce Stands, Farms & Open Air Markets are Stocked with Seasonal Offerings in Hanover County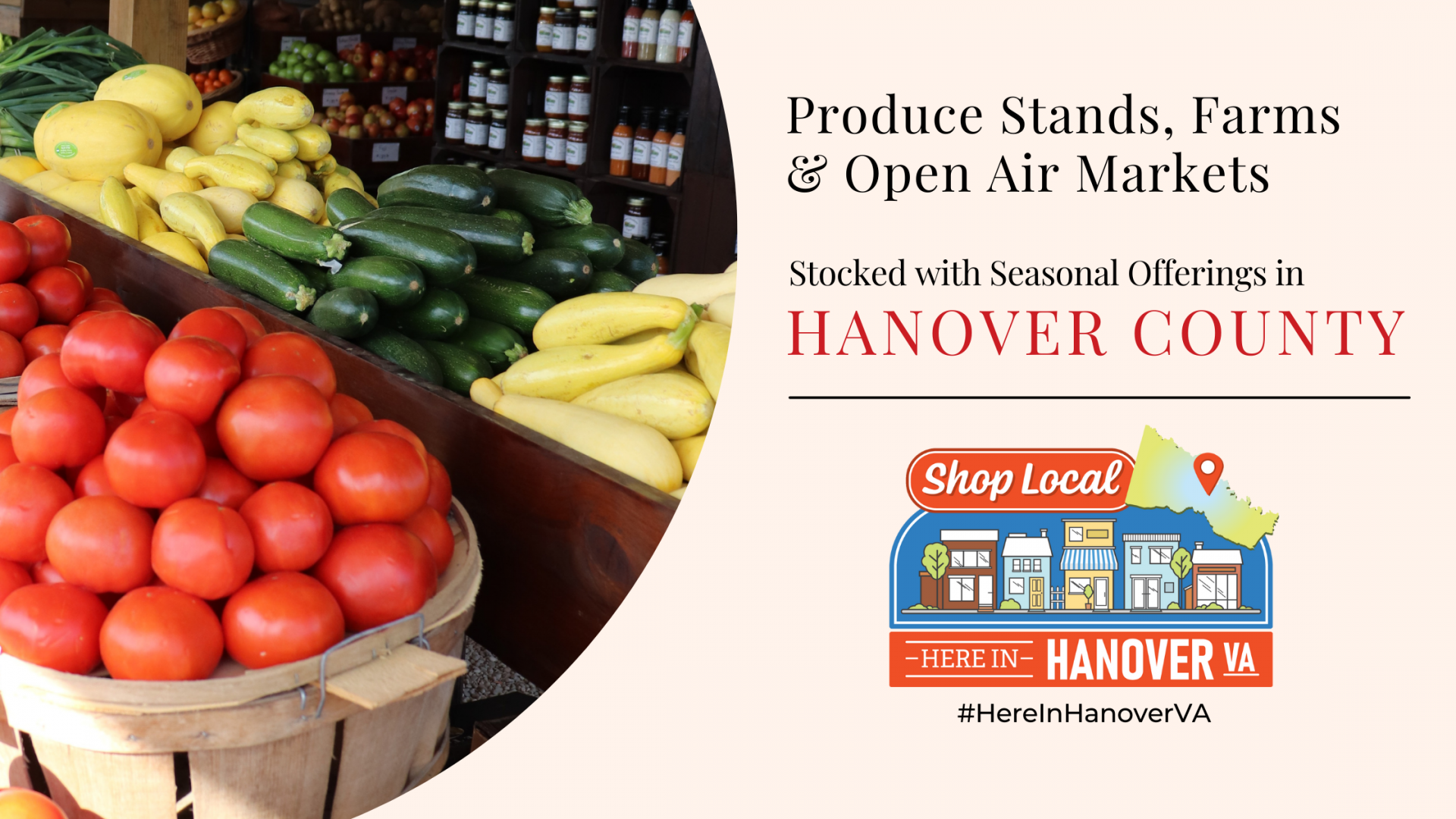 Farmers' markets are a critical ingredient to Virginia's agriculture economy connecting rural to urban, enhancing local food systems, and supporting healthy communities.  In addition to providing locally grown fruits and vegetables, nutritious protein options, and other locally produced food items, markets showcase the sights, sounds, and uniqueness of a locality and foster a sense of community among their customers.
With more than 280 farmers' markets in the Commonwealth of Virginia, there are many opportunities to shop locally for a variety of fresh fruit and vegetables. Throughout the growing season, consumers can expect to find green beans, berries, tomatoes, sweet corn, peaches, peppers, potatoes, eggplants, onions, carrots and more. Click here to view a chart of produce items that are in season now and available at your local market. In addition, many farmers' markets in the state also have fresh Virginia Grown meats such as chicken, pork, seafood, and more.
The number of farmers' markets and roadside stands in Virginia has grown dramatically in recent years, mostly in response to consumer demand for fresh, locally-grown agricultural products and the desire for people to connect with where their food comes from," said Kim Hutchinson, Executive Director, Virginia Farmers Market Association. "In addition to fresh produce and other agricultural products, farmers' markets have become a central site for community engagement through entertainment, festivals, antique shows, plant sales, and other events."
Consumers are encouraged to search for a local market at www.virginiagrown.com or at https://vafma.org/virginia-markets, and should call ahead to learn about the market's current offerings and hours of operation.
Visit these Farmers Markets, Open Air Stands and Farm Stores in Hanover County:
4 Girls Market
8095 Mechanicsville Turnpike
Mechanicsville, VA 23111
Facebook
Agriberry CSA and Farm
6289 River Road
Hanover, VA 23069
Facebook
Ashland Berry Farm
12607 Old Ridge Road
Beaverdam, VA 23015
Facebook
Ashland Farmers Market
121 Thompson Street May – October
Ashland, VA  23005
Facebook
Berry's Produce
9592 Chamberlayne Road
Mechanicsville, VA  23116
Facebook
Hanover Peach Orchard
6012 Elder Ridge Lane
Mechanicsville, VA 23111
Facebook
Keenbell Farm
18437 Vontay Road
Rockville, VA 23146
Facebook
 The Market at Hanover Vegetable Farm
13580 Ashland Road
Ashland, VA 23005
Facebook
The Montpelier Center Farmers Market
17205 Mountain Road
Montpelier, VA 23192
Facebook
Pole Green Produce
6547 Pole Green Road
Mechanicsville, VA  23116
Facebook
Windy Knoll Farm
10094 Windy Knoll Drive
Mechanicsville, VA 23116
Facebook
Use the Here In Hanover, VA App to see these listings in the Category View of "Farms/Produce Markets/Garden Centers."  If you would like to add a Hanover farmer's market, produce or farm stand to the app, please contact Angela Wright at (804) 365-6461 or acwright@hanovervirginia.com.