Hanover's Perspective
RICHMOND ELECTRICIANS' APPRENTICESHIP PROGRAM: EARN WHILE YOU LEARN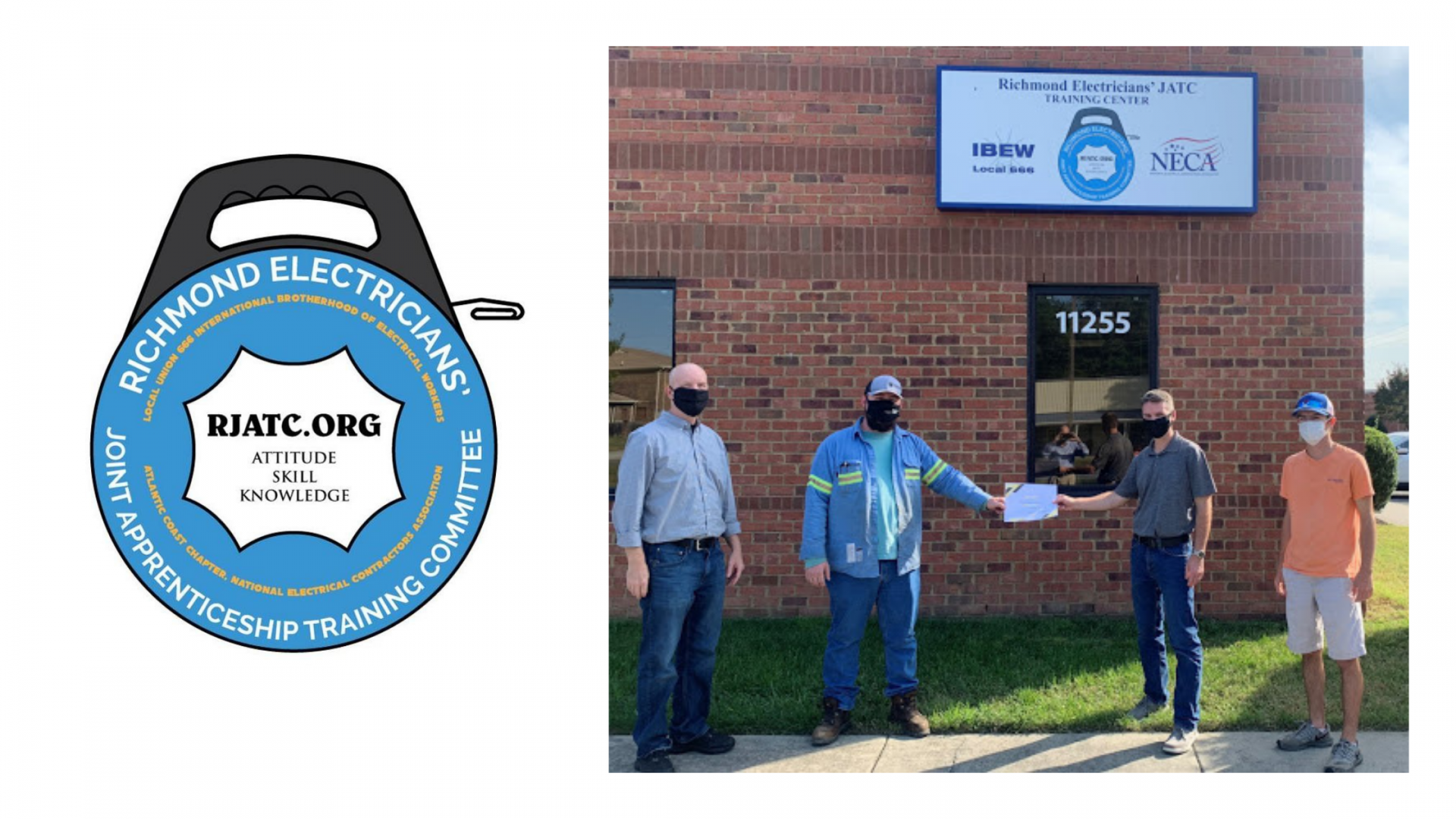 The Richmond Electricians' Joint Apprenticeship and Training Committee (RJATC), located in Hanover County's Industrial Air Park, provides the most comprehensive electrical journey worker and apprentice training program in the Commonwealth of Virginia.  For nearly 100 years in the Richmond area, the RJATC has properly trained thousands of men and women to become highly skilled professional journey worker electricians. As a result, graduates enjoy the benefits of being part of this extraordinary and exciting industry including:
 Competitive wage rates
 Paid health insurance
 Safer working conditions
 A lifelong career with continuing education
 Advancement opportunities
 Guaranteed retirement benefits
According to the U.S. Bureau of Labor Statistics, national employment of electricians is projected to grow 8 percent from 2019 to 2029, much faster than the average growth rate of 4 percent for all occupations.  Projections Central also reports that Virginia's employment of electricians will follow closely with the national growth rate with an 8.4 percent increase from 2018 to 2028.
What is apprenticeship?
The RJATC provides the ultimate "earn while you learn" apprenticeship training program.  As an apprentice, the student will be assigned to a participating electrical contractor to gain skills and technical knowledge in the electrical industry while also earning a progressively increasing hourly wage plus benefits.
Over the course of the four-year Inside Wireman Program, apprentices undergo 8,000+ hours of on-the-job training with experienced journeypersons, plus 900 hours of intensive classroom instruction with qualified instructors.  Through this rigorous training, Inside Wireman apprentices leave the program knowledgeable in the full scope of the field.
How the Apprenticeship Program Works
This is a rigorous four-year in-depth post-secondary electrical training program.  Apprentices are provided on-the-job training on actual construction sites during the day (with pay and benefits) and attend class one afternoon a week from 1:00 pm – 7:00 pm to learn required electrical concepts, theories and applications necessary to develop into top performing journey workers and professional union members. In order to graduate, an apprentice must complete 8,000 hours of on-the-job training and successfully complete 900 hours of related instruction with an average score of 75% or above.
Upon graduation, apprentices become full-fledged journey workers and earn nationally recognized certifications that make them eligible to work out of any local IBEW union across the country.
The RJATC accepts applications year-round, and starts a new class of apprentices every January and August.  It is a competitive application process, therefore, applicants are encouraged to take advantage of the information and resources provided on the RJATC website to maximize chances of being accepted into the program.
The RJATC is sponsored by the International Brotherhood of Electrical Workers (IBEW) Local Union 666 in partnership with the Atlantic Coast Chapter of the National Electrical Contractors Association (NECA).
For more information, visit: Richmond Electrician's JATC.
For more information about other career training/education resources, contact Jessica Hartness, Existing Business Manager at Hanover County Economic Development at (804) 365-6459 or jrhartness@hanovervirginia.com.