Hanover's Perspective
Workshop Scholarships Available to Hanover Businesses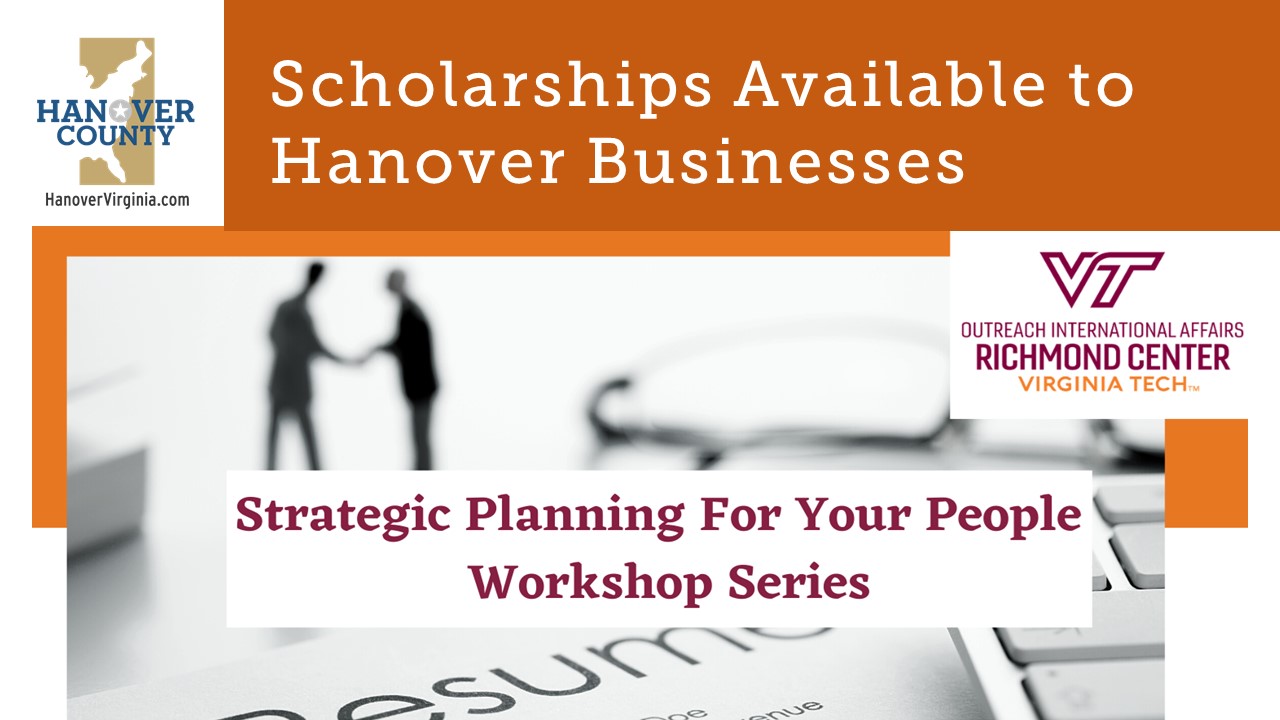 Hanover County Economic Development is offering scholarships to Hanover-based businesses interested in attending the Virginia Tech Richmond Center's Strategic Planning for Your People Virtual Workshops Series.  The Virginia Tech Richmond Center, which aims to connect resources of Virginia Tech with the Richmond region through valuable educational opportunities, is launching the three-part virtual workshop series on the life cycle of an employee. The workshop will focus on building the right team, growing and developing existing employees, as well as business succession planning for the future.  Each of the three workshops costs $99 per topic and can be taken individually or as a series.
Hanover County Economic Development is providing scholarships to a maximum of 15 businesses in Hanover County that are interested in attending the workshop(s).  Scholarships will cover $75 of the entire registration, equating to only $24 out-of-pocket to the registrant for one class.  Interested participants must be registered as a business in Hanover County. Scholarships will be awarded on a first come, first served basis to qualified applicants.  Classes are 90-120 minutes in length, and can be taken on select dates either on Tuesdays at 11 a.m. or Thursdays at 6 p.m.
Business representatives interested in a scholarship must be approved by Economic Development before registering with Virginia Tech.  To be considered, registrants must complete and submit the online form using the link below.  Upon approval, the registrant will be notified and provided a discount code for registration.  Questions should be directed to Jessica Hartness, Existing Business Manager at (804) 365-6459 or jrhartness@hanovervirginia.com.
For more information about the workshops, click here.
To apply for a Hanover-based Business Scholarship, please complete the online form here: Workshop Scholarship Application
Building the Right Team – Best hiring practices from aligning job descriptions to interviewing questions (90 minutes)
This workshop will explore best practices related to designing and filling positions to align with organizational needs.
Setting the Stage – Growing and developing your employees (120 Minutes) 
This workshop will explore best practices related to integrating new employees and setting your teams up for success.
Succession Planning – Strategic Planning for Your People (90 minutes)
This workshop explores a holistic approach to succession planning focused on aligning employees and their skills with the organization's strategic goals.