Hanover's Perspective
Hanover Businesses Provide Vital Support to the Community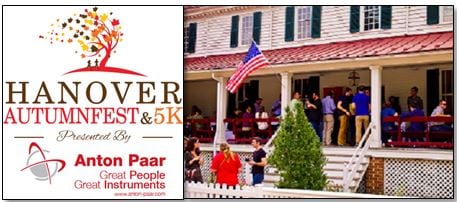 Not only do businesses of all sizes, industries, products and services serve as the backbone to the local economy, they also provide financial, in-kind and volunteer support to local events, teams, causes and organizations. Without the sponsorship of our businesses, many fun-filled and meaningful functions would struggle to thrive or even survive.
A great example is the Hanover Autumn Fest and 5K returning for its second year on September 30th at the Hanover Tavern. This year's event is coming back even stronger with the primary backing of Anton Paar USA and an impressive sponsor list of over 70 businesses. The proceeds from this event benefit the Hanover Tavern Foundation, a 501(c)(3) nonprofit organization, with its mission is to preserve, interpret and utilize Hanover Tavern as an historic, educational, community and cultural resource center for the enjoyment of all.
Anton Paar USA, a producer and distributer of highly accurate lab equipment, is also a sponsor of FIRST Chesapeake. FIRST (For Inspiration and Recognition of Science and Technology) Chesapeake are responsible for robotics competitions held in Virginia, Maryland and the District of Columbia.
Flexicell, a manufacturer of robotic and automation equipment, along with Anton Paar both lend their support to students participating in FIRST Robotics Competitions by providing mentorship, engineering and production resources, donations of materials and supplies, and use of their facilities.
Hanover Habitat for Humanity uses support from businesses and the community to build affordable homes along with the prospective homebuyer. Without this support, citizens may not be able to obtain these homes on their own.
Local schools benefit from business sponsorships for school newspapers, yearbooks, athletics, music, clubs, and events. Lee Davis High School and Hanover High School, for example, prominently display business sponsorships on their athletics sites. Additionally, community-based youth and adult sports leagues reap support including Ashland Little League and Dynamo Soccer Club.
Pepicelli's Pizza, owned by Lisa and Tom Checkosky, epitomize the spirit of giving back to the community. In 2016, they were honored as recipients of the Hanover County Spirit of Volunteerism Award followed in 2017 by the Virginia Governor's Volunteerism and Community Service Award for Outstanding Small Business.
By patronizing local businesses, we can all help them to make Hanover County an even better place to live and work! SHOP LOCAL!