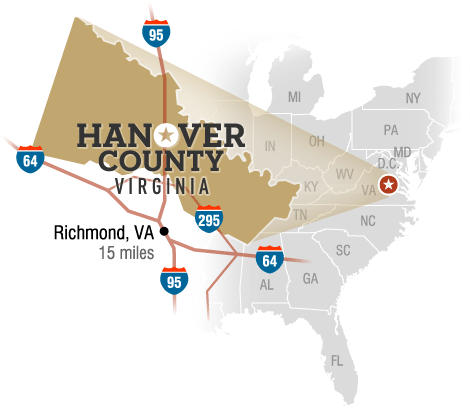 Hanover County is strategically located in Central Virginia and is perfectly situated at the mid-point of the East Coast. It is bisected by Interstate 95, just north of its intersection with Interstate 64 in the metropolitan Richmond region. Interstate 295 borders the County on the south.
As the result of its proximity to major population centers along the East Coast, Hanover businesses have access to an enviable transportation infrastructure that includes major interstates, rail and port facilities, commercial and municipal airports, foreign trade zones, and overnight delivery hubs.
Hanover County is within 500 miles (805 kilometers) of nearly 60% of the nation's population, over half of its manufacturing activity and 60 percent of its major corporate headquarters.
Hanover County is a 90-minute drive from the nation's capital, Washington D.C., and 15 minutes from the Commonwealth's capital, Richmond.
Interstates I-64, I-95, I-85, and I-295 converge in the metro area. This access equates to lower operating costs with quick shipments of "just-in-time" inventories.
The strong transportation network allows an easy commute to jobs in the metropolitan region from more than 20 surrounding cities, towns and counties.
More than 3 million passengers and about 140 million pounds of cargo are handled at Richmond International Airport (RIC) each year.  RIC is served by seven passenger airlines and three dedicated air cargo airlines.
Foreign Trade Zone 207 at Richmond International Airport allows companies to defer paying customs duties on goods until they leave the zone for domestic consumption.
The Port of Richmond is served by 64 Express barge service.