Hanover's Perspective
Hanover County EDA Sponsors Student Award at 2nd Annual Pitch Competition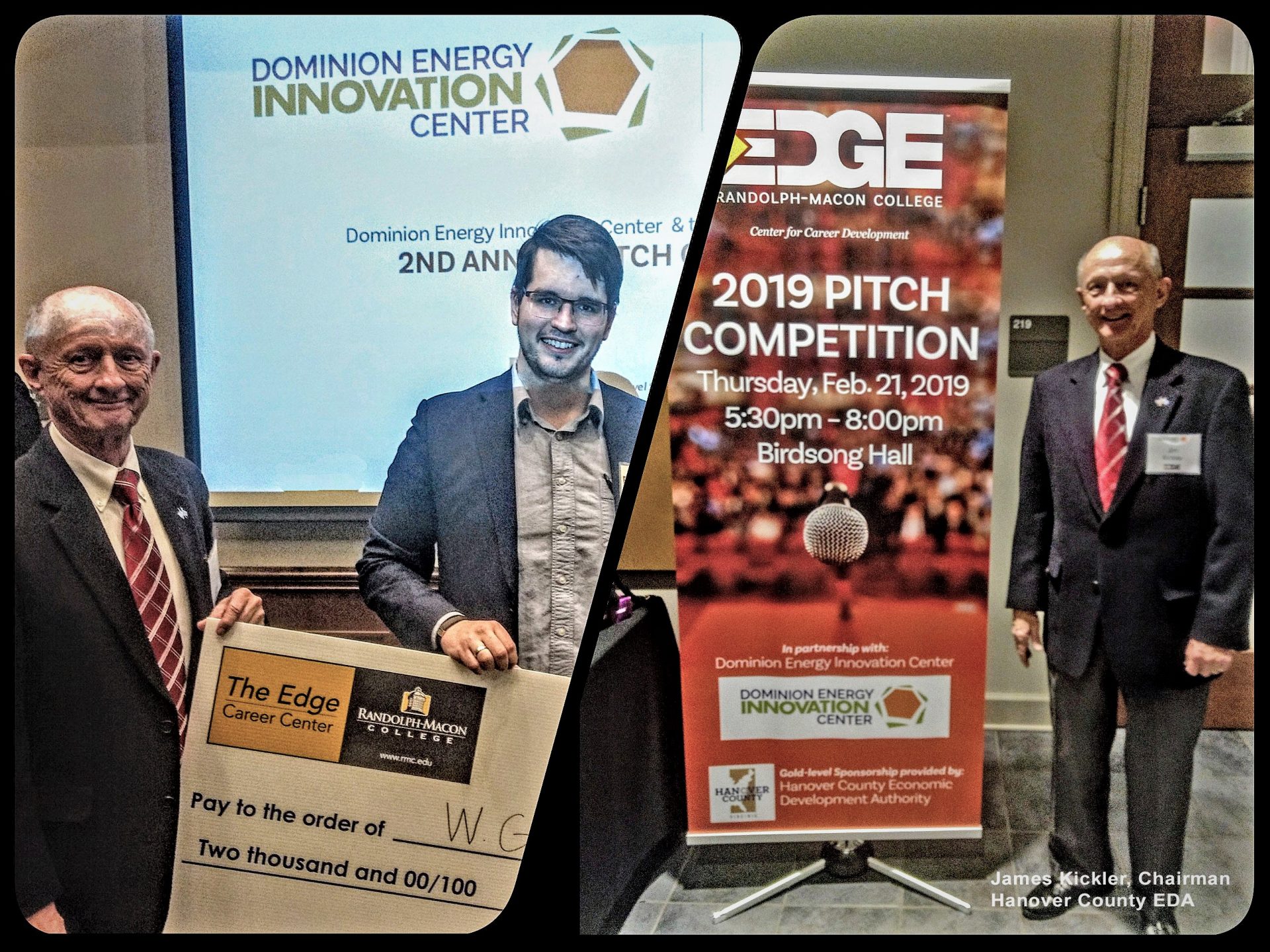 The Second Annual Pitch Competition hosted by the Dominion Energy Innovation Center and Randolph-Macon EDGE Career Center was held on February 21, 2019 at Randolph-Macon College's Birdsong Hall. This year's student competition received additional sponsorship from the Hanover County Economic Development Authority. The Authority's chairman, James Kickler, was in attendance to cheer on the competitors. The winner of this year's student competition is Francisco Rincon, a senior business major at Randolph-Macon who pitched his idea for a device to collect and recycle plastic bags.
The 2019 Pitch Competition featured three emerging technology startups vying for a $10,000 award and membership to the Dominion Energy Innovation Center. In conjunction, a separate award was designated for participating student teams representing Randolph-Macon College. Selected finalists each had five minutes to pitch their emerging companies and ideas in front of a panel of judges and a live audience consisting of ecosystem leaders, investors, and community members. Matthew Rosen, founder and CEO of TraceRx, successfully pitched his technology platform to win the emerging startup competition. His last-mile solutions platform used by relief and aid organizations uses blockchain technology to eliminate inefficiencies, waste and theft from supply chains.
The Dominion Energy Innovation Center (DEIC), located in downtown Ashland, offers a unique space for startups, early stage businesses, and creatives alike. Affordable memberships at the center offer private office space, co-working space, high speed internet, printing and 3-D printing, conference room, phone line, access to mentors, free classes and events, website and press exposure, free parking, 24/7 facility access, interaction with facility director and board. Members of DEIC also enjoy the benefits of VA Biotechnology Research Park affiliation. DEIC is sponsored by Dominion Energy, Activation Capital-VA BIO+TECH Park, Hanover County and the Town of Ashland.
The EDGE Career Center at Randolph-Macon College affords students the opportunity to apply their education into critical transferable skills. The Center provides full access to self-assessment, career exploration, and personal and professional development tools. EDGE Career Center coaches also assist students with resume development, internships and networking opportunities.