Hanover's Perspective
Holiday Happenings in Hanover County – 2017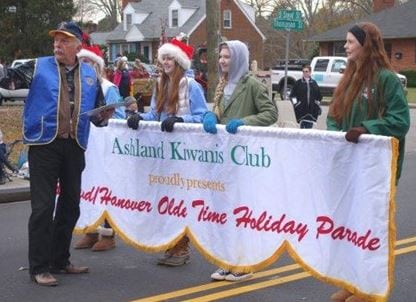 2017 Holiday Season
From small community events to historic holiday traditions, there are plenty of ways to celebrate the holiday season in Hanover!
Ashland/Hanover Olde Time Holiday Parade
November 19, 2:30 p.m.
Start your holiday season with some hometown merriment! The parade starts at Thompson Street and South Snead Street and ends at John Gandy Elementary School. The event is organized by the Ashland Kiwanis Club.
Santa at The Beaverdam Depot
December 2, 4:00pm-7:00pm
The Beaverdam Depot
Come listen to carols sung by children's choirs, tree lighting, get pictures taken with Mr. and Mrs. Claus (photography available for purchase), and enjoy cookies and hot chocolate! Visit on Facebook @beaverdamdepot.
Mechanicsville Christmas Parade
December 3, 2 p.m.
Sponsored by the Mechanicsville Rotary Club and the Mechanicsville Ruritan Club, the village parade showcases community talents in the spirit of the season. The 1.8-mile route begins on Hanover Green Drive and travels through nearby neighborhoods and ends on Mechanicsville Turnpike. Proceeds benefit the local Christmas Mother campaign.
Spirits of Dickens' Christmas: A Play in One Act
December 4 and December 5, Four performances each night (6:00, 6:45, 7:30, or 8:15)
Hanover Tavern
Twelve years after he wrote A Christmas Carol, Charles Dickens is going to America. He is to perform a dramatic reading about the values of Christmas. At home with his family, he struggles to write his script. He will get help. The dreams, phantoms and ghosts that always guided Dickens' imagination do not fail him. Some of his imaginary friends arrive with words of wisdom and a little humor to inspire and remind him of the true meaning of Christmas. Admission fee applies.
A Grand Illumination at The Montpelier Center
December 5, 6:00 p.m. to 7:30 p.m.
The Montpelier Center for Arts and Education
A Grand Illumination of The Center's lovely grounds will be followed by a choral performance, a reading of "Twas the Night Before Christmas", and tasty holiday treats. This is a free event. Please RVSP by emailing: info@montpeliercenter.org.
Santa's North Pole & Holiday Market
December 9, 9:00 a.m. to 2:00 p.m.; Santa is visiting from 10:00am to 1:00 p.m.
The Montpelier Center for Arts and Education
The Montpelier Center will be transformed in to Santa's North Pole. Visit with Santa and enjoy snacks, crafts and activities. No fees apply unless professional photos with Santa are purchased. This event is open to the public.
Beaverdam Craft & Cookie Exchange
December 9, 9:00 a.m. – 1:00 p.m.
The Beaverdam Depot
Shop local for crafts and cookies! Visit on Facebook @beaverdamdepot.
A Colonial Christmas at Patrick Henry's Scotchtown
December 9, 10:00 a.m. to 9:30 p.m.
December 10, 12:00 p.m. to 5:00 p.m.
Patrick Henry's Scotchtown
Come out for two days of merriment to celebrate a simple 18th-century Christmas holiday at Patrick Henry's Scotchtown. Come enjoy beautiful natural decorations, festive treats and hot cider, a boxwood wreath making craft workshop (12/9/17 @ 3:00 p.m., additional fee applies) and colonial dancing. Admission fee applies.
A Renaissance Holiday Concert & Tree Lighting
December 10, 7:00 p.m. – 8:30 p.m.
Hanover Tavern
Celebrate both the quietness and unrestrained joy of the holiday season with The Patrick Henry High School Madrigal Singers. The Madrigal Singers, under the direction of Jacob Devol, will perform highlights from a repertoire dating from the late Renaissance period to the present including many winter and holiday favorites. Immediately following the concert, the Madrigals will lead a carol-sing and tree lighting. Cookies and hot chocolate will be served. Holiday dinner specials will be available before the concert. Admission fee applies.
Breakfast with Saint Nick
December 16, 8:00 a.m. to 10:00 a.m.
Hanover Tavern
Enjoy breakfast and visit with Santa! Craft an ornament to take home. Reservations required. Fees apply.