Hanover's Perspective
More Holiday Happenings in Hanover County – 2018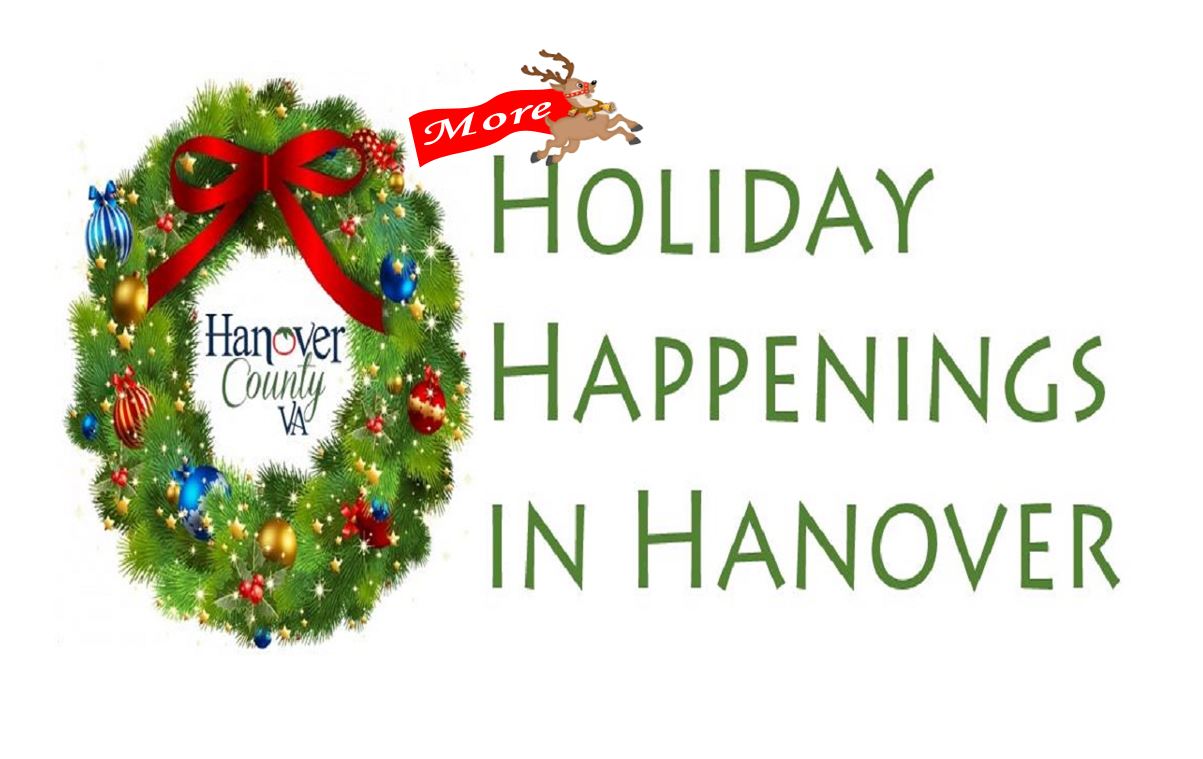 From small community events to historic holiday traditions, there are numerous ways to celebrate the holiday season in Hanover.  New this year is the highly anticipated WinterFest at Kings Dominion providing all the sights, sounds, food and experiences of the holiday season.
Here is a list of holiday events in Hanover not to be missed:
 Hanover Santa Run – Hanover Fire and EMS
Various dates in December and locations in Hanover.
Free.
Santa Claus is coming to Hanover County and, with the help of the Fire/EMS department, will be visiting communities for his annual Santa Run.
WinterFest – Kings Dominion
November 23 – December 31.  See WinterFest Calendar for dates/times.
Admission fees apply.
New in 2018, holiday traditions come to life at Kings Dominion's WinterFest. Friends and families are treated to an ultimate holiday celebration as the park is magically transformed into a winter wonderland – full of enchantment, cheer and classic family fun. The park shines bright with over 2 million shimmering lights, a 300-foot tree and lavish displays. Twelve live shows and up to 34 strolling performers delight guests and spread Christmas cheer for all to hear. Festive fun and hands-on holiday activities are located throughout the park, and sweet aromas from special holiday dishes and desserts fill the midways. Plus, up to 21 of your favorite rides will be open to complete your night of memory making.
Santa's Wonderland – Bass Pro Shops
Now – December 24, various times. See online schedule.
Free.
Visit Santa and receive a free photo. Free crafts, games and activities also available. Due to demand, read the requirements for obtaining a dedicated time slot with Santa.
Beaverdam Depot Open House with Santa & Mrs. Claus – Beaverdam Depot
December 1, 4:00 – 7:00 pm
Free. Photographs with Santa available for purchase.
Come to the Beaverdam Depot to listen to carols of the season sung by local children. Cookies and hot chocolate will be on-hand!
Light Up the Tracks Celebration Street Party – The Depot, Ashland Meat Company at Cross Brothers
December 1, 6:30 pm
See event page for details.
Plan to attend the first ever Holiday Street Party to kick off Ashland's Light Up the Tracks' month-long celebration. Stroll the mile-long holiday postcard created by outlining every building in the historic district along with railroad tracks. Shop in the local businesses for holiday specials, and enjoy dinner at one of Ashland's top eateries. Starting at 6:30, a community chorus will sing carols followed by other musical entertainment acts.
Breakfast with Santa – Beaverdam Volunteer Fire Department & Beaverdam Elementary School PTA
December 1, 8:00 am – 12:00 pm
Check listing for breakfast fees.
Beaverdam Volunteer Fire Company & Beaverdam Elementary School (BES) PTA has teamed up for their annual Santa Breakfast. There will be a sausage and pancake breakfast, visits with Santa, vendors, a silent auction and a BES percussion performance.
Breakfast with Saint Nick – Hanover Tavern
December 1 & 2, Two seatings available each day at 9:00 a.m. or 11:00 a.m.
Reservation/fees apply.
Enjoy a delicious breakfast and visit with Santa! Craft an ornament to take home.
Mechanicsville Christmas Parade – Windsor Subdivision & Mechanicsville Turnpike
December 2, 2:00 pm – 4:00 pm
Free.
Sponsored by the Mechanicsville Rotary Club and the Mechanicsville Ruritan Club, the village parade showcases community talents in the spirit of the season. The 1.8-mile route begins on Hanover Green Drive and travels through nearby neighborhoods and ends on Mechanicsville Turnpike. Proceeds benefit the local Christmas Mother campaign.  Refer to the Hanover County Sheriff's Office page for information about road closures for this event.
A Grand Illumination – The Montpelier Center for Arts and Education
December 4, 6:00 – 7:30 pm
Free. Please RVSP by emailing: info@montpeliercenter.org.
A Grand Illumination of The Center's lovely grounds will be followed by a choral performance, a reading of "Twas the Night Before Christmas", and tasty holiday treats. Other businesses in Montpelier will also be illuminating their buildings.
Breakfast with Santa – Bass Pro Shops
December 8 and December 15, 7:30 – 9:45 am
Tickets must be purchased prior to the event. See post for details.
Enjoy breakfast and a free photo with Santa. Seating is limited.  All proceeds benefit The Arc of Hanover!
Santa's North Pole & Holiday Market – The Montpelier Center for Arts and Education
December 8, 9:00 am – 2:00 pm; Santa is visiting from 10:00 am – 1:00 pm
Free. Photos with Santa are available for purchase.
The Montpelier Center will be transformed in to Santa's North Pole. Visit with Santa and enjoy snacks, crafts and activities. Shop the market filled with handcrafted, locally made gifts to enrich your holiday shopping needs. Exhibitors will include crafters, artisans, and farmers.
A Patrick Henry Christmas – Patrick Henry's Scotchtown
December 8, 6:00 – 9:00 pm
Admission fees apply.  Ages 18 years or older only.
Imagine it is 1772. Your host, Patrick Henry, meets you at the door, welcoming you to his Christmas party. Dancers teach you the latest 1772 dances. Between sets, you sit and play parlor games or enjoy light 18th century refreshments. You also mingle with other 21st century guests as you enjoy visiting the house Mr. Henry called home from 1771 until he moved to Williamsburg in 1776 to become the first elected Governor of the new state of Virginia.
2nd Annual COTU Christmas Market – Center of the Universe Brewing
December 8, 1:00 – 6:00 pm
Free. Merchandise available for purchase.
Attend this one-day market where 13-15 handcrafted vendors will be on-hand at the brewery for your unique gift shopping needs. Proceeds will benefit a local charity! There will be holiday music, a phenomenal food truck, and delicious beers flowing all day long.
The Tater's Holiday Show – Ashland Coffee & Tea
December 8, 8:00-10:00 pm
Admission fees apply.
Dinner menu and reserved seating at 6:30, 7:00. and 7:30. Dinner prices range from $10-$22. Open general seating for show only at 8:00 with Bar Menu, available.
A Renaissance Holiday Concert & Tree Lighting – Hanover Tavern
December 9, 7:00 – 8:30 pm
Admission fees apply. Tree lighting is free.
Celebrate both the quietness and unrestrained joy of the holiday season with The Patrick Henry High School Madrigal Singers. The Madrigal Singers, under the direction of Jacob Devol, will perform highlights from a repertoire dating from the late Renaissance period to the present including many winter and holiday favorites. Immediately following the concert, the Madrigals will lead a carol-sing and tree lighting. Cookies and hot chocolate will be served. Holiday dinner specials will be available before the concert.
A Scotchtown Family Christmas – Patrick Henry's Scotchtown
December 9, 12:00 – 5:00 pm
Admission fees apply.
Bring your family to Patrick Henry's Scotchtown and join us as we prepare for the holiday season! Make your own 18th century Christmas decorations, practice your dance steps and learn colonial games. Then, relax in the kitchen with light refreshments. Father Christmas may even stop by!
Santa Brunch – The Henry Clay Inn
December 9, 10:00 am – 2:00 pm
Reservations required. Brunch fees apply.
Come out and visit with Santa and have brunch with him! There will be holiday arts and crafts and photo opportunities with Santa. Please bring your own camera.
Cookie and Craft Event – Beaverdam Depot
December 9, 1:00 – 4:00 pm
Shop local! Enjoy locally made crafts from your neighbors, and satisfy your sweet tooth with cookies to buy by the pound!
RVA Santa Days – Green Top
December 15 – December 23, times vary daily
Free.
Bring your holiday spirit and smiles for a free picture with Santa! Optional donations will be accepted benefiting the Children's Hospital of Richmond.
Santa Claus is Comin' to Town – Ashland Theater
December 22, 4:00 – 7:00 pm
Free.
As part of Ashland's Light Up the Tracks event lineup, here's your chance to meet jolly old St. Nick, Mrs. Claus and Rudolph at the newly renovated Ashland Theatre! Enjoy photo opportunities and be among the first to see the newly restored entertainment venue.
Various Holiday Events – James River Cellars Winery
Use this link to the access the winery's calendar of events for more information and to purchase tickets. James River Cellars Winery is open seven days a week.  Closed Thanksgiving Day and Christmas Day. During the month of December events include Holiday Canvas Paint Nite, Cookie Decorating, a Holiday Showcase, a Monogram Paint Party and a Tacky Sweater Happy Hour.
Various Holiday Events – Light Up the Tracks, Ashland, VA
Events scheduled the first four Saturdays in December.
See link for details.
Get into the holiday spirit with marching bands, a holiday concert and a visit with Santa.
Various Holiday Events – The Depot, Ashland Meat Company at Cross Brothers
See their events page for details.
Try your hand at a wreath-making class or attend a holiday market with local vendors, artists and craftsmen.