Hanover's Perspective
AG-X Workshop Scholarships Available to Ag-Businesses/Entrepreneurs in Hanover County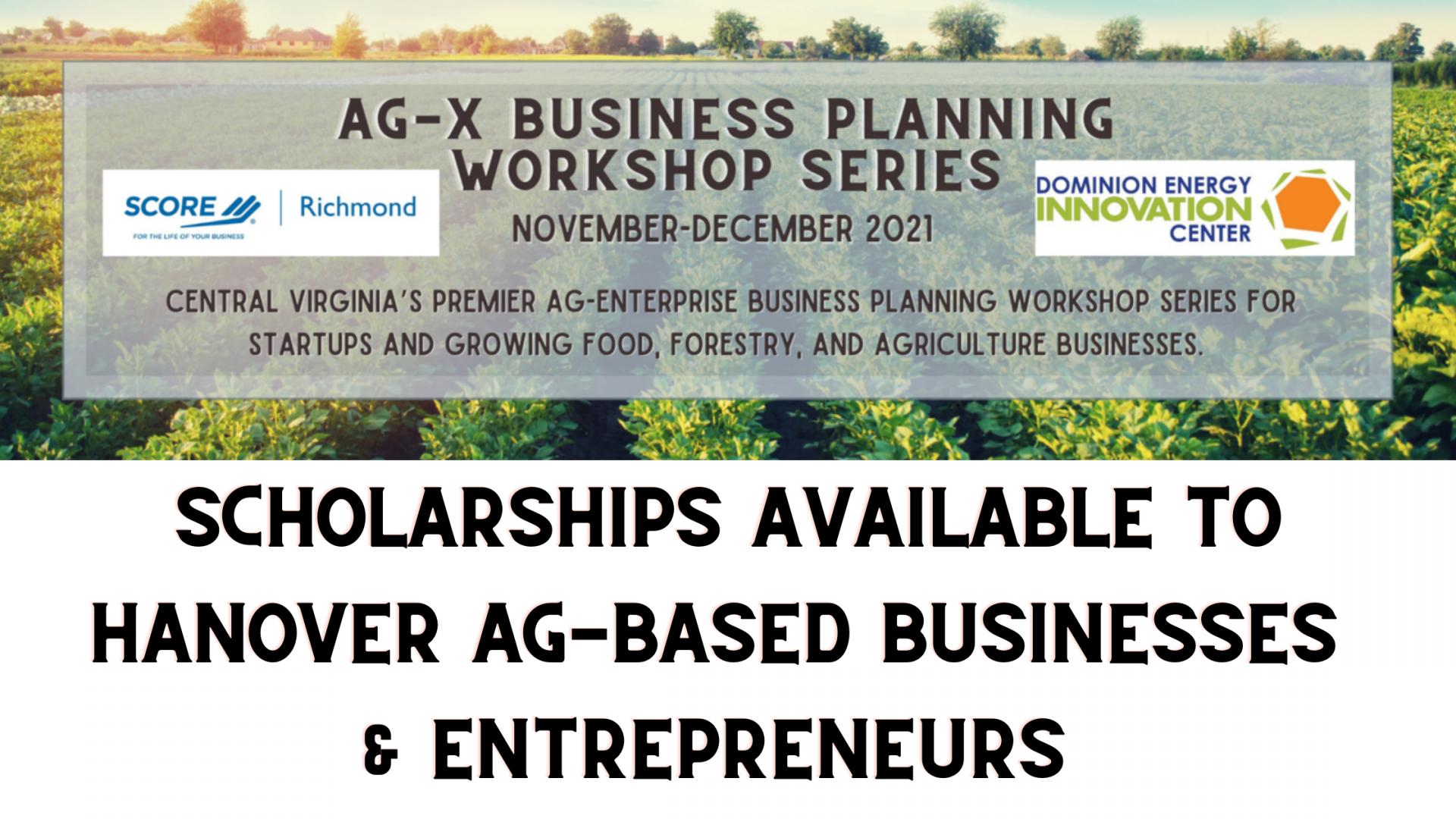 Hanover County Economic Development is offering scholarships to Hanover-based agriculture businesses and entrepreneurs interested in attending the Richmond SCORE and Dominion Energy Innovation Center exclusive five workshop series targeted at helping Central Virginia agri-enterprises start or scale their food, forestry, or agriculture products and services.  The Ag-X Workshop Series was launched in an effort to strengthen the regional economy and help business owners catalyze their growth by providing the tools, principles, and connections needed to succeed.
"Agriculture still remains one of Hanover County's strongest economic drivers.  The Ag-X Workshop Series hosted by the Dominion Energy Innovation Center will encourage entrepreneurial start-ups and innovative new technologies and concepts for those who may be interested in operating in this industry," said Linwood Thomas, Director of Economic Development.
Companies of any size, stage, and sector are encouraged to participate in the Ag-X Business Planning Workshop Series. Content has been specially designed for entrepreneurs bringing to market value-added agricultural products, services, and brands; whether that is a new controlled environment agriculture concept, the most delicious artisanal cheese, or a drone to monitor field conditions.  Space is limited and likely to fill up quickly, so grab a spot by registering on SCORE's website.
The registration fee for the five workshop series is $125 and can be attended in-person at the Dominion Energy Innovation Center or online via Zoom.  Throughout select Wednesday evenings in November and December, participants will take a deep dive into their business operations with Glen Sink, former agri-business executive turned SCORE mentor, and numerous other industry executives including Virginia Department of Agriculture officials and commercial bankers.
The workshops are held from 6:00 pm. – 8:00 p.m. on the following Wednesday evenings:
Workshop #1 – Introduction to Agri-Business Planning Models- November 10, 2021
Workshop #2 – Developing Your Business Foundation – November 17, 2021
Workshop #3 – Developing Your Business Plan – December 1, 2021
Workshop #4 – Designing Your Customer Experience – December 8, 2021
Workshop #5 – Constructing Your Business Financials- December 15, 2021
Hanover County Economic Development is providing scholarships to a maximum of five agriculture-based businesses/entrepreneurs located in Hanover County interested in attending the workshop series.  Scholarships will reimburse the $125 registration fee upon completion of series. In order to receive reimbursement of the $125 registration fee, enrollee must attend a minimum of four of the five workshops. Interested participants must be registered as a business in Hanover County or a Hanover resident pursuing an Ag-based business in Hanover County.  Scholarships will be awarded on a first come, first served basis to qualified applicants.
Hanover-based businesses/entrepreneurs interested in a scholarship must be approved by Economic Development before registering with SCORE Richmond.  To be considered, registrants must complete and submit the online form using the link below.  Upon approval, the registrant will be notified and provided an email detailing the terms of fee reimbursement.  Questions should be directed to Jessica Hartness, Existing Business Manager at (804) 365-6464 or jrhartness@hanovervirginia.com.
For more information and to register for the workshop series, use one of the following links:
To apply for a Hanover-based Agriculture Business/Entrepreneur Scholarship, please complete the online Workshop Scholarship Application.
Please wait for approval BEFORE registering for the workshop series.