Hanover's Perspective
Civil War Battlefields with Walking Trails in Hanover County, VA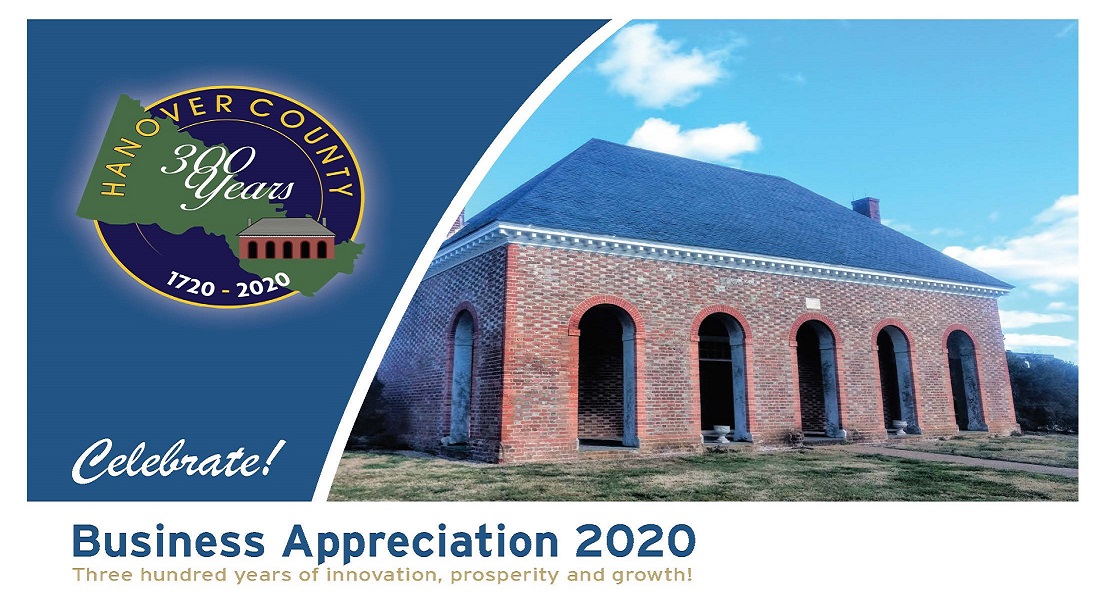 To commemorate business appreciation during the 300th anniversary of Hanover County, the Department of Economic Development is recognizing the county's tourism and hospitality industry featuring historical, cultural, leisure and entertainment entities and businesses.  Hanover's tourism assets contribute a significant amount to our local economy with visitors spending over $258 million and generating over $5 million in additional tax revenue in 2018.
Throughout the month of May, we invite you to visit us at www.HanoverVirginia.com and our social media platforms as we highlight many of these assets to inspire and encourage local support, as well as show our appreciation, for all that our businesses and organizations do to make Hanover a wonderful place to live, play, learn and visit!  Also, check out our apps:  "See and Do In Hanover County" and "Food & Beverage Establishments in Hanover County".
---
Hanover has many sites associated with the Civil War. Most of the major battlefields can be found by following two driving trails established by the Virginia Civil War Trails program: the 1862 Peninsula Campaign and Lee vs. Grant 1864 Campaign. Major sites along the trails include:
Beaver Dam Creek Battlefield
7423 Cold Harbor Road, Mechanicsville, VA 23111
The park preserves a section of the two-mile front that Confederates unsuccessfully attacked on June 26. The bold advance, combined with the arrival of "Stonewall" Jackson's command, convinced Union commander George B. McClellan to order a withdrawal to high ground near Gaines' Mill.
Take the short Beaver Dam Creek Trail beginning at the parking area that leads across the creek through an area where Southern casualties were particularly heavy. Exhibits along the way describe the fighting from both the Union and Confederate positions.
Nearby:  Shopping and eateries located on Bell Creek Road and along Route 360-Mechanicsville Turnpike.
Cold Harbor Battlefield
5515 Anderson-Wright Drive, Mechanicsville, VA 23111
For two weeks in June 1864, the armies of Robert E. Lee and Ulysses S. Grant tangled in a complicated series of actions. A determined Confederate defense turned away a massive Federal attack on June 3 and helped convince Grant to maneuver south and advance on Petersburg. The visitor center includes an electric map program for Cold Harbor and Gaines' Mill, exhibits, and a small bookstore. A one-mile drive parallels and crosses significant stretches of both the Confederate and Union entrenchments, all of which are original to 1864.
A series of walking trails, ranging from one mile to nearly three miles, takes visitors through the site. The trails consist of three connected loops where visitors can wander through native forest, listening to the trickle of Bloody Run creek, and learn about the site's Civil War history. The blue trail is a one-mile walk, the white trail adds an additional 1.5 miles and the yellow loop an additional 0.9 miles. These three trail segments twist through critical battlefield land. Highlights include multiple layers of original fortifications, a stop at the 2nd Connecticut Heavy Artillery monument and details on the heavy fighting that occurred in those woods on both June 1 and June 3, 1864.  Cold Harbor Trail Guide
Nearby:  Retail shopping and eateries galore including major chain eateries, Skrimp Shack, Calabash Seafood, Mexico Restaurant and much more.  Drive just 5 minutes east on Route 360 and enjoy eateries in Old Mechanicsville including Carter's Pigpen Bar-B-Que, The Ville, 360 PizzeriA, Williams Bakery and more.  Cold Harbor Battlefield is located approximately 5 miles from the Bell Creek Road area of Route 360 and is near Gaines' Mill Battlefield.
Gaines' Mill Battlefield
6283 Watt House Road, Mechanicsville, VA 23111 (Located less than 3 miles from Cold Harbor Battlefield)
On June 27, 1862 Union and Confederate soldiers fought the bloodiest battle of the Seven Days. In one day, 15,000 men fell killed, wounded or captured. The historic Watt House still stands and served as Union General Fitz John Porter's headquarters.
Follow the one-mile walking trail along Boatswain Creek past the site where Hood's Texas Brigade broke through the line and helped force the collapse of the Union position. Along the trail are historic markers, a monument to General Wilcox's Alabama brigade and a battlefield overlook that reveals a landscape little changed since the battle.  The Gaines' Mill battlefield has two connected loop trails where visitors can hike through historic hardwood forest overlooking Boatswain creek. Although the wooden barricades used by the Federal army during the battle are long gone, the historically oak-dotted slope retains many of its 1862 features. The primary walking trail (.42 miles long) gets visitors to the area where the first crack in the Union line occurred, a wedge driven through by Hood's Texas Brigade. The extended loop (.76 miles when combined with the primary loop) visits the far Union left, a monument to Alabama troops and an additional .15 mile spur trail takes hikers to an overlook pointed toward the valley of the Chickahominy River.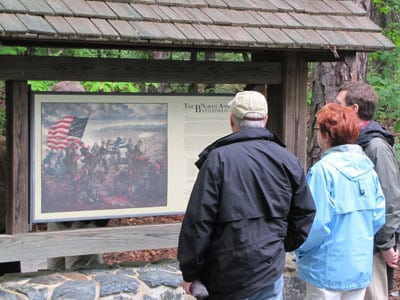 Nearby:  See Cold Harbor Battlefield's list of nearby eateries and shopping.  Gaines' Mill is located only 5 miles from the Bell Creek Road area of Route 360 and is near Cold Harbor Battlefield.
North Anna Battlefield
11576 Verdon Rd., Doswell, VA 23047
Between May 23 and May 26, 1864, close to 130,000 Union and Confederate soldiers occupied fortifications along the North Anna River. The heaviest fighting occurred on the first two days. On May 27, the armies left the area on their march toward Cold Harbor.
Today, the North Anna Battlefield site is a beautiful park with over 6 miles of trails known for both its historic significance and interpretive markers and designation as a Virginia Birding and Wildlife Trail.
Nearby: Kings Dominion, Castle Glen Estates Winery, Squashapenny Junction.  North Anna Battlefield is located about 20 minutes north of the Town of Ashland with food and beverage establishments including Jake's Place, The Iron Horse, Trackside Grill, The Caboose, Sugar Fix Bakery, Homemades by Suzanne, Ashland Coffee & Tea, Marco's Italian, Origin Beer Lab and more. Enjoy one of several trails within the town, walk the grounds of Randolph-Macon College, visit the Ashland Museum, and shop at Refunkit, Gotta Have It Gifts, Thrill of the Hunt, Tiny Tim's Trains & Toys, Tompkins Jewelers and more!
Totopotomoy Creek at Rural Plains
7273 Studley Road, Mechanicsville, VA 23116
While Civil War battles took place at this site, its history extends to back before the Civil War. On the property is the Shelton House, which was built by the wealthy Shelton family in about 1723 and remained inhabited by the same family for over 280 years before being sold to the National Park Service in 2001. The family had direct ties to the Revolution, as Sarah Shelton was married to Patrick Henry, possibly in the Shelton House. The house saw its most intense action during the Civil War when two Union signalmen relayed messages to their troops while Confederate troops tried to shoot them down, hitting the building at least 50 times, but the Union soldiers survived.
The Totopotomoy Creek battlefield has a 0.56 mile long loop trail that tours the fields and gardens around the Shelton House. Highlights include two pieces of Union-built entrenchments that survive along this trail and the family cemetery just in front of the entrenchments. With its headstones for two children, the cemetery provides a jarring connection between the battle and the domestic story. Hikers can continue down a .4 mile (one way) spur trail, through some beautiful forest scenery to a foot bridge overlooking Totopotomoy Creek and associated wetlands. At this point, visitors have the opportunity to cross the creek and examine well-defined Confederate positions on the southern slope. Totopotomoy Creek Trail Brochure
Nearby: Red Rooster County Store, The Salty Pig Smokehouse, Giovanni's Pizza, For Posh Sake, Pleasants Hardware and much more in the Atlee area.  A few minutes south off of I-295 near Pole Green Road, shop at Governor's Architectural Antiques and Pole Green Produce, visit Historic Pole Green Church and enjoy food from Sports Page Bar & Grill, Bell Hut Asian, Bell Café, Bruster's Real Ice Cream, and more. Near the Bon Secours Memorial Regional Medical Center, enjoy The Pasta House, More Than Greek, or Pad Thai.  Totopotomoy Creek at Rural Plains is only 10 minutes from the Atlee area of Route 301 and 15 minutes from Route 360/ I-295 interchange.