Hanover's Perspective
CodeBlue Technology to Relocate Headquarters to Hanover County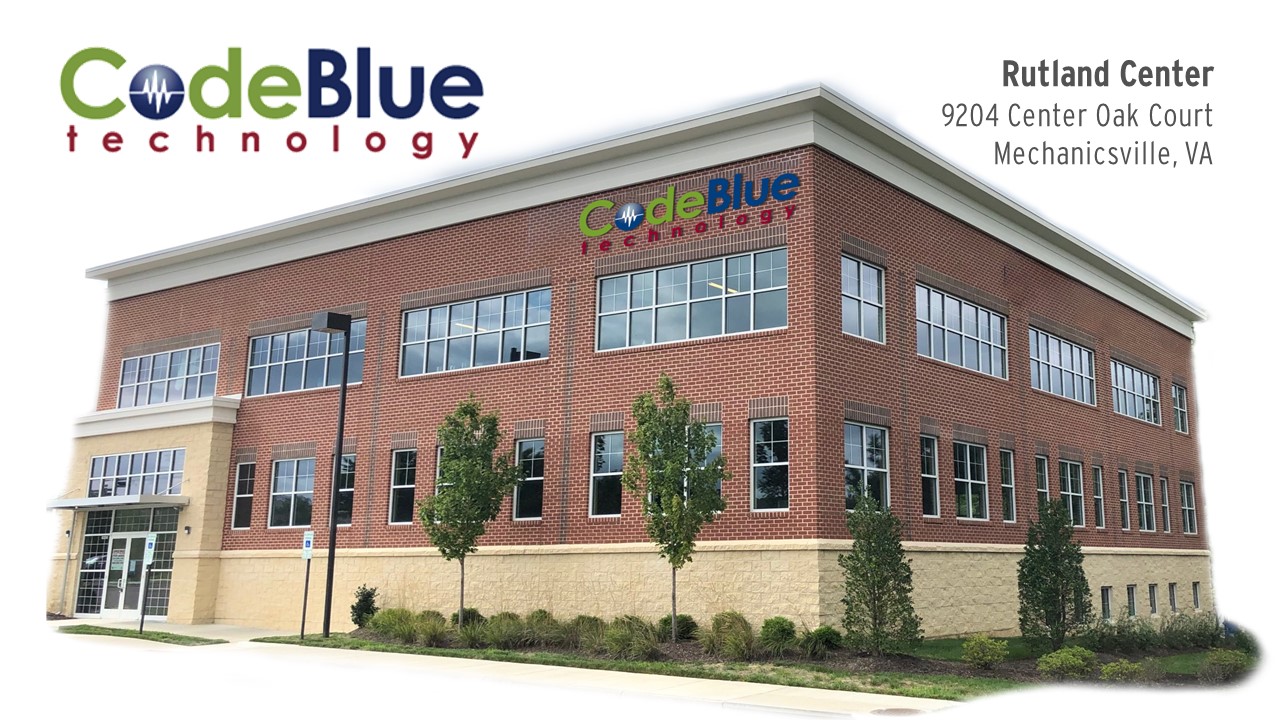 CodeBlue Technology, a provider of comprehensive computing technology solutions to small and mid-sized businesses, announced the upcoming relocation of its Richmond-area headquarters to the Rutland Center Office Building located in Mechanicsville, Virginia.  "We are delighted to welcome CodeBlue Technology's headquarters to Hanover County," said Angela Kelly-Wiecek, Chickahominy District Representative on the Hanover Board of Supervisors. "It is particularly exciting because tech-based jobs are a great-fit for our workforce and, of course, Mr. Hayden is a homegrown entrepreneur.  As they serve their expanding client base, we look forward to supporting their continued growth and involvement in our community."
CodeBlue Technology's extensive offerings span a wide range of services including expert consultations during the procurement of new technology, managed services including security patching, data backups and network monitoring, voice over technologies, networking, security cameras, and more.  Additionally, the company provides comprehensive public and private cloud hosting.
"We are tremendously excited to build out this new space especially designed for our team and the way that we work for our clients," said Mr. Trey Hayden, CodeBlue Technology Founder and CEO.  "This space is going to enable us to work more efficiently, and showcase technology for clients and prospects that visit our office. We have also included presentation and meeting space that will be open to our neighbors and community groups that need a place to meet or collaborate."  Mr. Hayden further commented, "We are very grateful to Linwood Thomas and the team of Hanover County Economic Development for pointing us towards this new location in Hanover.  It is important for business owners in our region to know that Hanover County's Economic Development team works just as hard to support small businesses like ours, as they do for large businesses.  I am extremely proud to have our headquarters in Hanover."
Trey Hayden, a Mechanicsville native and current resident, received his degree from the School of Business at Virginia Commonwealth University after graduating from Hanover County Public Schools.  Since founding the company in 2003, Trey has provided leadership, time and resources to cultivate his team of nearly 30 consultants, engineers and managers. With a diverse client list of businesses spanning many industries including healthcare, finance and accounting, manufacturing, legal, non-profit and more, he shares his passion of helping clients through technology with his expert and capable team.
"I have come to know Trey personally over the last three years, and our team has worked hard to help him find the right location for CodeBlue Technology," said E. Linwood Thomas, IV, Director of Hanover County Economic Development.  "Mr. Hayden is not just a business owner, but a resident of Hanover County and is also very involved in the local community.  He was recently named to the Hanover County Economic Development Authority to add to the list of other non-profit organizations he serves.  I have always found the best companies in any locality are those that also give back to the community in which they are a part of.  We are excited to welcome CodeBlue Technology to a small but growing list of tech-based companies that call Hanover County home."
After completing the move in February 2021, CodeBlue will occupy 6,000 square-feet of the new Rutland Center Office Building's third floor located at 9204 Center Oak Court. The remaining two floors, each with over 5,500 square-feet, are currently available for lease.  This ideal location is located within minutes of I-295 and I-95 in a picturesque mixed-use development with many walkable amenities.
For more information about leasing office space, please contact Brandon Turner, Deputy Director of Economic Development at (804) 365-6464 or bsturner@hanovervirginia.com.