Hanover's Perspective
Get to Know the Dominion Energy Innovation Center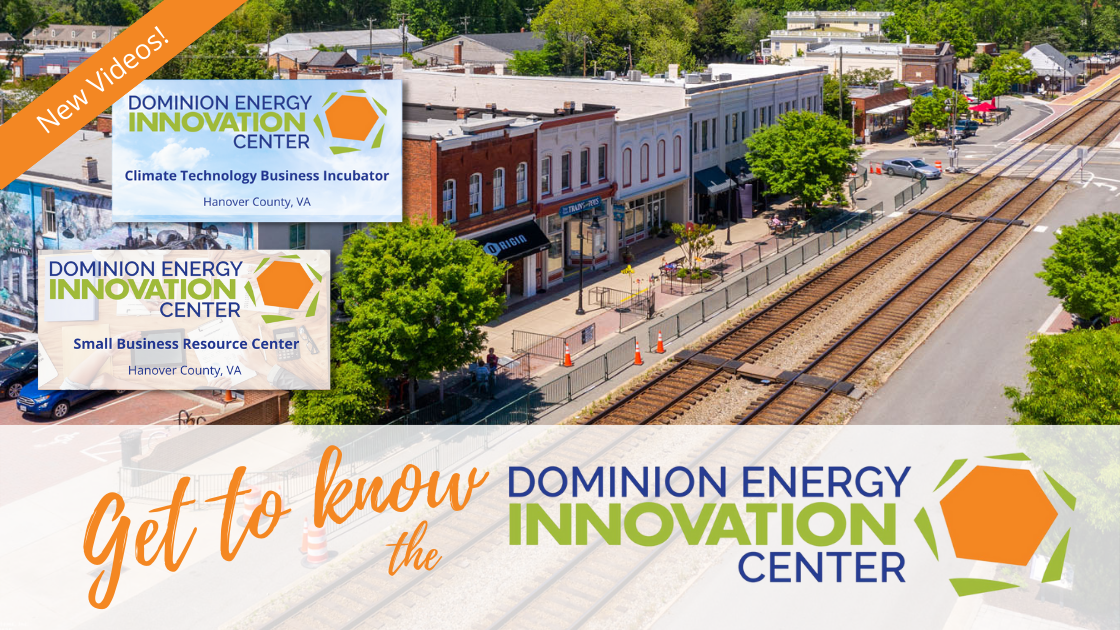 Under the leadership of Adam Sledd since 2019 and joined by Braden Croy as Program Director in 2021, the Dominion Energy Innovation Center (DEIC) has realized tremendous growth and significant expansions in its programming.  "Small business owners are the heart of any community's economy, which is why we're so excited to spend every day working with a broad range of companies from clean tech to food production," said Adam Sledd. "Hanover is a great place to grow a business and DEIC is proud to be the county's home for entrepreneurs."
DEIC currently houses 23 members (up 43% from 2020), and has hosted hundreds of in-person and virtual educational and networking events, scheduled hundreds of mentoring hours, witnessed the launch of a number of new companies and graduation of several alumni companies.  Additionally, the Center routinely employs interns and hosts annual accelerator programs and its pitch competition.  Recognizing the importance of agriculture-based businesses in Hanover County, DEIC hosted the Ag-X Workshop Series in 2021 led by SCORE-Richmond mentor, Glen Sink.
Representative companies that have come up through the incubator and now have moved onto their own facilities in Hanover County include life science and technology-based businesses: ITL Virginia, Inc., a medical device company; and GOGO Band, a developer of a wearable, biometric device to help detect a chronic health condition in children.  To date, nearly 50 businesses have resided at DEIC as incubator and/or co-working space occupants.
Dominion Energy, Hanover County, Town of Ashland, Activation Capital and Virginia Innovation Partnership Corporation are the primary sponsors of the Dominion Energy Innovation Center.
"As the Director of Economic Development for Hanover County and a board member of the Dominion Energy Innovation Center, I am ecstatic at the work being done.  The cultivation of entrepreneurship and small business growth is some of the most important work we do at the local level, and we lean heavily on DEIC to provide that support," said Linwood Thomas.
"DEIC's partnership with Dominion Energy helps this community by finding, nurturing, and launching great new companies right here in Ashland, while the co-working option provides our existing small businesses with a great place to hang their shingle at a low cost with amazing resources," said Josh Farrar, Ashland's Town Manager. "This dual purpose strikes the right balance for our community and is critical to meeting the needs of the Center, the Town, and the County.  I couldn't be happier with the progress made through Adam and Braden's leadership."
During the summer of 2022, DEIC is hosting seven startup companies enrolled in its third annual accelerator program. The 18-week program, called DEIC Accelerate, is typically open to six to eight companies and is targeted primarily to energy and environmental startups. The program, offered virtually and in-person, includes a mix of Virginia and non-Virginia -based companies.  Since its inception in 2020, DEIC Accelerate has graduated 15 cohort companies through its program.
In partnership with The EDGE Center at Randolph-Macon College (R-MC), DEIC hosts an annual pitch competition welcoming emerging technology and sustainability focused startups from across Virginia.  The 2022 Center Street Pitch Competition, held in February at the College, also hosted an agribusiness track and a R-MC student track.  Winning pitches received cash prizes and comprehensive branding packages.  Previous winners including Babylon Farms, Goodfynd and current resident company, Linebird, have all gone on to raise millions of dollars in capital and create full-time jobs in the region.  Linebird is also a previous 2020 DEIC Accelerate Program Cohort.
Bursting at the seams with resident co-working space companies, various programming events and green-tech startup support activities, DEIC doubled its space in early 2022 in the same building on Duncan Street in Ashland.  DEIC now has twelve offices in its space, and the expansion brought with it a kitchen and new conference room.
For more information about the Dominion Energy Innovation Center, visit http://www.dominnovation.com/.
DEIC History
The concept for DEIC began in early 2009 when Hanover County approached the Virginia Biotechnology Research Park (VBRP) in Richmond to explore the feasibility of starting its own business incubation program.  VBRP already had an established track record of incubating companies through its Virginia Biosciences Development Center. Through discussions with VBRP leadership, the determination was made to fill a unique and important niche for the mid-Atlantic region by developing a green technology incubator.  Joining Hanover County and VBRP as founding sponsors, Dominion Resources (now known as Dominion Energy), was brought in as the Center's primary corporate sponsor followed by additional support from the Town of Ashland.
Opened in January 2010 in the Presidential Office Park in Ashland, the Dominion Resources GreenTech Incubator (DRGI) set its sights on attracting domestic companies developing new technology focusing on energy efficiency and other clean and green technologies.  DRGI admitted four startup companies in its first year with the mission of providing assistance with research, expert mentorship, financial services, grant and capital investment sources, business planning and other resources as well as affordable office space for the start-up companies.  As the companies grew, the goal was set to encourage and assist them with locating to their own facilities in the local area.
In 2015, DRGI rebranded to Dominion Resources Innovation Center, and moved to its present day location at a renovated fire station in the heart of downtown Ashland.  This ideal location provided for a large collaborative meeting space/workroom along with private offices and a conference room.  The Center also expanded its offerings to startup companies from all industry sectors, while still focusing on its primary mission of incubating green technology companies. Upon Dominion Resources changing its name to Dominion Energy in 2018, the incubator space rebranded to align with its primary corporate sponsor.