Hanover's Perspective
Hanover County Assists 58 Businesses with Small Business Resiliency Grant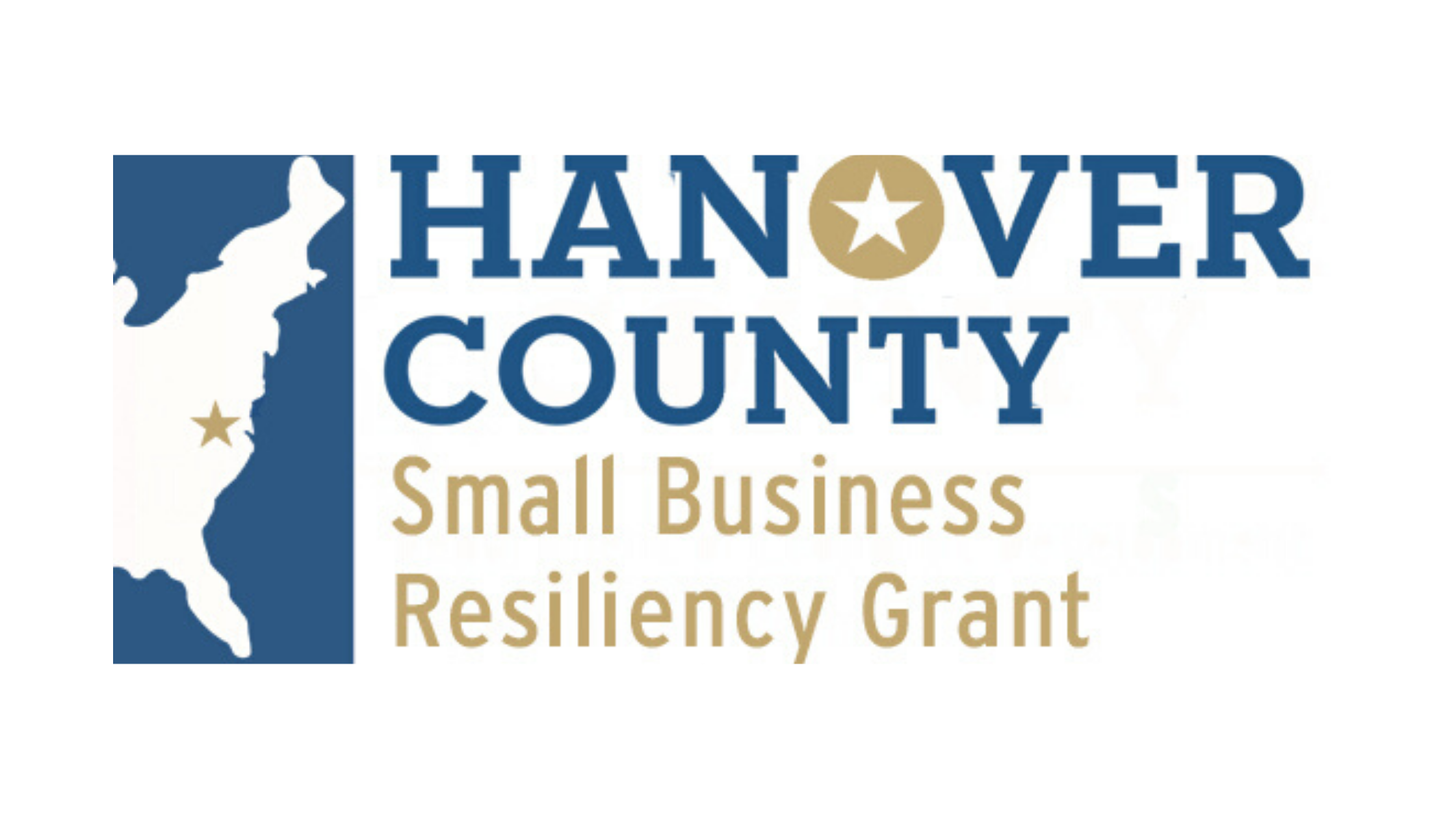 With unanimous approval by the Board of Supervisors and the Hanover County Economic Development Authority, the Department of Economic Development launched the Small Business Resiliency Grant program to support small businesses negatively affected by interruptions and mandated business closures due to COVID-19. The Hanover County Small Business Resiliency Grant, which leveraged $300,000 of federal funding under the CARES Act, offered up to $7,500 in recovery funding to eligible businesses with 50 or fewer employees.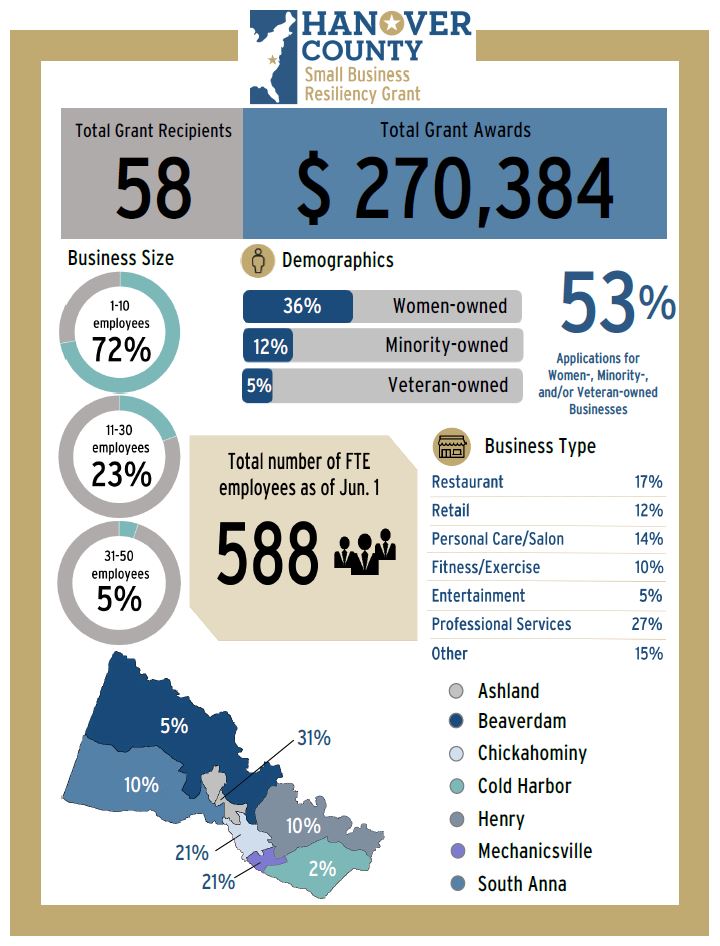 Applications were received during two separate rounds between July 27 and September 14, 2020. Businesses approved for funding met eligibility requirements, submitted proof of payment for eligible expenses, and were in compliance with Hanover County's registration and tax filing requirements. Of the 73 applications received, 58 were funded for a total amount of $270,384. The 58 approved applicants employed a total of 588 people as of June 1, 2020. Additionally, 53% were Small, Women-owned and Minority-owned (SWaM) businesses, and more than 70% of applicants had fewer than 10 employees.
"We are grateful to the Hanover County Board of Supervisors for recognizing the importance of supporting our local small business community through our CARES Act Resiliency Grant Program," said Linwood Thomas, Director of Economic Development. "These businesses are the backbone of our community, and it is nice to be able to help them recover some of the investment they have been required to make during the pandemic to continue their operations."
To view enlarged infographic, click here.
Hanover County Small Business Resiliency Grant Recipients:
360 Pizzeria, Mechanicsville
804 Dance, South Anna
Above the Bar Gymnastics, Ashland
Aerial East Gymnastics, Mechanicsville
Agriberry Farm, Henry
American Fleet Services, South Anna
Atlee Chiropractic Center, P.C., Chickahominy
Bantam Plumbing, Ashland
Bell Café, Chickahominy
Bill Talley Ford, Henry
Books, Beads, and More, Mechanicsville
Branch Property Services, LLC, Chickahominy
Castle Glen Winery, Beaverdam
Center of the Universe Brewing, Ashland
Cutz for Guys, INC, Mechanicsville
EAT Catering, Ashland
Event Technologies, Ashland
Garnett Realty Holdings, Ashland
Gilman Heating, Cooling, & Plumbing, Ashland
Goodfellow, Jalbert, Beard & Assoc., Mechanicsville
Gorilla Holding Co, Ashland
Grindstaff's Auction Marketing Group LLC, Henry
Hanover Tavern & Pub, Beaverdam
Hart Nissan, Henry
HTP Performance Inc., Ashland
Industrial Taphouse, Ashland
James River Cellars, South Anna
Janeen Shaffer Coaching, Chickahominy
Keystroke Home Services, South Anna
Marty's Grill, Chickahominy
MPH101 LLC, Chickahominy
MPH101 Squads, LLC, Henry
Old Mechanicsville Health Spa, Mechanicsville
Pampered Nails and Spa, Ashland
Pasta House: Italian Restaurant, Chickahominy
Platinum Tours, Beaverdam
Polly Arnott Massage , Ashland
Primrose School of Atlee Commons, Ashland
Pristine Services Inc., South Anna
RBI Services, Chickahominy
Resource International, Ashland
Ruby Nails and Spa, Mechanicsville
S&S Painting, Mechanicsville
Sassie Deluxe Nail Salon, Mechanicsville
Scherm Family Chiropractic, Mechanicsville
Shear Innovations, Ashland
Skrimp Shack, Mechanicsville
Space Saver VA, Ashland
Sportspage Bar and Grille, Chickahominy
Subway, South Anna
The Chore Club, Cold Harbor
The Marathon Group, Chickahominy
To Style You, Henry
Transportation Blue, Chickahominy
TSI Promotionals, Ashland
Tyler Kane Coaching, Chickahominy
Williams Bakery, Mechanicsville
Yobo Inc., Ashland