Hanover's Perspective
Hanover County Department of Economic Development Releases FY 2023 Annual Report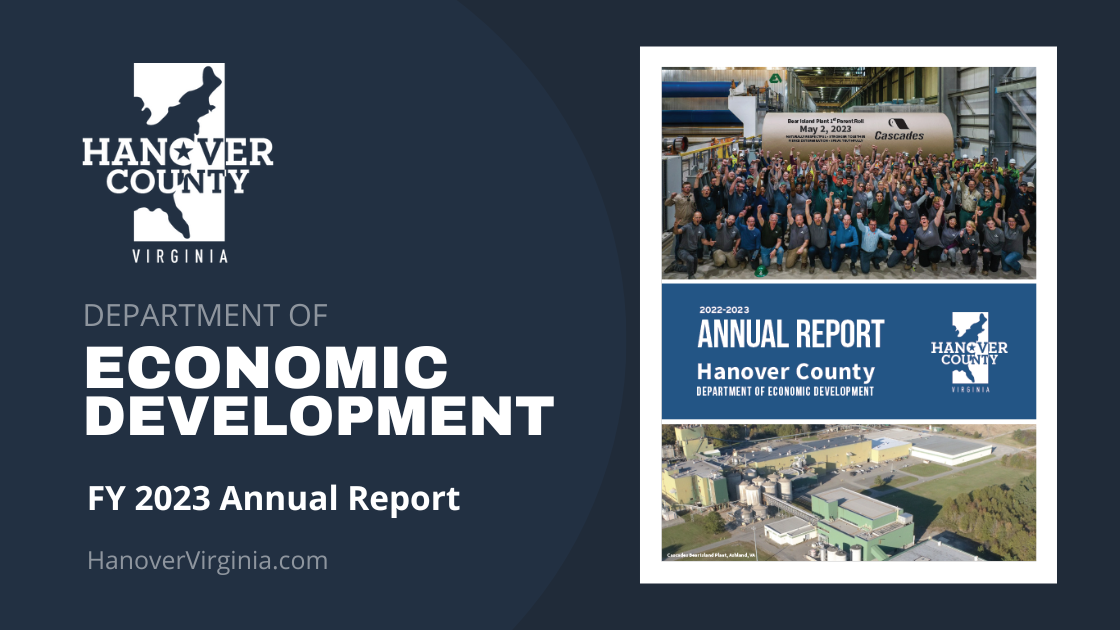 Annually, the Department of Economic Development compiles an extensive report featuring the Department's work completed over the past fiscal year, achievements, and data pertaining to economic development and tourism in Hanover County.  This year's report documents another strong year of performance by the Department and County, along with some highlights of key partnerships and collaborations which have enabled success.
The Department of Economic Development provides local assistance for businesses looking to relocate or expand within Hanover County including financing resources, workforce development solutions, possible incentives and technical support that will encourage investment and growth in our community to enhance the lives of our citizens.
READ THE FY2023 ANNUAL REPORT HERE
FY2023 HIGHLIGHTS:
Dozens of new businesses welcomed to the community including SanMar, ABB Inc., Walgreens, Ferguson, Lazy Cow Ice Cream Parlor, Cross Creek Nursery, and Planet Fitness to name a few.
Existing business expansions completed or announced during FY 2023 include Bon Secours Memorial Regional Medical Center, Lutron, APV, First Call Environmental and Jones Sign.
Hanover County's Labor Force increased by 5.8% to a record high of 63,240 individuals.
More than 1.5 million s.f. of industrial and flex space was completed and added to the market.
Average annual wages increased by 10.2% to a record high of $54,047.
A record year for tourism with visitor expenditures ($222,969,504) and hotel tax revenue ($1,464,217) reaching new highs.
Hanover's Business First program continued to see success with its business outreach initiative utilizing business walks to visit 153 businesses during FY 2023.
Continued recognition of Legacy Businesses and the Marc S. Weiss Award recipient at department's annual Business Appreciation event which
Ongoing collaborations with our partner organizations with sponsoring workshops, seminars and events including Dominion Energy Innovation Center's Ag-X, GENEDGE Alliance Roadshow, Capital Region SBSD workshops, Hanover Chamber of Commerce events and regional professional organization events.