Hanover's Perspective
Hanover County Launches Data Tool to Provide Free Directory of Businesses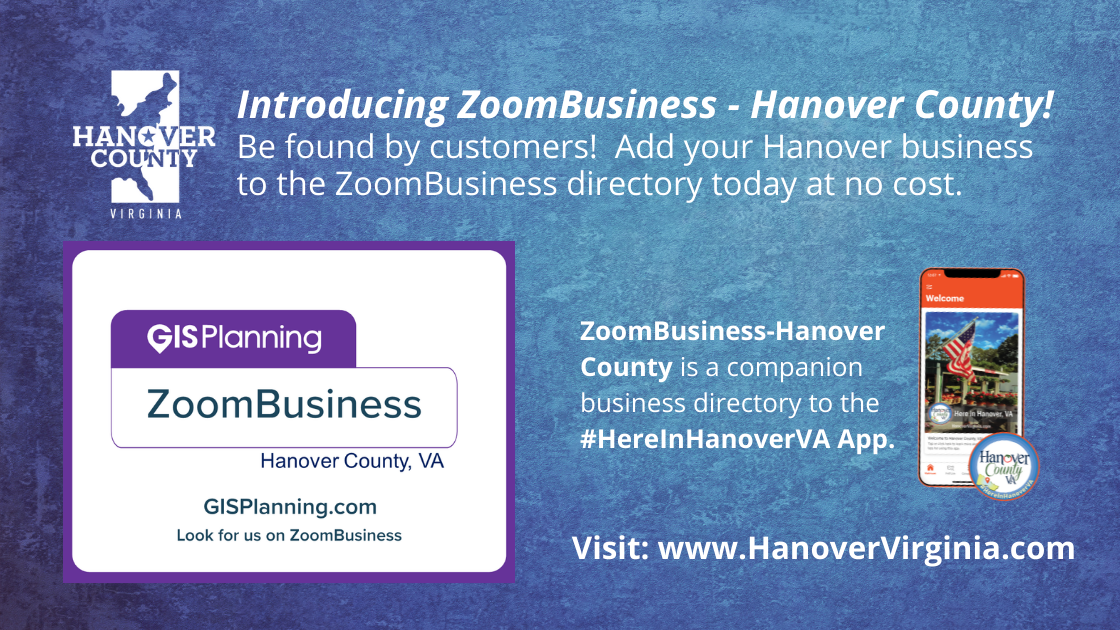 The Department of Economic Development has launched Hanover County ZoomBusiness, a free online tool that enables local businesses across the County to communicate with customers.  ZoomBusiness, originally created by GIS Planning in response to the COVID-19 pandemic, is an interactive, mobile-responsive mapping directory for communities that ensures customers can find restaurants, stores and services in their region.
Businesses can list themselves at no charge on the HANOVER COUNTY ZoomBusiness site (https://zoombusiness.com/HANOVERCOUNTY) to help residents find the businesses and services they need. The businesses can provide customized details including location, contact information, business description, links to websites and social media platforms, hours, and pictures. Residents can search for area businesses by categories including grocery stores, pharmacies, banks, health facilities, hardware stores, pet stores and automotive shops, among others.
HANOVER COUNTY's ZoomBusiness is a simple-to-use data tool, powered by Google Maps. Businesses are prompted to directly enter information about their business using the "Add a business" link in the top right-hand corner of the ZoomBusiness site.  After the content is verified by the ZoomBusiness tool host, Hanover County Economic Development, the business listing will be activated.
"Through our relationship with GIS Planning, we've been able to make this resource available to our businesses and integrate it into the active businesses map on our website," said Linwood Thomas, director of Hanover County Economic Development. "Local businesses need every advantage we can give them, and this is another tool to help promote their efforts."
The Here In Hanover, VA App hosts a link to the Hanover County ZoomBusiness tool.
For more information, visit ZoomBusiness – Hanover County, VA.