Hanover's Perspective
Hanover Recognizes Legacy Businesses & 2021 Marc Weiss Award Recipient at Business Appreciation Event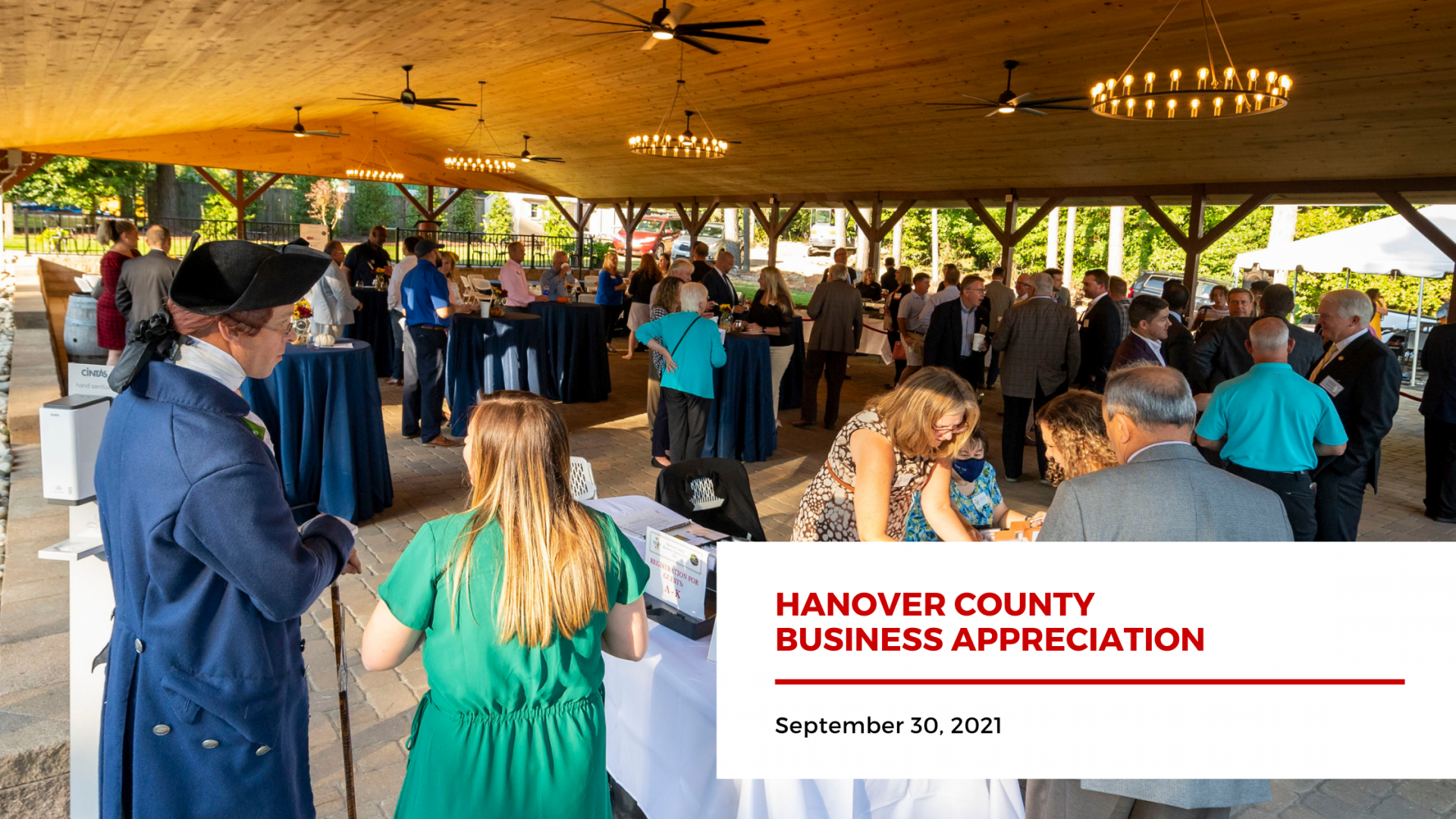 The 2021 Hanover County Business Appreciation event, hosted by the Hanover County Department of Economic Development in partnership with Hanover Chamber of Commerce, was held on September 30, 2021 under James River Cellars Winery's recently enhanced outdoor pavilion.  This year's event, sponsored by Owens & Minor with additional sponsorship of the County's 300th birthday events by Dominion Energy, continued to include recognition of Hanover County Legacy Businesses and conferment of the Marc S. Weiss Award.  In celebration of the County's tourism and hospitality-related businesses and assets, the event was attended by representatives from Richmond Region Tourism, the Town of Ashland, Patrick Henry's Scotchtown, Hanover Tavern and others and included a special appearance by Patrick Henry.
The ceremony was opened by comments and greetings made by Sean Davis, Chairman of the Board of Supervisors. Hanover's economic development director, Linwood Thomas, led the ceremony and announced the Legacy Business Award recipients.
Legacy Businesses are entities that have been located in the County for 50 or more consecutive years. Since the inception of the awards at the 2018 event, 51 business entities across many industries have been recognized.  The 2020 event was postponed due to the onset of the pandemic causing mandated closures and restrictions.  The businesses recognized this year were Hanover Iron & Steel (Ashland District) celebrating 52 years, and J.E. Jones Lumber Company (South Anna District) in business for 82 years. 
The Marc S. Weiss Award recognizes a Hanover-based business or entity that has demonstrated a lasting commitment to innovation, meaningful growth, global involvement and leadership and service within the Hanover business community.  The award, presented this year to Kings Dominion by County Administrator, John Budesky, was accepted by Bridgette Bywater, Vice President and General Manager and Owen Matthews, Vice President of Finance.
Kings Dominion, which celebrated its 45th anniversary in 2020, has helped make countless memories for Hanover County residents and individuals across the country.  The park opened in May 1975 in Doswell (Beaverdam District) featuring the Lion Country Safari and just one ride. Since then, Kings Dominion has continued to innovate, adding more than 60 thrill rides and shows, 12 world-class roller coasters, a top-rated 20-acre water park, and a variety of other attractions.  They continue to grow and just last month announced the debut of a new ride for 2022, "Tumbili".
In addition to being a top destination for tourists and one of the largest employers in Hanover County, Kings Dominion continues to be a leader within their industry and the Virginia business community as a whole.  Kings Dominion is a champion for their employees, creating career pathways for associates interested in future leadership positions, as well as generous stewards of the community through various giving back programs, such as donating food to Feed More of Central Virginia, and partnering with Richmond's Math Science and Innovation Center during Education Days to engage area students in the basics of STEM curriculum.
Hanover County would like to extend congratulations and thank you to this year's award recipients.  Additionally, thank you to our Hanover-based vendors including James River Cellars Winery, Center of the Universe Brewing, Blue Bell Creameries, EAT Kitchen & Catering, promotional materials by Target Marketing, and photography by Pixel Factory.  Musical accompaniment was provided by the Kevin Kelley Band.