Hanover's Perspective
HANOVER RECOGNIZES LEGACY BUSINESSES & 2022 MARC WEISS AWARD RECIPIENT AT BUSINESS APPRECIATION EVENT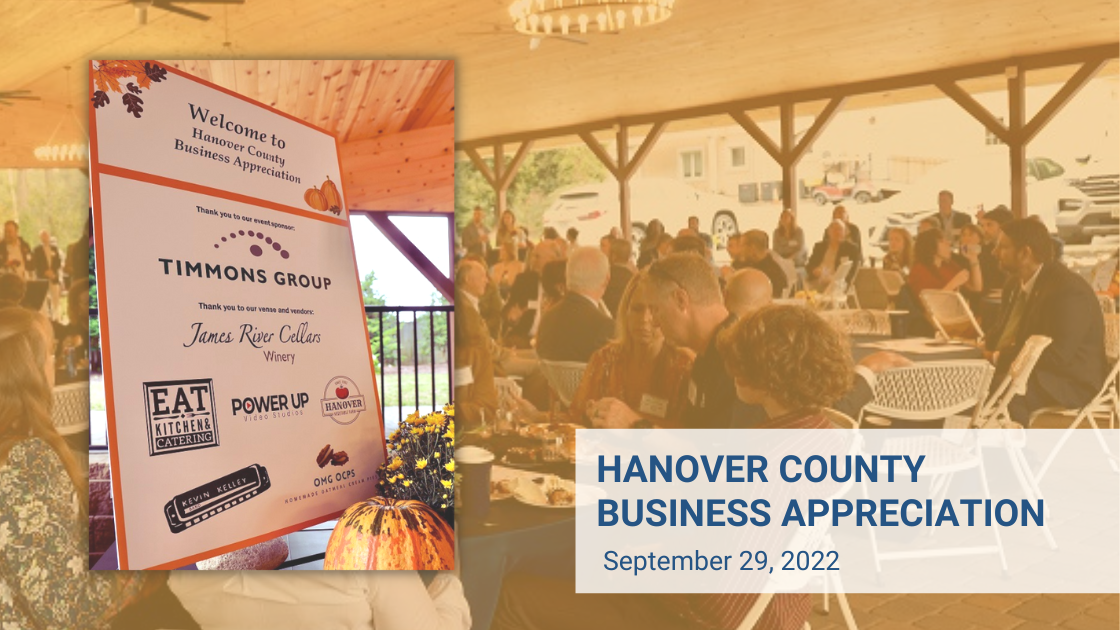 The 2022 Hanover County Business Appreciation event, hosted by the Hanover County Department of Economic Development in partnership with Hanover Chamber of Commerce, was held on September 29, 2022 at James River Cellars Winery. This year's event, sponsored by Timmons Group, continued to include recognition of Hanover County Legacy Businesses and conferment of the Marc S. Weiss Award.
The ceremony was opened by comments and greetings made by Angela Kelly-Wiecek, Chair of the Hanover County Board of Supervisors.  Hanover's economic development director, Linwood Thomas, led the ceremony and announced the Legacy Business Award recipients.
Legacy Businesses are entities that have been located in the County for 50 or more consecutive years. Since the inception of the awards at the 2018 event, 56 business entities across many industries have been recognized.  The businesses recognized this year were Howell's Heating & Air (Ashland District) operating for 53 years, Mechanicsville Cleaners (Henry District) celebrating 70 years, Youngblood, Tyler & Associates, P.C. (Mechanicsville District) in business for 51 years, and Cavalier Rifle and Pistol Club Inc. (South Anna District) commemorating 56 years.
The Marc S. Weiss Award recognizes a Hanover-based business or entity that has demonstrated a lasting commitment to innovation, meaningful growth, global involvement and leadership and service within the Hanover business community. The award, presented this year to Pixel Factory Data Center by County Administrator, John Budesky, was accepted by Scott Brown.
Scott K. Brown, a Hanover County business owner, started the Pixel Factory for his growing commercial photography business and the industry's need for digital storage of images for large corporate clients. He had a vision of creating a data center to serve clients with specific needs that were not being met by the larger and more established data centers in the area. From that vision, the Pixel Factory Data Center was born.  Scott describes his company as "an ecosystem where internet connections, content, and data all reside in one location closest to the customer."
The facility's fiber provides global connectivity via eight different paths directly connecting the Data Center to over 500 of the world's largest content and streaming providers. On an average day, more than 200,000 users are viewing content served out of the facility.  Pixel Factory Data Center hosts clients that range from local large employers to national and international brands, and its  niche market is to work with the companies that larger data centers don't typically serve.  Their goal is to function as a small, local data center with exceptional personal service on site and to keep local internet traffic local.
Pixel Factory Data Center now boasts the largest concentration of fiber in the area, and the company continues to grow by leaps and bounds, having gone from a solely U.S. client base to an international footprint.
Hanover County would like to extend congratulations and thank you to this year's award recipients.  Additionally, thank you to our event sponsor, Timmons Group, and our Hanover-based vendors including James River Cellars Winery, Center of the Universe Brewing, EAT Kitchen & Catering, photography by Power Up Video Studios, autumn decor by Hanover Vegetable Farm, and OMG OCPS Homemade Oatmeal Cream Pies.  Musical accompaniment was provided by the Kevin Kelley Band.