Hanover's Perspective
Hanover Recognizes Legacy Businesses & 2023 Marc Weiss Award Recipient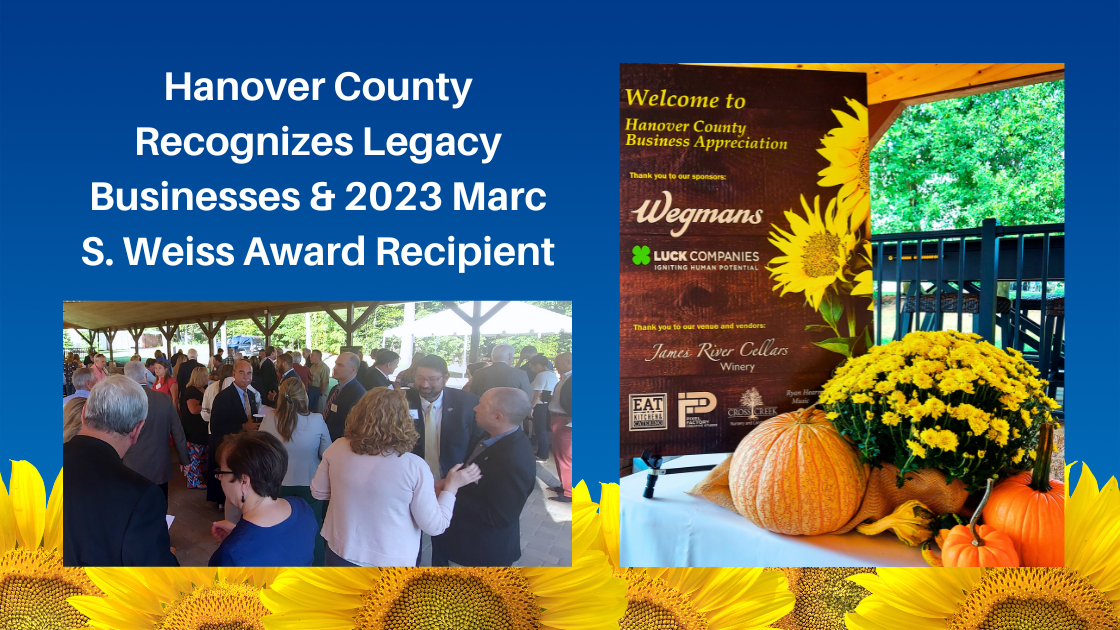 The 2023 Hanover County Business Appreciation event, hosted by the Hanover County Department of Economic Development in partnership with the Hanover Chamber of Commerce, was held on September 20, 2023 at James River Cellars Winery.  This year's event, sponsored by Wegmans and Luck Stone Companies, continued to include recognition of Hanover County Legacy Businesses and conferment of the Marc S. Weiss Award.
The ceremony was opened by comments and greetings made by W. Canova Peterson, Chair of the Hanover County Board of Supervisors.  Hanover's Economic Development Director, Brandon Turner, led the ceremony and announced the Legacy Business Award recipients.  Melissa Haley, Executive Director of the Hanover County Chamber of Commerce, delivered congratulatory comments.
Legacy Businesses are entities that have been located in the County for 50 or more consecutive years.  Since the inception of the awards at the 2018 event, 56 business entities across many industries have been recognized.  The four businesses recognized this year with plaque presentations by the representative Board of Supervisor were Wood Equipment Company – 50 years presented by Faye Prichard representing the Ashland District, Fine Metals Corporation – 52 years presented by Rob Monolo representing the Beaverdam District, and Cliff Weil, Inc.-50 years and Clyde's Transfer, Inc. – 50 years presented by Angela Kelly-Wiecek representing the Chickahominy District.
The Marc S. Weiss Award recognizes a Hanover-based business or entity that has demonstrated a lasting commitment to innovation, meaningful growth, global involvement and leadership and service within the Hanover business community. The award, presented this year to Fire Solutions Inc. by County Administrator, John Budesky, was accepted by Joe, Fatima and Edwin Caldas.
Fire Solutions Inc. was founded in 1986 by Joe and Fatima Caldas to provide a needed service to the community by utilizing their love of helping people, fearless work ethic, and knowledge and skills acquired in the field of fire protection.  Fire Solutions is a full-service design, installation, repair, service, inspection, test and consulting company for fire and life safety systems for businesses across Virginia.  The Caldas Family strives each day to make Fire Solutions a great place to work and cultivate a company culture of providing excellent service.
For more than 35 years, Fire Solutions has strived to go above and beyond to provide exceptional services to the communities in which we live work and play.  The team at Fire Solutions realizes that clients are in business to provide for themselves, their families, employees, and customers.  Even though the best fire system is the one that may never have to be deployed, Fire Solutions strives to assure clients that their expertise helps minimize risk by providing the best possible equipment and service from people who know that PEOPLE are the lifeblood of every company.
Fire Solutions team has worked closely with Hanover County Economic Development, Hanover County Public Schools and the Hanover Chamber of Commerce throughout the years donating not only financial support, but also volunteering many rewarding hours towards programs such as:
Chamber RVA Mission Tomorrow
Hanover Center for Trades & Technology: Ready.Set.Hire. program
Hanover Chamber of Commerce: long-standing member and serving on the board for many years
Hanover Education Foundation: Service on Board of Directors
Hanover County Police Foundation and Ashland Police Foundation
Hanover County would like to extend congratulations and thank you to this year's award recipients.  Additionally, thank you to our event sponsors, Wegmans and Luck Stone Companies, and our Hanover-based vendors including James River Cellars Winery, EAT Kitchen & Catering, photography by Pixel Factory Creative Studio, autumn decor by Cross Creek Nursery and Landscaping and floral arrangements by Haven House Florals.  Musical accompaniment was provided by Ryan Hearn Music.
To learn about Hanover County's Legacy Business recognition, click here.