Hanover's Perspective
Legacy Farms & Businesses to Be Recognized at Hanover Business Appreciation Event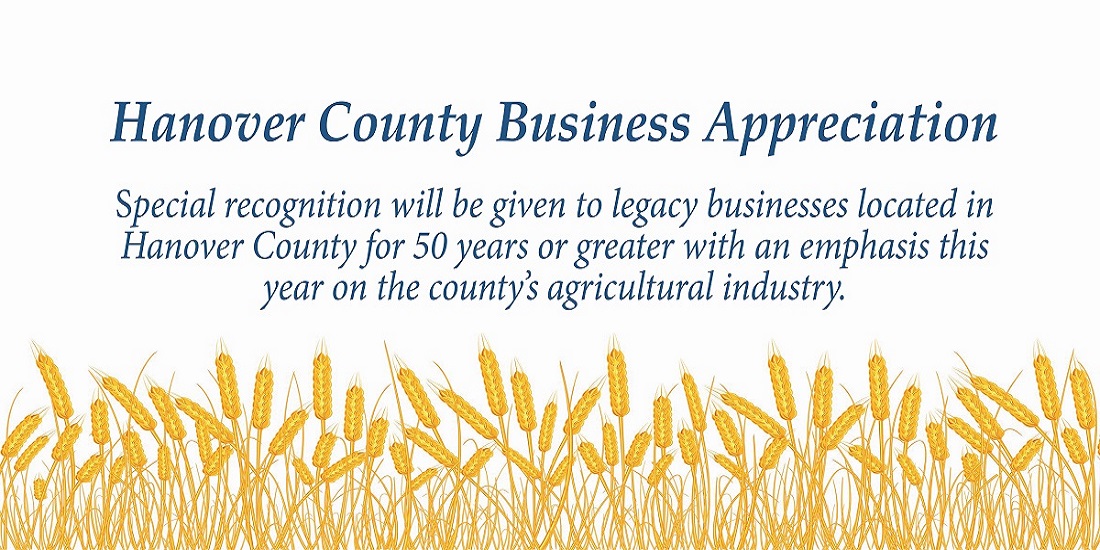 The month of May, by proclamation of the Office of the Virginia Governor, is Business Appreciation Month in the Commonwealth of Virginia.
In observance, this year's Hanover County Business Appreciation Event, co-hosted by Hanover County Economic Development and Hanover Chamber of Commerce, will include recognition of Legacy Businesses with a an emphasis on the agricultural industry and Legacy Farms.  Nineteen farms and two  businesses are being recognized for operating in the county for 50 years or greater. Each farm and business will be presented a Legacy Award by its respective district Supervisor.  At last year's inaugural Legacy Business ceremony, 30 businesses were recognized including two agriculture-based companies.
Agriculture is Virginia's largest private industry by far, with nothing else coming a close second. The industry has an economic impact of $70 billion annually and provides more than 334,000 jobs in the Commonwealth. Nearly 90% of Virginia farms are owned and operated by individuals or families; over 550 of those farms are located in Hanover County.  Thirty-six farms in Hanover have been recognized by the Virginia Department of Agriculture and Consumer Services (VDACS) as Century Farms that have been in operation for at least 100 consecutive years by the same family.  The agricultural business community is to be revered for its sustainability and adaptability through the generations, environmental stewardship, exceptional work ethic and strong business skills.
It is nearly impossible to overstate the importance of Hanover County's businesses. In addition to supporting our local economy and creating jobs, they are also supporting the community by sponsoring teams, charities and local events. Longevity of a business is a benchmark of success and proof that a business is viable and well managed. The ability of a business to navigate the ebbs and flows in an ever-changing world is no easy feat. Hanover's Legacy Businesses are to be commended for their perseverance and ability to: attract and retain good people, lead with strong management, offer excellent customer service, adapt to market and technological changes, and contribute to the community.
Legacy Farms (*VDACS Century Farm)
Anchor's Down Farm, Inc. • 72
Blissful Acres* • 123
Bloody Run Farm* • 149
Creamfield Farm* • 115+
Eagle Point Farm • 72
Edgewood Farm • 65
Hanover Vegetable Farm • 117
Janeway Farm* • 151
Kee-Barb Farm* • 122
Keenbell Farm • 68
Kirby Farms • 112
Kirby's Mountain* • 151
Lazy Creek Farms • 117
Linden Hill Farm* • 100+
Lloyd Family Farms • 150+
Oaklawn Farm • 66
Stillhouse Spring Farm* • 300+
Thomas E. Stanley & Sons, Inc. • 78
White Oak Farm* • 111
Legacy Businesses
Kiddie Kingdom • 51
Walls Recycling • 70