Hanover's Perspective
MegaWash and Mega RV Storage Open in Ashland, VA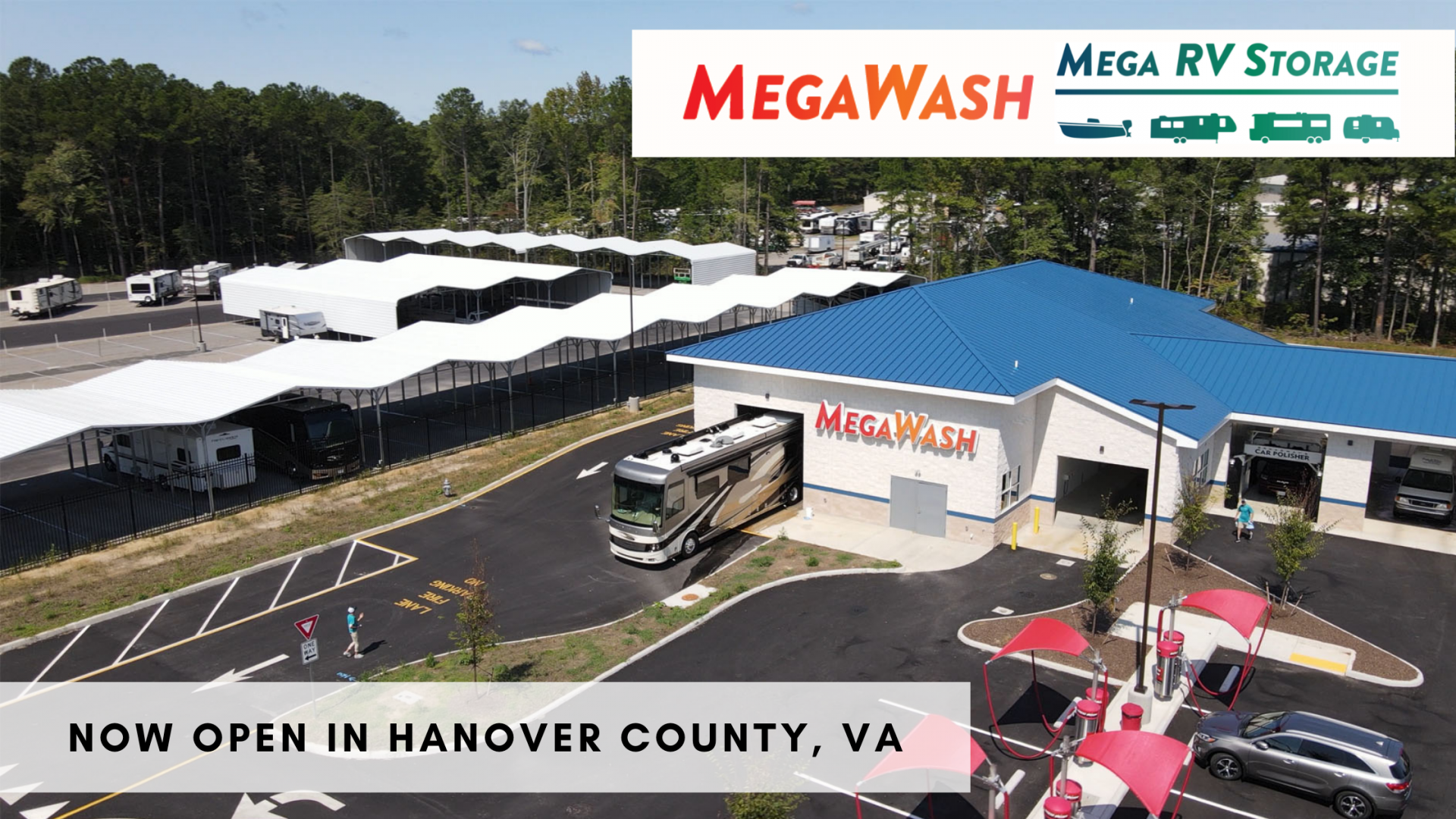 This new facility brings much needed RV & boat storage as well as automatic RV, commercial vehicle, and passenger vehicle wash services to Hanover County, Virginia.
MegaWash and Mega RV Storage have opened a new facility just south of the Town of Ashland.  Located at 10500 Vermeer Place on Rt. 1, this new business concept brings much sought-after RV and boat storage and express wash services for vehicles large and small to the Hanover community.  The six-acre development brought investment of $6.5 million to the County.  In celebration, a grand opening event with free food and beverages will be held on Friday, November 5, 2021, including a ribbon cutting ceremony at 12:30 p.m.  Free car washes and half-priced RV washes will also be offered on November 5 and November 6, 2021.  "I would like to personally welcome and thank MegaWash and Mega RV Storage for their investment in Hanover County," said Susan P. Dibble, Board of Supervisors member representing the South Anna district.
"MegaWash is meeting the need of both the RV and business communities for a fast, convenient, affordable, excellent quality wash for RVs and even full-length tractor trailers in our giant tunnel," offers Miles Morin, managing partner of the business. "Our commitment to premium quality extends from our cutting-edge equipment to our customer service.  We designed our 24/7 touchless car wash tunnel to accommodate vehicles that don't normally fit in an express car wash, like lifted trucks and duallys, and our 20-minute wash and polish service yields truly impressive results.  On the RV & boat storage facility side, having reached 40% occupancy in the first two months testifies to the pressing need for safe, high-quality RV and boat storage in Central Virginia."
MegaWash, which opened in September, features both a 75' touchless car wash tunnel and 100' large vehicle wash tunnel, ensuring that even the largest vehicles can be quickly and efficiently cleaned.  The facility also features three self-serve bays with 11' clearance and can easily accommodate boats, motorcycles, utility trailers, or any passenger vehicle.  For the ultimate paint polish and protection treatment, an express Gloss Polish service is available, along with free vacuums with every wash to make sure your vehicle is as clean on the inside as outside.  The automatic touchless car wash and self-serve bays are open 24/7 to serve customers regardless of their schedule.  Be sure to check out monthly club memberships coming in the future.
Adjacent to MegaWash and opened in August, Mega RV Storage provides 132 storage spaces for RV and boat owners, including covered and surface storage, pull-through spaces, and optional electrical service.  This secure facility, with 24/7 customer-only access, offers paved drive aisles, free potable water and dump station, and extra-wide spaces up to 46' in length.  Storage customers can also take advantage of discounts at MegaWash for both RVs and passenger vehicles.
"Hanover County is delighted to welcome MegaWash and Mega RV Storage to our community," states Brandon Turner, Deputy Director of Economic Development.  "It was a pleasure working with Mr. Morin to move this project forward which will provide outstanding amenities to the RV, boating, and business communities throughout the Richmond region."
MegaWash is in the final stages of developing a monthly membership app that will offer customers major discounts on polishing and washing services.
For more information, visit MegaWashVA.com and MegaStorageVA.com.