Hanover's Perspective
P.D. Brooks Traffic Control Announces Expansion of Its Hanover, VA Headquarters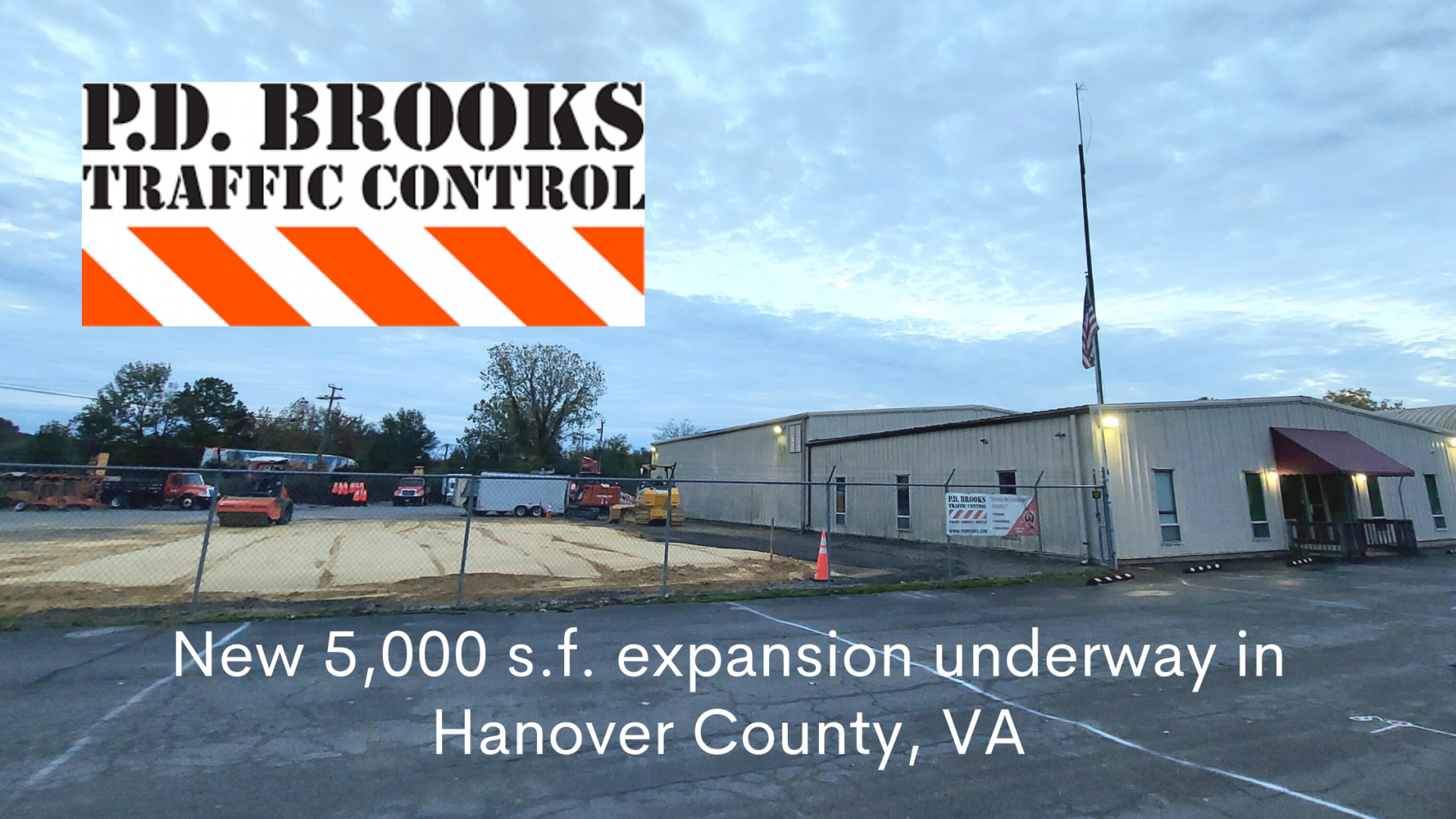 P.D. Brooks Traffic Control, a leading full-service traffic control and road safety company serving the Greater Richmond region, Northern Virginia and Hampton Roads, has announced its upcoming 5,000-square-foot expansion. With an anticipated completion date this winter, the expansion will feature a new state-of-the-art sign shop capable of creating road and VDOT signs.  It will be built adjacent to the existing 7,600-square-foot headquarters on Old Richfood Road in Mechanicsville, VA, and will house the company's three new digital printers, new bay areas for truck repairs and two additional offices.
In addition to providing traffic control services such as staffing for flagging operations, staffing and equipment for road closures and detours, paving operations and special events, P.D. Brooks also offers in-house repairs, manufacturer parts sales and warranty assistance.
Recognized as a Hanover County Legacy Business in 2018, the company was founded by P.D. Brooks Sr. in 1962.  After seeing battery operated blinking lights mounted on a saw horse being used to safely move traffic through a road construction project in California, Mr. Brooks decided to bring the idea to Richmond.  Since then, P.D. Brooks Company has remained family-owned and operated for over 58 years.  The company has gone from a simple rental business to a turnkey operation offering contractors assistance with design, set up and execution of road safety management throughout Virginia.
"P.D Brooks Traffic Control has been a valued member of our business community for almost 60 years," said Angela Kelly-Wiecek, Chickahominy District Supervisor and Vice Chair of the Hanover Board of Supervisors. "We're very proud that this outstanding family-owned business continues to call Hanover home, and we share their excitement over this impressive expansion, the jobs it will bring to our community, and their enhanced ability to keep the traveling public safe throughout the Commonwealth."
With additional locations in Fredericksburg and Virginia Beach, P.D. Brooks' primary location in Hanover employs a full-time staff of 25 and anticipates adding at least five more positions once the expansion has been completed.
To view and apply for open positions with P.D. Brooks, visit the company's website or view this Hanover-based company and many more on the Hiring in Hanover, VA App.