Hanover's Perspective
Produce Stands, Farms & Open Air Markets are Stocked with Seasonal Offerings in Hanover County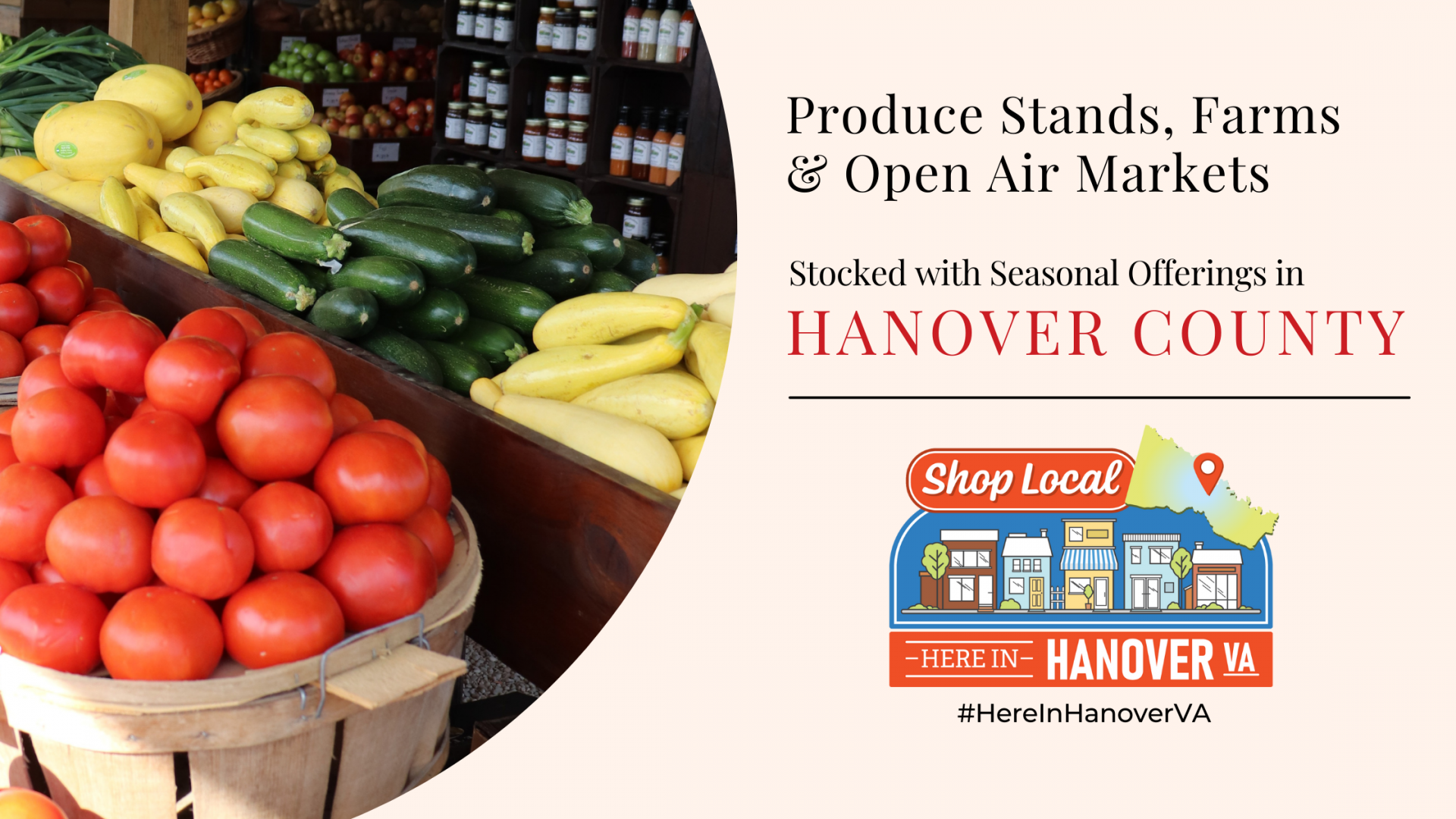 Virginia's farmers' markets are now open throughout the state and people are thronging to them to satisfy their hunger for local agricultural products.  In Hanover County, the popular Ashland Farmers Market has been operating for many years, and the Montpelier Center Farmers Market is now in its fourth year.  According to 2018 data provided by the Virginia Farmers Market Association, vendors at seven Richmond area farmers markets employed over 1,100 people, and utilized more than 5,600 acres of farmland for diversified production.  Along with farmers markets, Hanover County also is home to a number of  farm and open-air stands offering fresh, locally grown vegetables, fruit, flowers, meats and more.
Hanover's newest open-air market, 4 Girls Market, opened for business in the Spring of 2021 in Old Mechanicsville across the street from the intersection of Mechanicsville Turnpike and Edgeworth Road (8095 Mechanicsville Turnpike).  The market was first established in the 1970s by the Loving family.  Known and beloved by many, Junie Loving ran the market for 40 plus years before deciding to retire in 2021.  After hearing the news that Mr. Loving was stepping back from the market, Laura and Todd Hening embraced the opportunity to keep the community staple in operation.  A longtime dream of Laura's to own and operate a business with her three daughters Kaitlynn, Madison, and Sydney, 4 Girls Market was the perfect opportunity to make her dream a reality.  "Our family is thrilled to start a new business and hopefully form new friendships along the way," said Laura Hening of 4 Girls Market. "
The Hening's source the market's produce and jarred goods from other local farms, such as Hanover Peaches and Kirby Farms, and would eventually like to offer their selection wholesale and to local restaurants. Along with produce, they offer a variety of hand-made products such as keychains, jewelry, and home decor.
4 Girls Market is open 10 a.m. to 4:30 p.m., Monday through Thursday, and 9 a.m. to 3 p.m. on Saturdays. For more information on their hours of operation and current offerings, visit their Facebook page https://www.facebook.com/FourGirlsMarket .
Also visit these Farmers Markets, Open Air Stands and Farm Stores in Hanover County:
Agriberry CSA and Farm
6289 River Road
Hanover, VA 23069
Facebook
Ashland Berry Farm
12607 Old Ridge Road
Beaverdam, VA 23015
Facebook
Ashland Farmers Market
Saturdays, 9 a.m. – Noon;
121 Thompson Street May – October
Ashland, VA  23005
Facebook
Berry's Produce
9592 Chamberlayne Road
Mechanicsville, VA  23116
Facebook
Hanover Peach Orchard
6012 Elder Ridge Lane
Mechanicsville, VA 23111
Facebook
Keenbell Farm
18437 Vontay Road
Rockville, VA 23146
Facebook
The Market at Hanover Vegetable Farm
13580 Ashland Road
Ashland, VA 23005
Facebook
The Montpelier Center Farmers Market
Thursdays, 4–7 p.m.; May – October
17205 Mountain Road
Montpelier, VA 23192
Facebook
Pole Green Produce
6547 Pole Green Road
Mechanicsville, VA  23116
Facebook
Windy Knoll Farm
10094 Windy Knoll Drive
Mechanicsville, VA 23116
Facebook
Use the Here In Hanover, VA App to see these listings in the Category View tab under "Farms/Produce Markets/Garden Centers."