Hanover's Perspective
SanMar® Corporation to Establish Company's Largest Distribution Operation in Hanover County, VA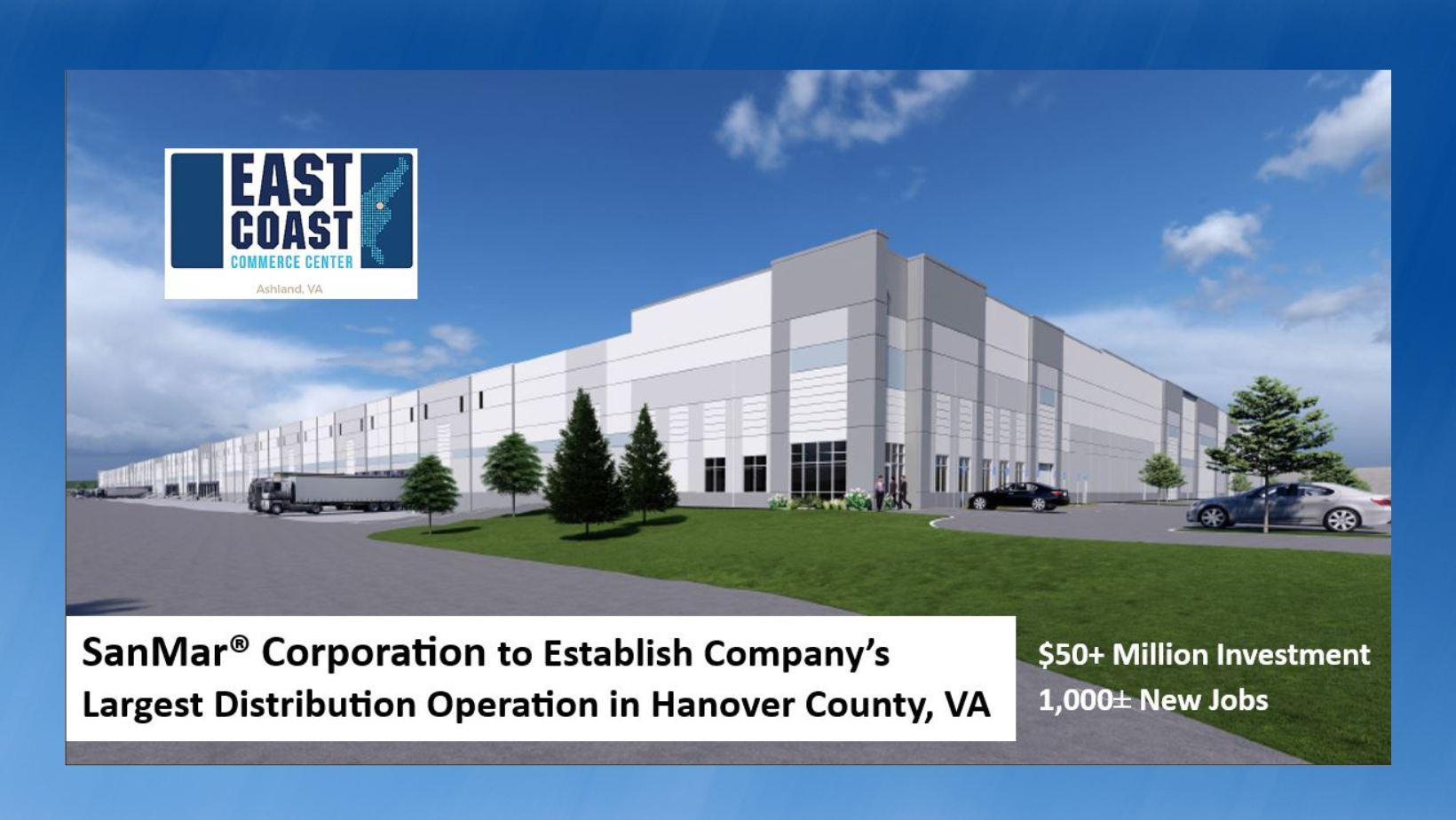 SanMar® Corporation, a leading supplier of wholesale accessories and apparel, will invest at least $50 million to establish a distribution operation in the East Coast Commerce Center in Hanover County. The 1.1 million-square-foot speculative distribution building was developed by Equity Industrial Partners Corp. and Raith Capital Partners and will be SanMar's largest operation, becoming the flagship center for the company's East Coast distributions. Virginia successfully competed with North Carolina for the project which will create up to 1,000 new jobs when the facility reaches full capacity.
"Securing SanMar Corporation's flagship distribution center highlights Virginia's strategic location, strong infrastructure, and workforce as critical decision factors for logistics operations," said Governor Glenn Youngkin. "Hanover County has become a regional hub for the U.S. supply chain, and we are proud that the East Coast Commerce Center's attracted an industry leader like SanMar. We look forward to partnering with SanMar as they continue to expand in the Commonwealth."
"SanMar's new operation will be a substantial addition to Virginia's diverse logistics sector and bring valuable jobs and an economic boost to Hanover County," said Secretary of Commerce and Trade Caren Merrick. "Securing a project of this caliber says a great deal about the Commonwealth's strategic location, competitive operating costs, and top-notch workforce, and we are proud to welcome SanMar's largest distribution facility that will create up to 1,000 new jobs."
"Whenever we look at a facility, of course we're looking at logistics and the labor market, but we're also really looking at the community and the culture, and the people who will be working in the building," said Jeremy Lott, CEO of SanMar. "When we came here, we knew right away that this is a place we wanted to be. As we met and talked with people in the area, we knew this could be a great fit for us and for our future growth. We couldn't be more excited to be here—to fill up this building, to build our team here, and to make this a home for a really long time."
"I am delighted to welcome SanMar to our community as they commence moving into the existing building at East Coast Commerce Center," said J. Robert Monolo, Beaverdam District representative for the Hanover County Board of Supervisors. "From day one the company has emphasized their responsibility to future employees and expressed desire to be a strong corporate citizen. SanMar will add to the already outstanding and strong business community we are blessed with in Hanover County."
"SanMar's strategic decision to locate in Virginia holds real value for the company, The Port of Virginia, and the Commonwealth," said Stephen A. Edwards, CEO and executive director of the Virginia Port Authority. "The Hanover County location gives SanMar easy access to Richmond Marine Terminal, which is an important, growing, inland logistics center on I-95. The port benefits because of an increase in volume, and then the job creation and investment has benefits that reach across Virginia. We are excited about the opportunities of having SanMar as a port user and are looking forward to a very productive, long-lasting relationship."
"Exciting news out of Hanover County today as they welcome SanMar Corporation," said Senator Siobhan S. Dunnavant. "This expansion to Virginia is a testament to the value of an effective workforce pipeline in Central Virginia and the Commonwealth that boosts local economies and provides economic opportunities."
"I am thrilled and excited to welcome the SanMar Corporation to Hanover County! SanMar's investment of $50 million in our economy with the construction of their distribution center and the accompanying 1,000 jobs will provide much-needed boost to our economy. I look forward to visiting their facility," said Delegate Buddy Fowler.
At SanMar® Corporation, the company does more than make and sell t-shirts. SanMar builds meaningful connections that elevate lives. As the largest supplier of wholesale imprintable clothing and accessories in the United States, the company's products and the connections created impact organizations, individuals, and the world we live in. It all started more than 50 years ago with a business philosophy that has held true since day one: Be Nice and Tell the Truth. Family owned and operated, SanMar is based in Issaquah, Washington, with eight additional distribution centers nationwide and apparel from more than 30 celebrated brands.
The Virginia Economic Development Partnership worked with Hanover County and The Port of Virginia to secure the project for Virginia. The company is eligible to receive benefits from the Port of Virginia Economic and Infrastructure Development Zone Grant Program.