Hanover's Perspective
Three Hanover Venues Awarded a Virginia Tourism Corporation Recovery Marketing Leverage Grant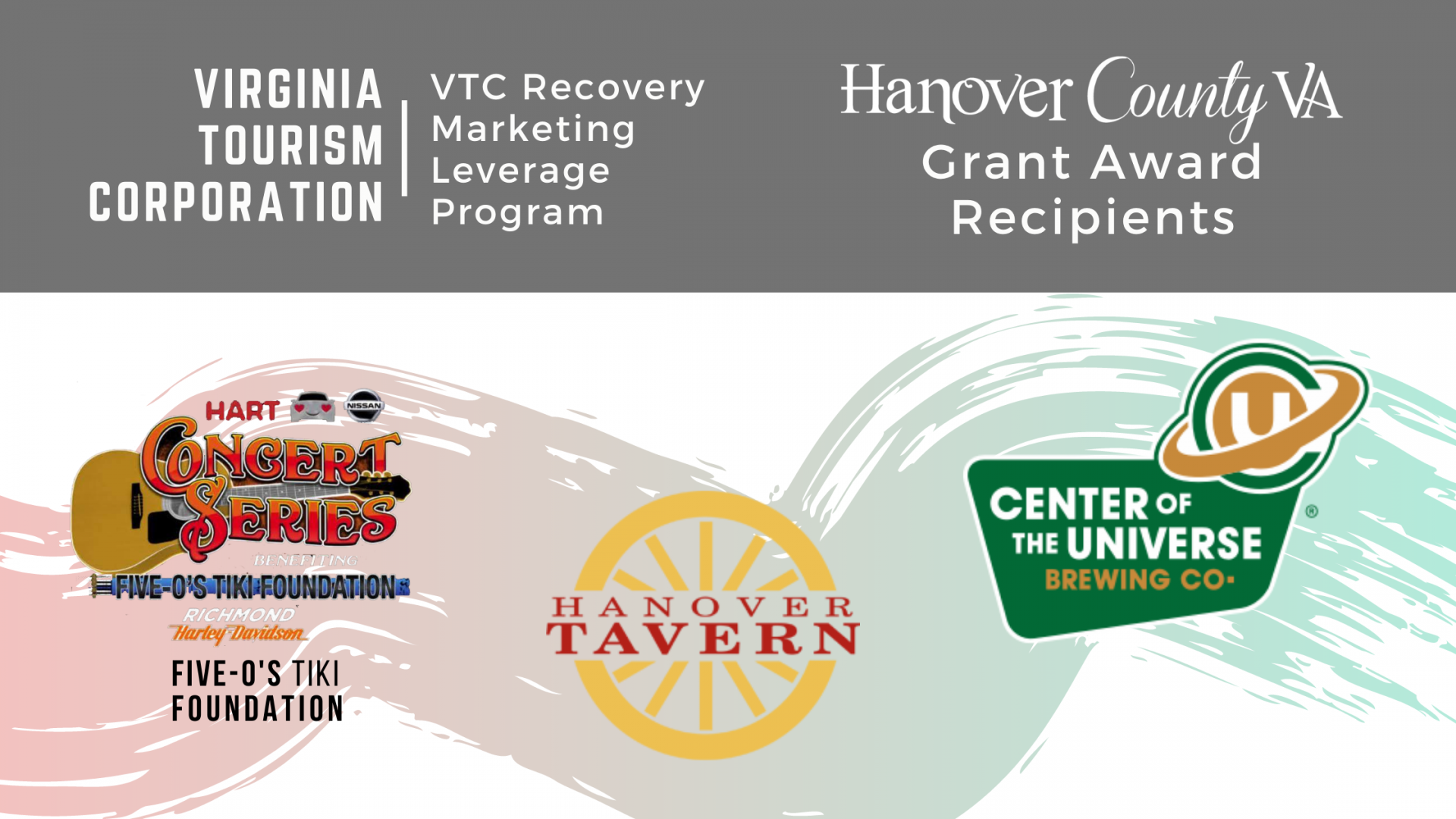 The Five O's Tiki Foundation Concert Series, Hanover Tavern Foundation and Center of the Universe Brewing Company, all located in Hanover County, Virginia, were recently awarded grants from the Virginia Tourism Corporation's (VTC) Recovery Marketing Leverage Program (RMLP), designed to help local and regional tourism entities attract more visitors by leveraging limited local marketing dollars through a local match of the state grants funds.
More than $1.9 million in matching grant funds were awarded to 161 local tourism initiatives through this program. During this funding cycle, local partners will provide more than $5.6 million in-kind value to match the VTC grants. The grants will ultimately impact 483 statewide tourism entities.
Five O's Tiki Foundation Concert Series has received a $10,000 marketing grant to help promote the Hart Nissan Concert Series at Richmond Harley Davidson located in Hanover County, Virginia.  Proceeds from the concert series benefits the Five O's Tiki Foundation in its mission.  Formed during the summer of 2018, the Foundation raises money through tax deductible contributions, in conjunction with community and private fundraising events, to raise funds and awareness to further our mission and ensure our law enforcement community and their families have support in times of need. Additionally, the Foundation provides funds to support law enforcement programs which are aimed at educating our youth and fostering positive relations between the community and local law enforcement.  The Five-O's Tiki Foundation is a not-for-profit 501 (c)(3) organization.
"The Hanover County Department of Economic Development was thrilled to connect the Five O's Tiki Foundation with this VTC grant and assist with the application process.  We are looking forward to 2021 and the promising potential for improved conditions to enjoy all of our tourism destinations and offerings," said Linwood Thomas, Director.
The Hanover Tavern Foundation has received a $10,000 grant to assist with promotion of the Hanover Tavern and its programs. Since 1990, the Hanover Tavern Foundation has overseen the operations, activities and preservation of this Historic landmark, one of the oldest surviving taverns in the United States. As a 501(c)(3) nonprofit organization, the Foundation's mission is to preserve, interpret and utilize Hanover Tavern as an historic, educational, community and cultural resource center for the enjoyment of all.
The Center of the Universe Brewing Company has received a $9,550 grant to assist with marketing of its 'Welcome to Ashland!' campaign. "We are very excited and honored to be a recipient of the VTC marketing grant.  Working together with Ashland Theatre, the Town of Ashland, and a multitude of other Ashland based businesses and attractions, Center of the Universe Brewing Company is thrilled to use this as a tool to promote our amazing town to people all over the Commonwealth!" said Chris Ray, President & CEO.
The COVID-19 pandemic has had a devastating impact on the tourism and hospitality industries in Virginia.  As the Commonwealth slowly reopens for business, VTC offered these grant funds as a first step to re-entry into the marketplace to spur economic activity and future travel across the Commonwealth of Virginia.  "We're excited our partners in Hanover County received this important funding," said Jack Berry, Richmond Region Tourism President & CEO. "Investments in tourism support our economy and communities. These grants will go a long way in helping organizations safely welcome visitors to the region."
"Tourism is a crucial section of the Virginia economy and when we invest in this industry, we support local job creation and drive regional economic growth, which is desperately needed now due to the pandemic," said Governor Ralph Northam. "These funds give localities and businesses access to critical marketing resources that will help bring more travelers to our Commonwealth, increase visitor spending, and grow demand for Virginia products."
Tourism is one of the Commonwealth's largest economic engines, with visitors to Hanover County spending more than $256 million in 2019, supporting 2,699 work opportunities and contributing $5,212,283 in local and state tax revenue. The tourism and hospitality industries have also been among the hardest-hit by the pandemic, experiencing decreased revenue and job loss, along with the temporary closure of many tourism-related businesses. A revived tourism economy can help spur new economic activity and inject critical funds back into Virginia communities.
About Virginia Tourism Corporation
Virginia Tourism Corporation is the state agency charged with marketing the Commonwealth as a premier travel and film destination. In 2019, visitors to Virginia spent $27 billion, which supported 237,000 work opportunities and contributed $1.8 billion in state and local taxes. To learn more, visit virginia.org