Hanover's Perspective
VA Ready Partners with Virginia Trucking Association to Get Drivers on the Road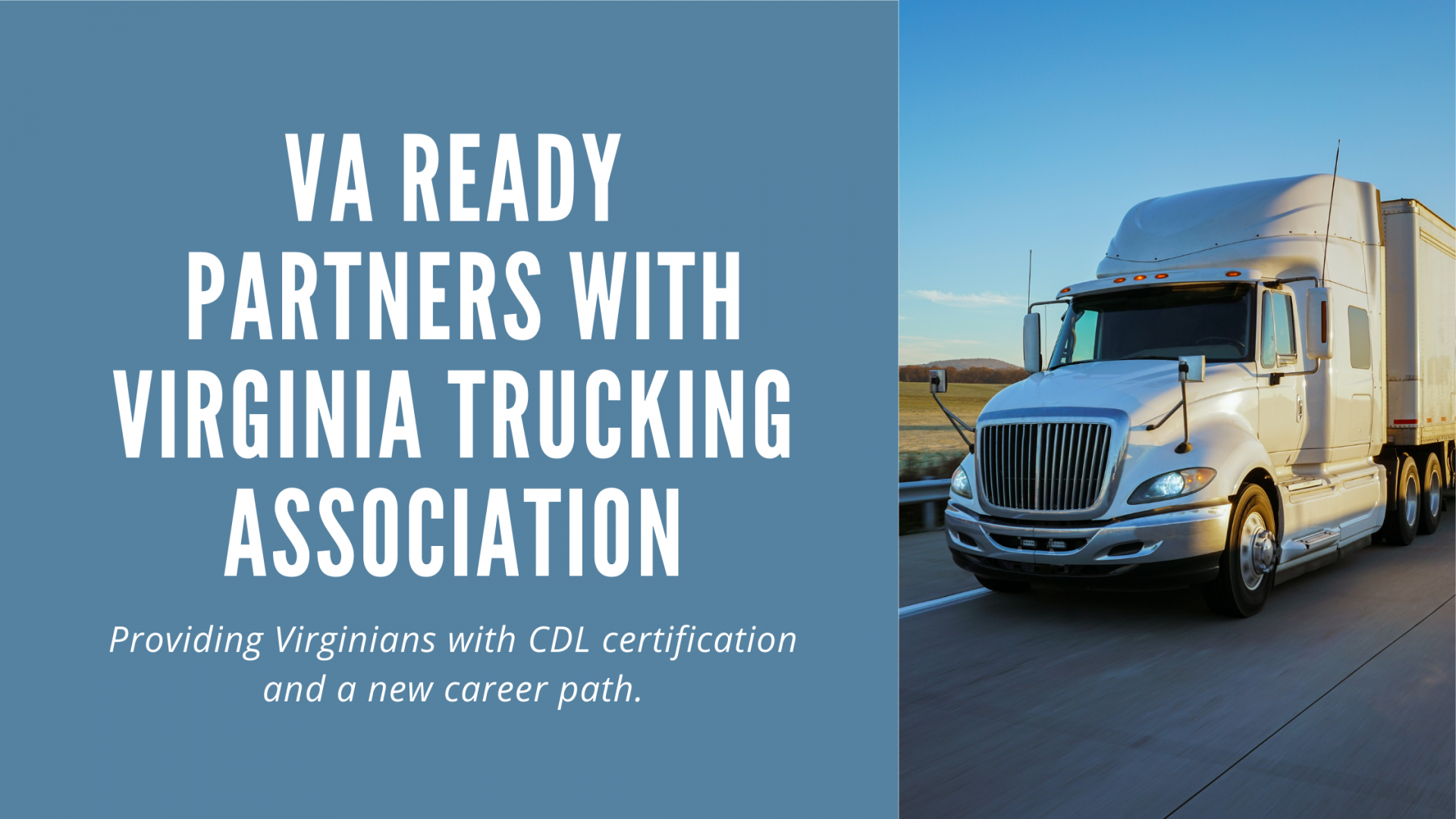 The new partnership aims to remedy supply chain issues and driver shortages in the Commonwealth.  FastForward and the Community College Workforce Alliance provide path to CDL certification to Richmond area residents. 
Virginia faces a shortage of truck drivers that is reflected in the national shortage, estimated by the American Trucking Associations to be roughly 80,000 truck drivers and doubling to 160,000 in eight years.  This shortage has led to a significant increase in the average pay for truck drivers. While the average truck driver's salary in 2020 was $47,130, some drivers are now earning wages close to six figures annually due to the tight market. Hiring managers are hopeful that this rise in compensation, along with other benefits, will make truck driving a more attractive job prospect.
To meet this challenge, the Virginia Ready Initiative (VA Ready), a 501(c)(3) public-private partnership dedicated to reskilling Virginians and helping them qualify for in-demand positions, announced a partnership with the Virginia Trucking Association (VTA), a non-profit association that provides full-time service and representation for the trucking industry, with the objective of getting more Virginia residents trained and employed as professional truck drivers.
The program, launched in January 2022, pairs Virginia residents who complete the training necessary to receive their Commercial Driver's License (CDL) with various openings for drivers that VTA members have throughout the state.
"Through VA Ready, more than 700 Virginians are working toward or have completed their CDL and they are ready to work.  These men and women are from all ages, ethnicities, and educational backgrounds," said Taylor Beck, Manager of Partnerships for the Virginia Ready Initiative. "This new partnership is vital for Virginia residents and for the Virginia economy. We're confident we can place our Scholars into jobs with VTA members, and support the hiring needs of the trucking industry."
Greater Richmond area residents interested in acquiring CDL certification may enroll in the Virginia Ready program by visiting FastForward's website and using the online form to request more information and to be matched with a FastForward Career Coach who will guide enrollees through registration, finding financial assistance and finding a career upon completion.  The CDL certification, which certifies an individual to drive Class A commercial motor vehicles, is a fast track training course offered during numerous training sessions through the Richmond region's Community College Workforce Alliance.
The Community College Workforce Alliance also offers funding options through various programs that students or job seekers can take advantage of to kickstart their career at low or no cost.  Eligible FastForward participants can also apply to earn a $1,000 Credential Achievement Award as a VA Ready Scholar upon achieving the training credential.
About the Virginia Ready Initiative (VA Ready)
VA Ready is a 501(c)(3) non-profit organization that launched in June 2020 with a mission to help thousands of Virginians access the short-term training needed to find jobs in today's most in-demand industries. With its Public-Private-Partnership design, VA Ready brings together the Virginia Community College System's (VCCS) 23 colleges, the Commonwealth's FastForward program, and more than 20 business partners who employ millions of Virginians. VA Ready Scholars have access to 34 healthcare, technology and other skilled training programs; learn the skills needed to secure one of today's most in-demand positions; receive $1,000 upon credential completion; and are connected to VA Ready's business partners for employment opportunities. Learn more at www.vaready.org