Hanover's Perspective
Historic Structures in Hanover County, VA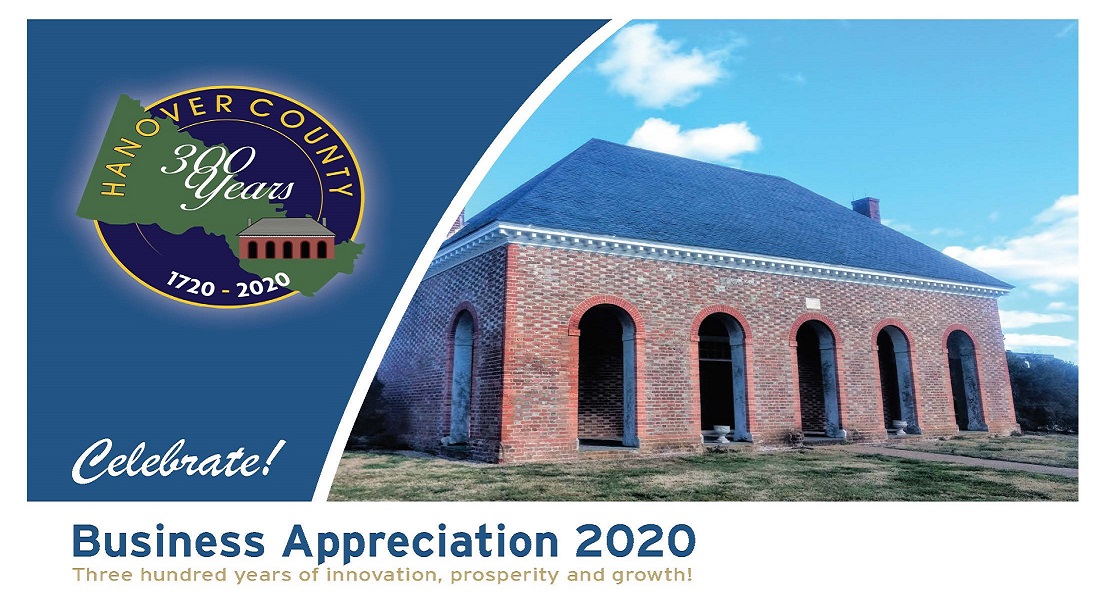 To commemorate business appreciation during the 300th anniversary of Hanover County, the Department of Economic Development is recognizing the county's tourism and hospitality industry featuring historical, cultural, leisure and entertainment entities and businesses.  Hanover's tourism assets contribute a significant amount to our local economy with visitors spending over $258 million and generating over $5 million in additional tax revenue in 2018.
Throughout the month of May, we invite you to visit us at www.HanoverVirginia.com and our social media platforms as we highlight many of these assets to inspire and encourage local support, as well as show our appreciation, for all that our businesses and organizations do to make Hanover a wonderful place to live, play, learn and visit!  Also, check out our apps:  "See and Do In Hanover County" and "Food & Beverage Establishments in Hanover County".
---
Hanover was officially formed in 1720, and was named for King George I of England, who was Elector of Hannover in Germany when he assumed the British throne. Hanover County has played major roles in both the Revolutionary and Civil Wars, and is home seven of the 22 sites listed on The Road to Revolution Trail Map, and over a dozen sites on the The Civil Wars – Lee Vs. Grant Campaign Map. Here are some of the notable structures in Hanover County: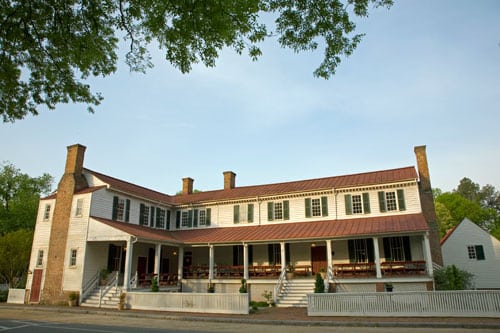 Hanover Tavern – The Tavern is one of only a few surviving colonial era taverns in the United States. It has hosted such historic figures as George Washington, Lord Cornwallis, and the Marquis de Lafayette. The tavern is mentioned in several travel accounts, including the memoirs of the Marquis de Chastellux, the diaries of George Washington and Dr. Robert Honyman, and the travel account by Benson Lossing, among others. For almost two centuries the Tavern provided meals and lodging to those having business before the Hanover County courts. The Tavern served as post office for the area from the 1790s until 1911. Until Rural Free Delivery was introduced early in the 20th century residents from miles around viewed the Tavern as a community center as they came to the Tavern to pick up their mail and hear the neighborhood gossip. Today, the Tavern operates as a restaurant with theater, and hosts special events and tours.  Recent additions include the beautiful 3,200 sq. foot Coach House with seating for 150 guests that opens onto a brick patio.
Nearby:  Historic Hanover Courthouse and Jail, Hanover Café, Carrie's Kitchen & Tap, 301 Express Deli, St. Paul's Episcopal Church, Antique Village Mall, Lake Hanover Nature Trail, Courthouse Park, Signal Hill Memorial Park, Courthouse Park, Hanover Wayside Park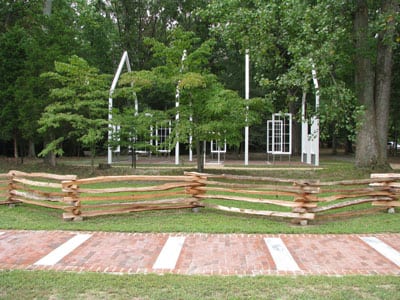 Historic Polegreen Church – Inspired by the Great Awakening, the successful struggle for American religious and civil liberty began at this Hanover meeting house. Bricklayer Samuel Morris and his fellow Hanover Presbyterian dissenters were led in worship by Rev. Samuel Davies, known as the Apostle of Virginia. From 1747 to 1759 Davies became Virginia's first licensed non-Anglican preacher. Davies' oratory greatly influenced young Patrick Henry who attended Polegreen with his mother, Sarah. In 1864, Polegreen was destroyed by fire just before the Battle of Cold Harbor when Confederate artillery fired on the church to dislodge Union sharpshooters. Today the Site serves as a historical site, a wedding venue, and a gathering place. The site hosts community events and tours, and allows visitors to come and wander through the Church on their own. Jason Mraz got married in this church, and it has become a picturesque and memorable wedding venue for many couples. Take the guided cell phone tour.
Nearby:  Totopotomoy Creek Battlefield Park, Polegreen Park, Sports Page Bar & Grill, The Patron Mexican, Bell Café, Bell Hut Asian Cuisine, Bruster's Ice Cream, Governor's Architectural Antiques
The Shelton House at Rural Plains – Dating from about 1723, the house stayed continuously in the Shelton family for more than 275 years.  Virginia patriot and politician Patrick Henry reportedly married Sarah Shelton in its parlor in 1754. And, 110 years later, it lay in the center of position during the Civil War's Battle of Totopotomoy Creek. It survived that action, despite being riddled with Confederate artillery fire. The Shelton House is typically open for tours starting May through October. The grounds include a 1.25 mile walking trail, and leashed pets are allowed.
Nearby: See listing for Historic Polegreen Church.  Also near Atlee area shopping and restaurants including Red Rooster Country Store, For Posh Sake, Williams Bakery, Giovanni's Pizza & Subs, Sam's Hotdogs, The Local Cup – Coffee, The Salty Pig Smokehouse, Lidia's Ristorante, Marty's Grill, and more.
Slash Church (c.1729), located next to swampy woods (a "slash" in 18-century terms), survives as the oldest and best-preserved frame church in Virginia. Originally used as the Upper Church of Saint Paul's Parish, the Reverend Patrick Henry, uncle of the famous patriot, served as rector here from 1737 until 1777. Its congregation included Patrick Henry, Dolley Madison, and Henry Clay. Since 1842, the church has been home to the Disciples of Christ. During the Civil War, Confederate troops bivouacked in and around the church prior to the May 1862 Battle of Hanover Courthouse.
Nearby: Bass Pro Shops, Green Top Sporting Goods, Atlee/Rte. 301 shopping and dining, Town of Ashland, James River Cellars Winery, Hanover Sports Park, Hanover Tavern, Historic Hanover Courthouse
Patrick Henry's Scotchtown: Patrick Henry's Scotchtown is celebrating 300 years! See feature story here.
Nearby:  Poor Farm Park, Parks and biking/walking trails, Ashland Museum, Red Vein Escape Room, Town of Ashland with lots of shopping and restaurants and Origin Beer Lab, Poor Farm Park
Beaverdam Depot was originally built in 1840 to serve farmers in Hanover and Goochland Counties but ended up being instrumental for both sides during the Civil War due to its proximity and the importance of the railroad in receiving supplies for large troops. The original building was raided frequently, and was burnt at least 3 times before being rebuilt and rededicated in 1866.
Nearby:  Montpelier is approximately 10 miles south with the Montpelier Center for Arts & Education, Montpelier Park, Portofino Ristorante, Dave & Phriends Grill, and Bamboo Chinese
Church Quarter – Built in 1843 as a residence, this structure is known as the best-preserved antebellum log dwelling in the region. It is alleged that Stonewall Jackson stopped here for water during his march to join Robert E. Lee prior to the Seven Days Battles. The site is open daily for exploring, and tours can be made by appointment only.
Nearby: Ashland Berry Farm, North Anna Battlefield Park, Castle Glen Estates Winery, Kings Dominion, Squashapenny Junction, Beaverdam Depot, The Montpelier Center for Arts and Education, The Town of Ashland
Enon Church – On May 28, 1864, Union and Confederate forces clashed around Enon Church in one of the fiercest cavalry battles of the Civil War. The seven-hour battle, known as Haw's Shop, erupted when both sides met during reconnaissance. After a brief fight on horseback, Confederate cavalry fell back west of the church and built fortifications to withstand the Union assaults. The sides battled for several hours before General George Custer's Union brigade turned the stalemate into victory. Twenty-seven or more unknown Confederate soldiers are buried in the church yard.
Nearby: Restaurants and shopping on Rte. 301 and Rte. 360, Totopotomoy Creek Battlefield Park at Rural Plains, Historic Pole Green Church
Sycamore Tavern & Page Library – Sycamore Tavern was built before 1804 and operated as a historic inn in Montpelier until the early 20th century when famous author and Hanover native Thomas Nelson Page founded a library in the structure in memory of his wife. (c.1732) Sycamore Tavern was the fourth stagecoach stop on the Richmond-Charlottesville Road. The tavern hosted travelers throughout the 19th century. The well preserved building houses the Page Memorial Library of History and Genealogy.
Nearby: The Montpelier Center for Arts and Education, Portofino Risorante, Dave & Phriends Grill; Southeast on Rte. 33 – Hanover Vegetable Farm
Garthright House – The historic home is believed to date (in part) from the 1700's. A witness to battles at both Gaines' Mill and Cold Harbor, the house served as a field hospital in June 1864. Although it is not open to the public there are exterior exhibits. Directly beside the house is the Hanover County Cold Harbor Park, which includes a walking trail through some of the reserve Union positions from the 1864 battle, and a picnic area. The Cold Harbor National Cemetery across the street contains nearly 2,000 Civil War era burials, including most of the Union dead from the two large area battles.
Nearby:  Gaines' Mill Battlefield, Cold Harbor Battlefield; Rte. 360 shopping and dining
Randolph-Macon College – Founded in 1830 by the Methodist Church, Virginia statesman John Randolph and North Carolina statesman Nathaniel Macon gave their names to the college. Though neither gentleman was a Methodist, their names were adopted to send a message that students of all denominations were welcome. Randolph-Macon remains the oldest Methodist-related college in continuous operation in the United States. Originally located in Boydton, Virginia, the college moved to Ashland in 1868 to escape the ravages of the Civil War.
Ashland Train Station – The station was built by the Richmond, Fredericksburg and Potomac Railroad in 1923, replacing a station which was originally built in 1866 and rebuilt in 1890. The station now serves as the Ashland/Hanover Visitor's Center. While it is not an active ticketing station, it still serves as an embarking/disembarking location for passengers. Currently, the station platform is being renovated to comply with ADA requirements.
Nearby:  The Ashland/Hanover Visitor's Center is located in the Town of Ashland across the street from Randolph-Macon College.  Restaurants, bakeries, shopping, walking and biking trails, Red Vein Escape Room, Origin Beer Lab are within walking distance.
Historic Villages and Hamlets:
Once known as Hanover Junction, this village today is called Doswell. In this tiny hamlet the tracks of important railroads intersect: the Richmond, Fredericksburg, and Potomac and Virginia Central Railroads. During the famous Civil War campaigns of 1862-1864, Robert E. Lee's army relied on these railroads for supplies. Just to the east was the Doswell farm where the largest horseracing track in central Virginia was located. General stores and other businesses including an antique shop known today as "Squashapenny" sprang up in this community.
Union infantry and cavalry passed through this hamlet on their way toward Cold Harbor in 1864. At the time a few scattered buildings comprised the community including several residences and a tavern that served as headquarters for the Union cavalry corps. The tavern stands largely unchanged from its wartime appearance. The church that gave the community its name was long gone by 1861, but just to the east stands Immanuel Church, which was converted into a Union hospital.
For more information, visit:
Hanover County Historical Society
The Ashland Museum
The Hanover County Black Heritage Society