Hanover's Perspective
Hanover Highlights — Looking Back on 2022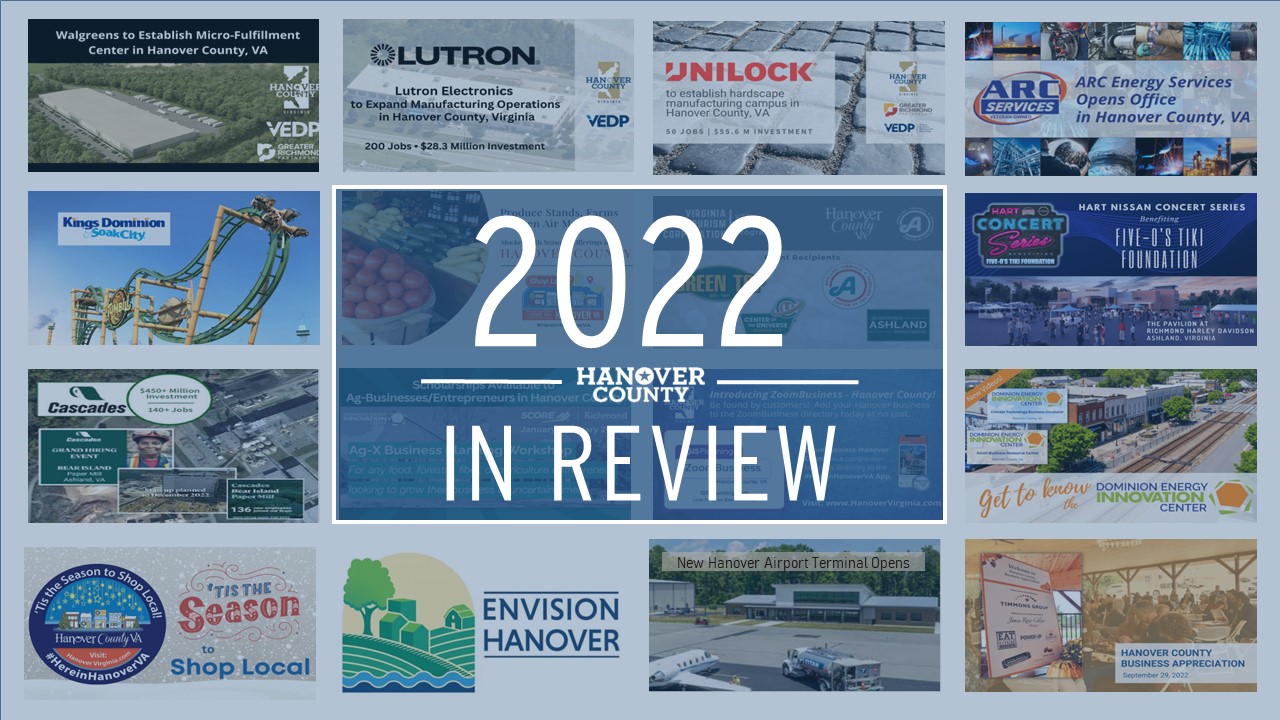 As anticipation builds for a successful new year, we also take time to reflect on our top stories of 2022.  Not surprisingly, the most-read stories are those that highlighted the moments that helped us innovate, prosper and grow over the past year.
We look forward to what's to come in 2023, and we thank you, Hanover County, for generating some great stories in 2022.  Here are the top stories of the past year:
UNILOCK TO ESTABLISH MANUFACTURING CAMPUS IN HANOVER COUNTY, VA
July 28, 2022
Unilock to invest $55.6 million and create 50 new jobs in new production facilities to meet increased demand in the Mid-Atlantic and Southeast markets. Unilock, North America's premier manufacturer of concrete interlocking paving stones and segmental wall products, will invest $55.6 million to establish a manufacturing campus in Hanover County.  The company will locate up to four new production facilities at 17000-17500… View Article
WALGREENS TO ESTABLISH MICRO-FULFILLMENT CENTER IN HANOVER COUNTY, VA
February 25, 2022
Walgreens, an integrated pharmacy, healthcare, and retail leader, will invest $34.2 million to establish a Micro-Fulfillment Center for high-value pharmaceuticals at the Atlee Station Logistics Center in Hanover County. The new state-of-the-art facility will have automated machinery to maximize efficiency and allow for a flexible operating model, transforming patient and customer pharmacy delivery services and experience when placing online orders. Virginia successfully competed… View Article
LUTRON ELECTRONICS TO EXPAND MANUFACTURING OPERATIONS IN HANOVER COUNTY, VA
September 15, 2022
Lutron Electronics, the Pennsylvania-based trusted global leader in lighting control, automated shading solutions, and intelligent fixtures, will invest $28.3 million to build a manufacturing facility in Hanover County. The 145,000-square-foot facility in Ashland will increase the company's manufacturing capacity and create approximately 200 new jobs. "Lutron Electronics is pioneering lighting technology in the 21st century, developing innovative products that save energy and set… View Article
ARC ENERGY SERVICES OPENS NEW OFFICE IN HANOVER COUNTY, VA
August 10, 2022
ARC Energy Services, Inc., a Veteran-owned specialty mechanical contracting company serving the power and process industries, announced the opening of a new office in Ashland, Virginia, to accommodate growth and leverage the area's diverse talent pool. "The decision to expand our presence into Virginia was a logical step in our business growth strategy," said Roddy Phillips, President & CEO. "The area provides… View Article
KINGS DOMINION DEBUTS TUMBILI ROLLER COASTER AND JUNGLE X-PEDITION
March 17, 2022
Kings Dominion introduced guests to all new adventures during its season opening weekend on March 12 & 13, 2022.  The theme park debuted Jungle X-Pedition, which is the renamed and upgraded area of the park formerly known as Safari Village, and the new Tumbili roller coaster. At Jungle X-Pedition, guests are immersed in a completely transformed jungle experience featuring the new coaster,… View Article
GET TO KNOW THE DOMINION ENERGY INNOVATION CENTER
July 13, 2022
Under the leadership of Adam Sledd since 2019 and joined by Braden Croy as Program Director in 2021, the Dominion Energy Innovation Center (DEIC) has realized tremendous growth and significant expansions in its programming.  "Small business owners are the heart of any community's economy, which is why we're so excited to spend every day working with a broad range of companies from… View Article
To read more stories from 2022, visit Hanover's Perspective.
To view our FY22 Annual Report, click here.