12152-12174 Washington Highway (Barnes)
This 74.94± acre industrial development opportunity in Hanover County between Route 1 and I-95 is located in a strong industrial corridor with a blend of new construction distribution and locally owned businesses.
Site Details
1.5 miles south of Ashland and 1 mile north of Lakeridge.
Convenient access to two 1-95 interchanges and Route 1.
Zoned A-1 (portion in Town of Ashland); Zoned M-2 (portion in Hanover County).
37± usable acres available in whole or part.
Preliminary engineering studies show upwards of 450,000± sf possible in multiple phases.
Utilities on site.
Additional engineering studies available.
Potential income producing properties.
Creative deal structures possible.
Location
Both the Ashland/Hanover and Lewistown exits along I-95 are less than two miles away. The site is easily accessible to the Hampton Roads region and the Port of Virginia due to its proximity to I-295 and I-64. Washington DC is approximately 90 miles north.
Strategically positioned on the East Coast, this site is within 500 miles of more than half of the nation's manufacturing activity and sixty percent of its major corporate headquarters.
Click the links below to view dynamic mapping, community data, demographic, labor force information and more.
Property Site Photos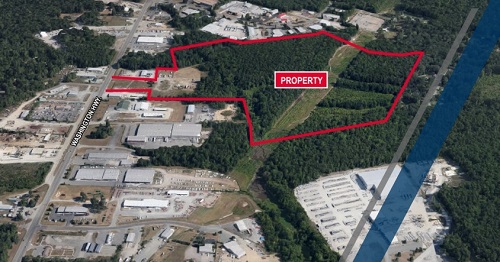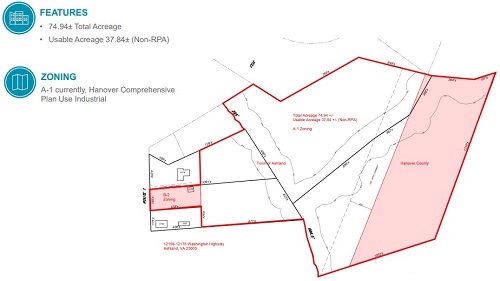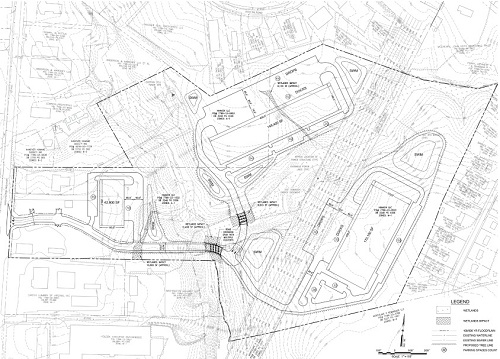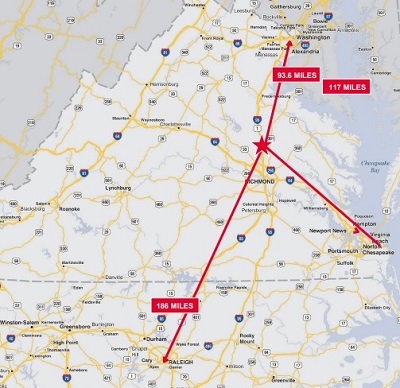 Companion Downloads
Map
Contact our office about this property site. Let's Talk