Hanover's Perspective
Hanover's Year in Review: 2020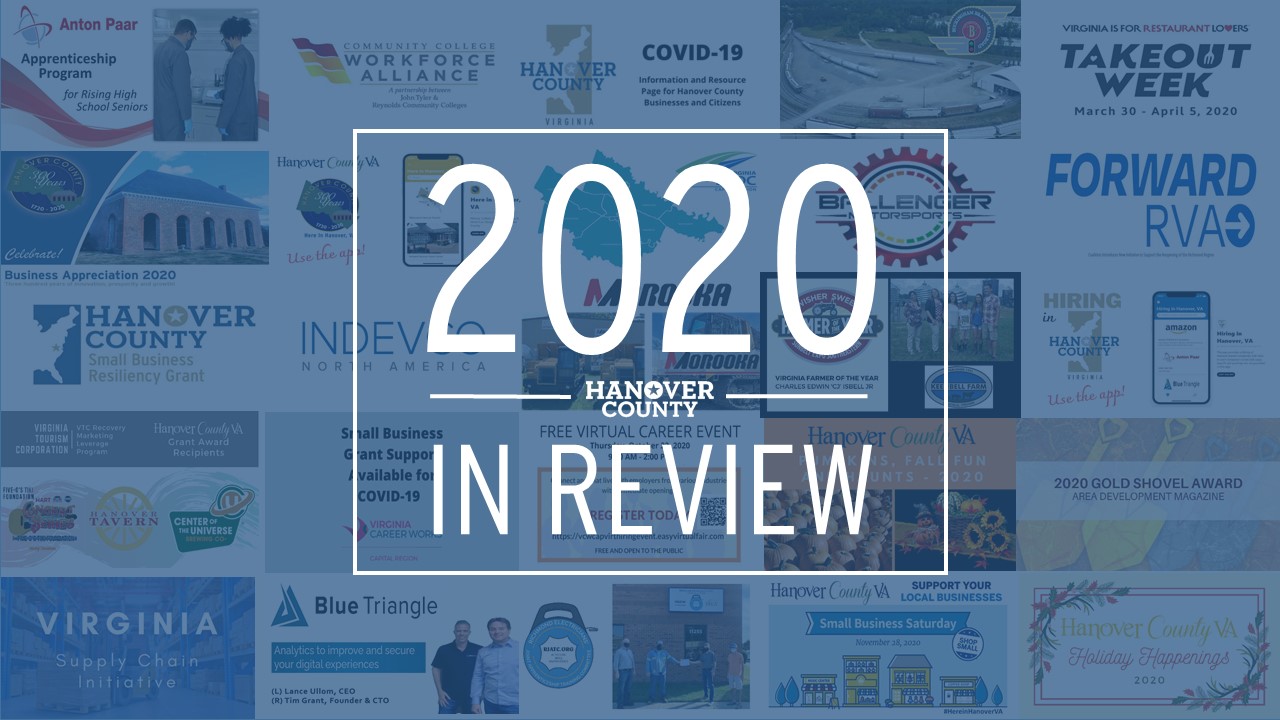 With the pandemic dominating the news in 2020, it is important to reflect on Hanover's top stories that highlighted the moments that helped us innovate, prosper and grow over the past year.
We look forward to what is to come in 2021, and we thank you, Hanover County, for your determination to persevere.  Here are the top stories of the past year:
INDEVCO North America Commits to $15M Investment in Hanover County, VA Manufacturing Complex
The Hanover County Board of Supervisors approved an extension of  a county water line to INDEVCO North America headquarters and the Specialty Coating & Laminating, LLC manufacturing facility at 10351 Verdon Road in Doswell, Virginia.  INDEVCO North America is investing nearly $3M in building construction and renovation and over $12M in machinery and tools. The company will contribute $50,000 towards the water line, while Hanover County Public Utilities will take the lead on constructing the water line east of US-1 on Route 684. INDEVCO North America will additionally invest in tying into the water line and installing piping throughout the manufacturing facility.
COVID-19 Information and Resources Page for Businesses and Citizens in Hanover County
In an effort to provide information to Hanover County businesses and citizens, this resource page has been created and added to the Hanover County Economic Development website. As more resources and information becomes available, this page will be updated. The resources and information listed include federal, state, regional and local agencies as well as additional resources listed by social media platforms
Here in Hanover, VA App – Your Guide to Things to Do
The Here in Hanover, VA app conveniently lists historic, cultural and leisure venues and well as events, festivals, restaurants, wineries, breweries, distilleries, lodging, restaurants, shopping, community parks and more!
Kings Dominion Celebrating 45 Years in Hanover County
Kings Dominion, located in Hanover County, Virginia, has helped make countless memories over the past 45 years. The park held its grand opening on May 3, 1975 after hosting a soft opening the year before featuring only the Lion Country Safari and one ride. Since then, numerous roller coasters and thrill rides, a water park and a large variety of other attractions have enhanced the park. As an added convenience for visitors, the Kings Dominion KOA Campground offers deluxe cabins in addition to RV and tents sites complete with a pool, playground, camp store and more.
Patrick Henry's Scotchtown is Celebrating 300 Years in Hanover County!
Patrick Henry's Scotchtown is a beautifully restored 18th century plantation home located just north of Ashland, Virginia. Acquired by Preservation Virginia in 1958, Scotchtown is the only original standing home of Patrick Henry open to the public. Henry, patriot and orator of the American Revolution, lived here from 1771 to 1778 and conceived his most influential revolutionary ideas at the home, including his famous "Liberty or Death" speech delivered to the Second Virginia Convention on March 23, 1775 at St. John's Church in Richmond, VA.
Coalition Introduces New Initiative to Support the Reopening of the Richmond Region
Richmond region business, community, and governmental leaders have come together to form ForwardRVA, a coalition focused on creating an innovative reopening and planning framework. The immediate focus is to support businesses in reopening and operating safely. In the days and weeks ahead, ForwardRVA will share tools and resources, which will include the perspectives of RVA's restaurateurs, retailers, and small business owners.
Buckingham Branch Railroad Showcases Transload Facility in Hanover County
Started in 1988, the Buckingham Branch Railroad is a family-owned, short line railroad that operates in Virginia with 280 miles of track, seven train crews, 14 locomotives, and more than 40 freight customers.  Over the years, the railroad company has developed a reputation for dependability and flexible service that responds effectively to the changing needs of freight customers in todays' logistics and transportation market.  Through three interchanges each with CSXT and Norfolk Southern, customers can reach freight markets anywhere in North America.  The company also operates passenger excursion trains on the Buckingham Division in spring and fall, as well as Santa trains during the holiday season.
Hanover County Rolls Out Small Business Resiliency Grant Program  –
With unanimous approval by the Board of Supervisors and the Hanover County Economic Development Authority, the Department of Economic Development is launching the Small Business Resiliency Grant program to support small businesses negatively affected by interruptions and mandated business closures due to COVID-19. The Hanover County Small Business Resiliency Grant, leveraging $300,000 of federal funding under the CARES Act, offers up to $5,000 in recovery funding for businesses with 50 or fewer employees.
Hanover County Creates Job Referral App
Hanover County Economic Development has created the department's newest app – Hiring in Hanover, VA.  While not designed to list individual job postings, the app provides direct links to the business' job page or job search website of Hanover-based companies. Each listing also includes representative job openings, a description of the company, address information, a link to the company's website, and additional instructions about accessing local jobs on each company's web page.
Capital Region SBDC is Relaunched in the Greater Richmond Region
In collaboration with local government and economic development leaders, the newly relaunched Capital Region Small Business Development Center (SBDC) is now open and ready to service the greater Richmond region. The new center offers enhanced one-on-one technical assistance and resources to help small businesses address challenges and educate owners on common and emerging topics for successful development and operations.
For more stories, visit https://www.hanovervirginia.com/news-events/